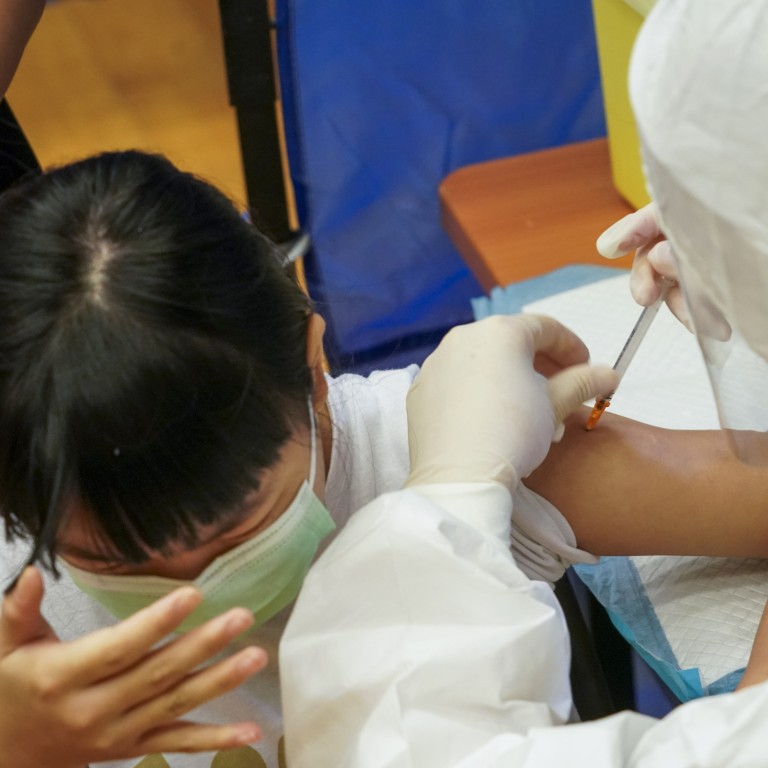 Covid-19 third-jab mandate for Hong Kong schools is illogical and merely punishes children
The latest studies and data clearly indicate that the young, healthy and Covid-recovered do not need ongoing vaccination doses
The Education Bureau must provide a detailed science-based justification as to why its stepped-up measures are deemed 'prudent'
According to the latest official Hong Kong data, the population group least at risk of Covid-19 deaths, by a large margin, are those 19 years and younger. Yet
back to-school policies
are sending the message that children are a high-risk group.
Secondary school students can only enjoy the privilege of full-day, in-person education if
90 per cent
are triple vaccinated, and a two-shot vaccine pass is expected to be required soon for children
as young as five
. Despite substantial evidence to the contrary, there have been few, if any, questions raised about just what data-backed justification there is for these new policies.
Let's consider the death statistics. Hong Kong defines a Covid-19 death as anybody with a positive Covid-19 result who dies within 28 days of the test. According to covidvaccine.gov.hk: "The underlying cause of death may have been unrelated to Covid-19". Even so, the median age of death in the fifth wave is 86 years – higher than the average
life expectancy of 85.4
.
Among those aged 19 and younger, a total of 13 have died with Covid-19, most of whom suffered from serious pre-existing health issues. Statistically, this is a roughly 1 in 80,000 chance of dying with Covid-19. For the healthy, the chance drops to as low as one in a million. To put this into context, everybody in Hong Kong stands a much higher chance of dying in a traffic-related accident at one in 65,514.
If preventing deaths is not the issue, might it be to reduce transmission? On the day of the Education Department's demand for a third jab for all children, Hong Kong recorded 8,848 Covid-19 cases. Of these, 238 were students.
This means that adults made up 97 per cent of all Covid-19 infections. Yet Hong Kong allows its adult population to freely dine out, maskless,
with seven other friends
per table – while limiting its children and teenagers to half days at school, daily Covid-19 testing and little opportunity to socialise.
The unintended consequence of this has been three years of angst for our children. Surely, we adults can see how illogical, unscientific and unfair this is.
It is known that vaccination is no bar against transmission. In fact, a recent study from Iceland assessing 11,536 previously infected people for reinfection, and a recent UK study of 22 million cases aged 18-plus using official statistics, found that the triple vaccinated had significantly higher infection rates, and were associated with a significantly higher proportion of hospitalisation and deaths, versus the double vaccinated and unvaccinated during the Omicron surge.
Correspondingly, numerous studies have emerged showing that a natural Covid-19 infection provides long-term protection against serious reinfection and death. A recent study of 290,638 predominately young individuals from Qatar shows a 97.3 per cent protection against hospitalisation and death, with no evidence for waning, for over 14 months after primary infection.
A late 2021 US analysis of nine clinical studies concluded that unvaccinated Covid-recovered individuals should be considered to have at least equal protection to their vaccinated Covid-naive counterparts.
As far as the elephant in the room is concerned, all official vaccine adverse reaction reporting systems, and even the vaccine manufacturers' own clinical data, show significant and mounting evidence that adverse events following vaccination are numerous, serious and can be permanent. Currently, there is an absence of long-term data.
A June 2022 study from Thailand found that 29 per cent of adolescents (aged 13-18) suffer cardiac irregularities after a second Pfizer-BioNTech vaccination. In Germany, the authority responsible for monitoring the safety of vaccines recently stated that, on average, one in every 5,000 doses of Covid-19 vaccines is reported to result in a serious adverse reaction.
A study released last month based on Pfizer and Moderna's clinical trials of 67,937 participants, aged 16-plus, found a 36 per cent higher risk of serious adverse events in those vaccinated with Pfizer versus unvaccinated participants, and an overall greater risk of severe adverse reaction from mRNA vaccines than risk of hospitalisation from Covid-19.
The risk/reward balance should be considered carefully. When health officials overstate the efficacy of treatments while failing to take seriously the safety data (or lack thereof), it could lead to the young and healthy being disproportionately harmed. The latest data and studies clearly indicate that the young, healthy and Covid-recovered do not need ongoing Covid-19 vaccination doses.
As such, most countries around the world have stopped vaccine mandates. Despite this, Hong Kong continues to promote a "silver bullet" vaccine policy that coerces schools, parents, the healthy and those with natural immunity to take repeated doses of the Covid-19 vaccine. To what end?
If our government's Covid-19 statistics are accurate, and healthy students only contribute 1 in a million deaths and less than 3 per cent of infections, the Education Bureau should be required to clearly explain why it keeps shifting the goalposts using unsubstantiated banner statements such as "further strengthening the protective shield".
The bureau owes us a detailed science-based justification as to why these stepped-up measures are "prudent", how they anticipate these steps will have a meaningful impact on Covid-19 infections and deaths, or contribute to the overall physical and mental health of our children.
Cecilia Thé graduated in 1997 from Beijing University of Chinese Medicine and has been practising as a registered Chinese medicine practitioner at the Vitality Center in Hong Kong