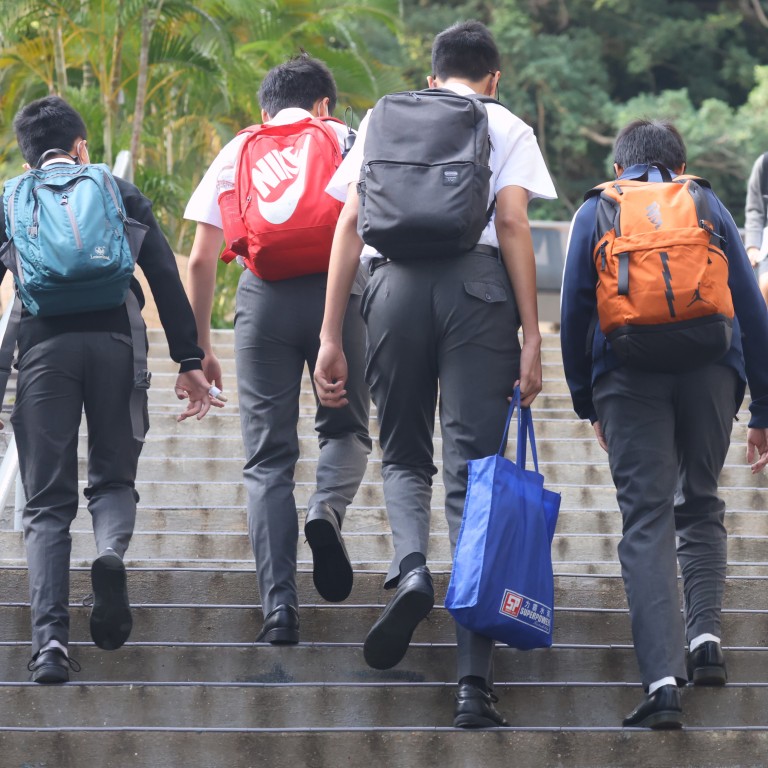 As pool of DSE takers shrink, self-financing tertiary institutions must also attract students from elsewhere
To start, the government can help by removing curbs to let more such institutions enrol more mainland students
It can also help finance new programmes to teach skills sought-after throughout the Greater Bay Area
The 43,000 school candidates who sat for Hong Kong's
Diploma of Secondary Education examinations
this year must be spoiled for choice when there are 62,000 places on offer in undergraduate and sub-degree programmes at local tertiary institutions. This is good news for those hoping to pursue further studies.
But this surplus of tertiary education opportunities spells trouble for self-financing institutions, which have already been
facing difficulties
in recruiting students, especially those institutions that mainly offer sub-degree programmes. In the last academic year, many missed their planned student intake target by 20 per cent.
The situation is expected to worsen due to two main factors.
Firstly, we estimate that the number of local secondary school graduates will remain low in the next three academic years (from 2022/23 to 2024/25), at around 42,000-45,000 per year. Demographic change is a significant reason behind this trend with the
local birth rate
steadily decreasing over the decades, stagnating in the early 2000s.
Secondly, the proportion of secondary school graduates enrolling in tertiary institutions overseas or on the mainland has risen from around 10 per cent in 2019 to 14 per cent last year. More students are opting for tertiary programmes outside Hong Kong, which means an
easing of competition
for local bachelor's degree programmes, so that fewer are resorting to sub-degree ones.
To foster the sustainable development of self-financing tertiary education in Hong Kong, the government should look beyond the local population to attract more students from elsewhere, especially the mainland.
The government should work with the mainland authorities to relax restrictions on mainland students' admission to Hong Kong's self-financing tertiary institutions.
Under current policy, only six such institutions may admit students from the mainland, limited to 10 per cent of their total student body. Raising the limit to 20 per cent or higher and allowing more institutions on the list would expand the potential student source and introduce more flexibility to the recruitment strategies of the tertiary institutions.
To attract more non-local students, tertiary institutions should also consider developing sub-degree programmes that focus on training the skills highly sought-after throughout the
Greater Bay Area
.
Hi-tech manufacturing firms in Shenzhen and Guangzhou may need talent in areas of mechanical design or product development. Tertiary institutions can leverage their international reputation and quality to draw students from mainland cities.
More financial help should be given to tertiary institutions and students, for institutions to offer programmes that are more attractive to prospective applicants and more in line with the demands of the market.
Recently, the government has started to provide financial support for tertiary institutions to develop programmes that "meet market needs but require high start-up costs", including those related to physiotherapy and medical science. This policy is commendable and should be expanded.
Self-financing institutions may lack the capital to develop programmes requiring laboratories and other costly facilities, so financial support can help them develop specialised and in-demand courses, rather than programmes that train more general skills such as business and management.
The government should also increase the number of subsidised
top-up degree
programme places, from 5,000 to 6,000, so that more sub-degree students can pursue further studies at a reduced cost. With more opportunities to enter undergraduate programmes in the senior year after completing sub-degree programmes, the latter would become more attractive for secondary school graduates. In particular, the subsidies should be focused on vocation-oriented programmes related to emerging industries in Hong Kong.
The self-financing tertiary education sector will continue to face a shortage of students. The government should take prompt action to enable these institutions to diversify their source of students, while ensuring that their programmes maintain a high quality and suit the needs of both the students and the job market.
Justin Chan is a researcher at MWYO, an independent think tank that focuses on youth issues in Hong Kong