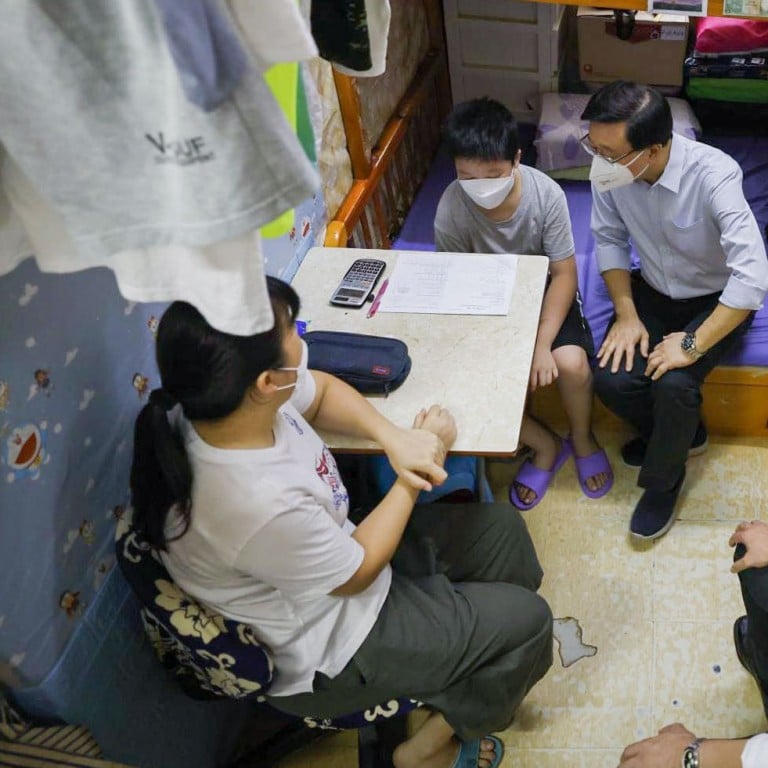 It's Hong Kong officials who need to work harder to tackle poverty, not those already in dire straits
The 'Strive and Rise' scheme, taken from the chief executive's manifesto, fails to address the underlying causes of poverty
The poverty trap is exacerbated by our widening wealth gap, inadequate support for working families and single parents, and the rising cost of living
It has been less than 100 days since Chief Executive John Lee Ka-chiu took the helm, so what should Hong Kong expect from his
first policy address
? Perhaps he could elaborate on his election manifesto, which has been criticised for being
too vague
and lacking detail.
Lee seems eager to start checking items off his list. Take the recent publicity surrounding the "
Strive and Rise Programme
", for example. It's lifted straight from one of Lee's leading policies in his election manifesto: tackle intergenerational poverty.
Chief Secretary Eric Chan Kwok-ki, who is leading the programme, went one better. He doubled the size of the scheme to cover 2,000 junior secondary school students living in subdivided flats, instead of the
1,000 students
Lee mentioned when running for the top job.
But criticism of the pilot scheme remains the same. While the subsidy, mentorship, life planning and exposure to the arts and culture are nice, they do nothing to tackle the problem.
That problem – the poverty trap – is complex. It is exacerbated by the city's ever-widening
wealth gap
, inadequate support for working families and single parents, and the rising cost of living, of which unaffordable housing is a huge part. We have searched for generations but have yet to find ways to effectively address these contributing factors.
All of that feeds into the dire reality that almost
one in four people
live below the poverty line, according to the 2020 Hong Kong Poverty Situation Report. The study found there were more than 274,000 poor children in the city – a poverty rate of 27 per cent. And if that is not alarming enough, consider the more than 50 per cent jump which that figure represents, compared to the 180,000 children found living in poverty in 2015.
A pilot scheme like "Strive and Rise", even when it has been expanded, is a nice gesture at best. The idea for the scheme came after Lee was inspired by a visit he made to a
single-parent family
during his campaign.
The Hong Kong government is going to need a lot more inspiration and colossal political will to turn the tide on poverty, and free children who are not born into privilege from the shackles of systemic disadvantage.
As a parent, I know full well that extracurricular activities and tutoring are basics, not "extras", for Hong Kong students. And so, while education in Hong Kong is "free" in the sense that the government provides 12 years of primary and secondary education to all children through public schools, becoming
competitive enough
to get ahead comes at a price.
It is a cost that struggling families cannot afford. Success cannot be guaranteed or universal, but we have to look at our education system and recognise how it exacerbates the uneven playing field.
In terms of public policy, we have a lot of catching up to do. Our first official poverty line was only set in
September 2013
by the Commission on Poverty. We have not given the vulnerable adequate attention for generations.
Former chief executive Carrie Lam Cheng Yuet-ngor once gave a beggar HK$500 (US$65) during her leadership bid. She also talked about poverty alleviation in her policy addresses. Lee needs to start by giving us a blueprint of how exactly the government plans to tackle poverty.
By naming the scheme "Strive and Rise", the government seems to be saying that poor young students need to work harder to rise above their circumstances.
However, many struggling families would point to the fact that they already have to work extremely hard just to keep their heads above water. This involves long working hours,
housework
that students have to do to help out on top of their studies, and the exhaustion that comes from toiling away on a daily basis.
Intergenerational poverty means that, no matter how hard they work, many people remain stuck in an unending loop of poverty. It would seem that our policymakers are the ones who need to strive harder and rise to the occasion.
Alice Wu is a political consultant and a former associate director of the Asia Pacific Media Network at UCLA