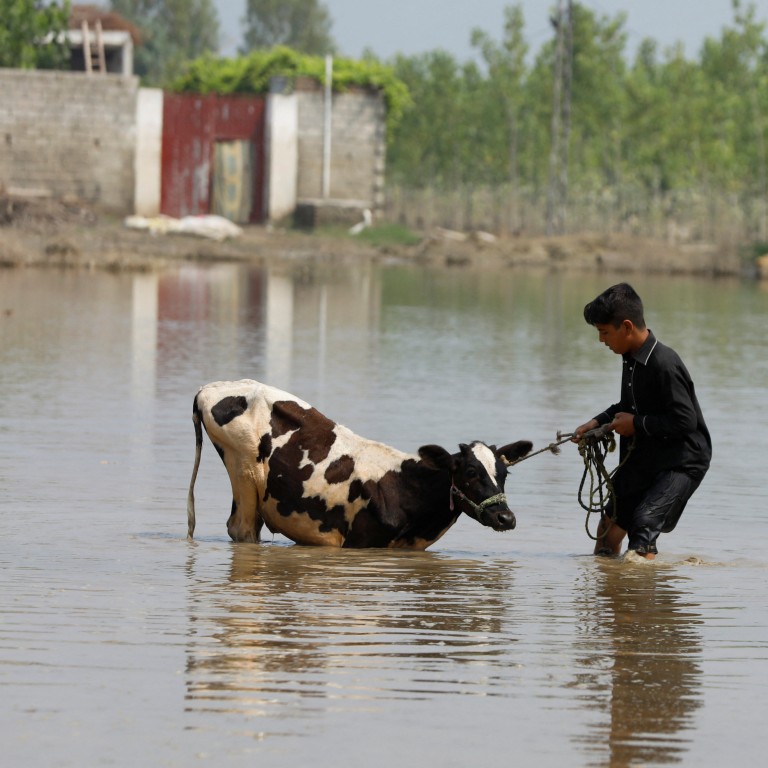 Opinion
Editorial
by SCMP Editorial
Editorial
by SCMP Editorial
Lessons to be learned from Pakistan floods
As extreme weather events become more frequent, there is a need not only for humanitarian support but to avoid repeating mistakes in the future. An example is the need for sustained investment in flood mitigation planning and action
The scale of Pakistan's flood catastrophe and humanitarian crisis is not easily grasped. Some idea of it is to be found in a desperate measure to protect as many people as possible.
The authorities have displaced up to 100,000 people from their homes with a controlled breach of the country's largest freshwater lake, because rising waters threatened a protective dyke and embankment, posing a dire risk to many more people in more densely populated areas.
Record monsoon rains and melting glaciers in Pakistan's northern mountains have brought floods that have left vast swathes of the country under water, affecting 33 million people and killing more than 1,300, including more than 460 children.
The inundation is still spreading, destroying buildings, bridges and roads and overwhelming rescue and relief operations on the ground. It is blamed on climate change, with UN Secretary-General Antonio Guterres calling it a "monsoon on steroids" amid appeals for humanitarian aid.
China has been at the forefront of global emergency rescue and relief efforts for the Pakistani people, beginning with shipments of tens of thousands of tents and US$300,000 in emergency cash assistance. This not only reflects close ties but also its neighbour's strategic importance to China's Belt and Road Initiative.
There are concerns that the cash-strapped government's lack of preparation for the catastrophe, which has destroyed more than a million homes, could spark unrest on top of political instability and further destabilise the world's fifth most populous country. Pakistan, which recently received a bailout loan of more than US$1 billion from the International Monetary Fund, will struggle to take care of the millions impacted by the floods, who may feel politically abandoned.
As extreme weather events become more frequent, there is a need not only for humanitarian support but to learn from lessons of the past to avoid repeating mistakes in the future. An example in point is the need for sustained investment in flood mitigation planning and action.
It is a reminder that assistance from the rich world to poorer countries to help deal with global warming for which they are not responsible can be put to good, enduring use.