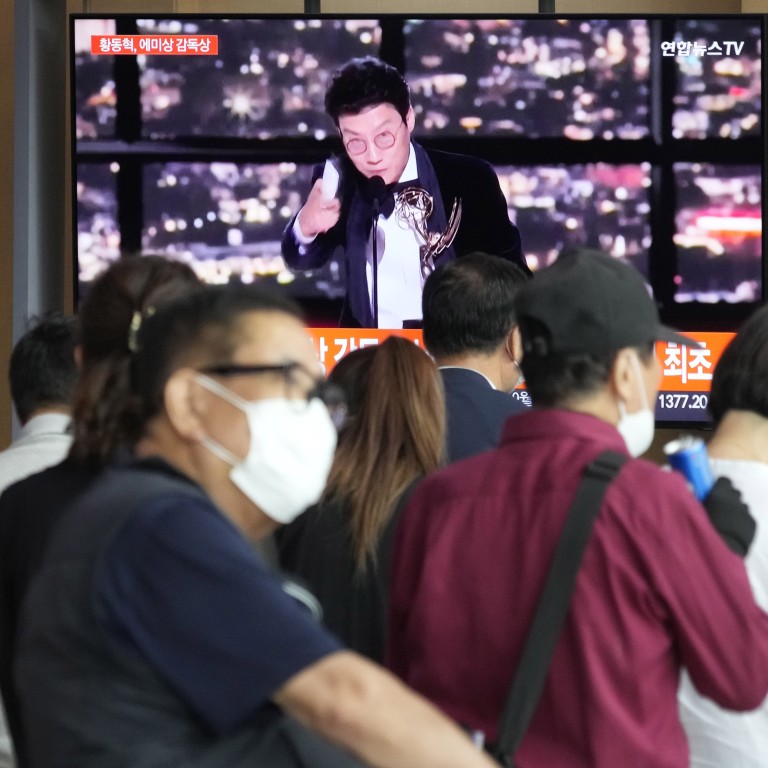 Squid Game's Emmy success is Korean culture's latest blow against US cultural hegemony
The success of the Korean show and the broad array of Emmy nominees has been touted as a win for diversity in an often-stale industry
The hope is this opens more doors for non-white actors, diversifies narratives and makes the US more open to other cultures rather than exporting its own
Squid Game
did not go to the 74th Emmy Awards to play. With its impressive 14 nominations – including one for most outstanding drama series, the first non-English language series to be so recognised – the Korean show had made history even before stepping onto the competition's red carpet in Los Angeles.
The cast of Netflix's most watched series did more than just show up on Monday. Lead actor
Lee Jung-jae
and director Hwang Dong-hyuk became the first Asians to win the top awards of outstanding directing and outstanding lead actor in a drama series, adding to the six technical awards the show garnered earlier.
The drama's success at the Emmys was greeted with cheers in South Korea and hailed as the latest example of the country's rise as a cultural powerhouse. Pride was the feeling that stood out the most from the many media interviews conducted with regular Korean people following Squid Game's wins.
Looking at the bigger picture, this year's edition included a record number of Asian acting nominees.
Sandra Oh
,
Himesh Patel
and
Bowen Yang
were among the dozens selected throughout the different categories.
Some other remarkable nominees – such as Zendaya and Lizzo, who have advocated for a more diverse Hollywood – also won awards. In many aspects, this year's Emmys were perceived as a win for diversity.
For too long, these awards have been seen as the ultimate goal to reach for "foreign" talent. Korean culture is now shaking the walls of long-established US cultural supremacy. The US grip on global pop culture has loosened recently, partly as a result of the rise of streaming platforms as well as the Covid-19 pandemic and the election of Donald Trump as US president eroding the country's global standing.
Globalisation is a two-way street, and the United States is late to the party. Despite efforts to fix that, it is clear the country is more used to giving than taking, and this translates in a flawed reception of foreign cultures.
Last year, an American journalist asked Lee Jung-jae: "I'm sure you can't leave the house any more without people recognising you. What has been the biggest life change for you since the series came out?" The video went viral as she missed the fact that the 49-year-old actor has been a household name in South Korea for nearly three decades.
Latin-American influence on US pop culture set the scene for this cultural reset. However, it might have resonated differently within the industry because of the different kind of racism the Latin population faces in the US.
While celebrating Squid Game's success, some hope the win will bring changes in the US movie industry. The next step is the creation of more authentic and relatable roles for AAPI actors, celebrating local talent, diversifying narratives within the US and preventing exotification of foreign films in the US.
Salomé Grouard is production editor, social media, at the Post and a member of Lunar, an initiative that highlights key issues related to women and gender equality in Asia