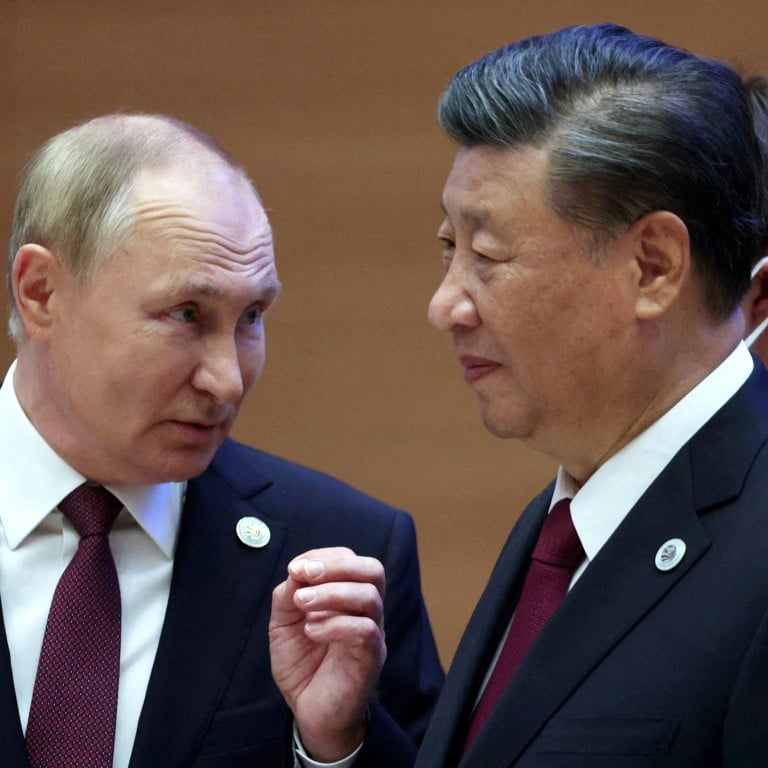 Opinion
Editorial
by SCMP Editorial
Editorial
by SCMP Editorial
Xi's pledge of strong support for Russia does not necessarily extend to Ukraine
Just weeks ahead of the 20th National Party Congress, Xi has projected diplomatic leadership from the front that will be a force to be reckoned with amid competing national interests in global affairs
President Xi Jinping pledged China's
readiness to work with Russia
towards strong support of their respective core interests ahead of Thursday's meeting with President Vladimir Putin.
It goes without saying that includes the sovereignty claim on Taiwan and the invasion of Ukraine respectively. But it does not necessarily mean unlimited Chinese support over Ukraine.
Putin admitted that in a nuanced reference. "We highly value the balanced position of our Chinese friends [on] the Ukraine crisis. We understand your questions and concerns … we will explain our position."
There would have been no need for China to explain its position on Taiwan under the one-China principle, for which Putin affirmed Moscow's support. Beijing has resorted to economic and diplomatic pressure, not aggression.
That said, the more accurate interpretation of China's position on Ukraine is that while it may have doubts over the reasoning behind the invasion, it is not blaming Russia alone.
It takes into account provocation by United States-led Nato expansion eastward seen as a security threat to Russia, with whom it has declared a no-limits friendship. The Taiwan issue is much clearer.
Unlike Ukraine, it is not a sovereign state. Rising tension is attributable to official provocations from Washington, the latest being bipartisan approval by the powerful Senate Foreign Relations Committee of the Taiwan Policy Act, which reinforces US support of Taiwan.
The effect of these provocations is to push Moscow and Beijing closer together, raising geopolitical tensions and polarising world politics.
Xi and Putin also met with the Mongolian President Ukhnaagiin Khurelsukh on the sidelines of the Shanghai Cooperation Organisation summit.
This reflects Russian interest in a partnership with China to jointly help Central Asian countries in a region it has regarded as its backyard. The economic development of Central Asian countries now depends on China.
This change of dynamics also underlines Russia's need to focus on its western front. Both countries see a need to ring fence Central Asia against Western infiltration or influence.
This is an example of pressure from the West putting once reluctant partners in the same bed. It gives China an opening to inject new momentum into its Belt and Road Initiative and look more to Central Asia and Russia for energy supply.
Xi's
first foreign trip
since January 2020 has called for deft diplomacy in a changed geopolitical landscape.
Just weeks before the
20th National Party Congress
at which he is expected to begin a third term, Xi has projected diplomatic leadership from the front that will be a force to be reckoned with amid competing national interests in global affairs. For the sake of stability and security, more frequent high level meetings between world leaders need to become the norm.