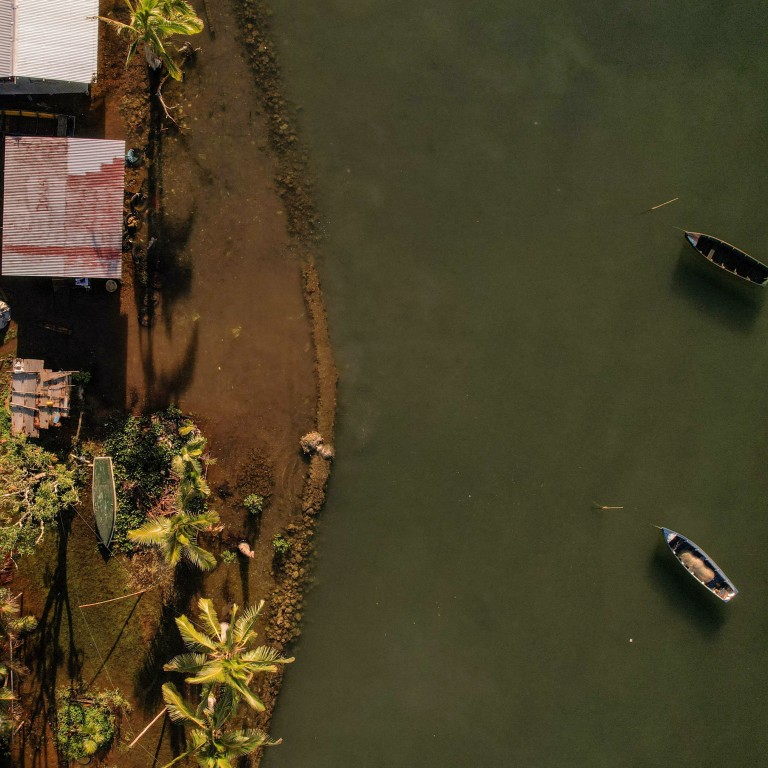 How the US can reset ties with Pacific Island nations drifting towards China
Pacific Island countries lack basic infrastructure, and whatever they have developed is threatened by rising sea levels due to climate change
China, by offering investments rather than aid, is only filling the vacuum left by the US and its regional allies
The first US-Pacific Island Country Summit will be
held later this month
in an attempt to present the United States as a counterweight to China's growing influence in the Pacific region. The focus of the two-day summit is to address the shift in the regional equilibrium after the Solomon Islands signed a
security pact with China
.
The summit appears to be a show of episodic attention, rudderless and subject to strategic drift. Washington perceives Beijing to be contesting its dominance in the region, but such objections are of limited merit.
Most Pacific Island nations have been independent for more than 40 years, but despite this autonomy, their average GDP per capita stands at less than US$5,000. These nations lack basic infrastructure; whatever they have developed is threatened by
rising sea levels
due to climate change. They need action, and China is filling the vacuum left by the US and its regional allies.
The shift towards China is neither an affirmation of communism nor an endorsement of the Chinese Communist Party but rather a once-in-a-generation opportunity to seek an alternative to US unilateralism.
China's move into the Pacific is not the first time a country has tried to present itself as an alternative; the Soviet Union had also embarked on such a campaign during the Cold War.
In 1985, Kiribati signed a US$1.7 million fishing pact with the Soviet Union after the US failed to recognise the island nation's exclusive right to migratory fish in its economic zone. The US government's failure to force the American Tunaboat Association to pay fishing fees added to the financial woes of the island nation, which had a budget of around US$9 million at the time. Observers noted no ideological shift towards communism; Kiribati was merely looking after its economic interests.
Yet this year, the Solomon Islands, like Kiribati before it, was accused of shifting its ideological stance towards China. The fuss was unwarranted, however, because the US had closed its embassy in Honiara in 1993, and Australian aid to the country, in the form of the Regional Assistance Mission to Solomon Islands, had
ended in 2017
.
Moreover, as Manasseh Sogavare, the prime minister of the Solomon Islands, pointed out, Australia has signed up for the
Aukus alliance
that would introduce nuclear-powered submarines into Pacific waters without consulting countries in the region.
The US Department of State sought to show it was not oblivious to the needs of Pacific Island nations, and said it had given US$1.5 billion in the past decade. But the detailed list it provided is a summary of aid to, not investment in, Pacific Island nations.
Examples include US$5 million to strengthen democratic institutions, another US$3 million to advance democracy and good governance, and US$180,000 to support journalists and combat what the US calls propaganda. It seems clear that the US' current priority and fixation is promoting its version of democracy.
Unfortunately, investing in democracy alone does not feed people, nor does it make economies resilient to climate change. On the other hand, giving Pacific nations greater access to international markets, helping to diversify their economies away from a reliance on agriculture or fishery – both sectors affected by climate change – and cutting tariffs would help reduce the trust deficit.
For Pacific nations, a pivot to China has a different allure. While the US gave US$1.5 billion in aid in the past decade, China's investment in Pacific nations grew from US$900 million in 2013 to US$4.5 billion in 2018. Over the past two decades, US$2 billion was invested in the mining sector alone. From 2010 to 2020, trade in fishery products also increased from US$35 million to US$112 million.
In addition, China is building a world-class sports stadium in the Solomon Islands and has improved connectivity in Papua New Guinea and Fiji via the construction of highways and bridges.
Infrastructure projects provide jobs and upskilling opportunities, empowering people to create solutions within their own country, rather than migrate to Australia and New Zealand.
The upcoming US-Pacific Island Country Summit will provide the US – and its allies Australia and New Zealand – with an opportunity to reset its relationship with Pacific nations. However, the outcome will depend on whether it is receptive to what Pacific nations want in diversifying their economies and combating climate change, as opposed to what it thinks they may be wishing for.
Sameed Basha is a defence and political analyst with a master's degree in international relations from Deakin University, Australia