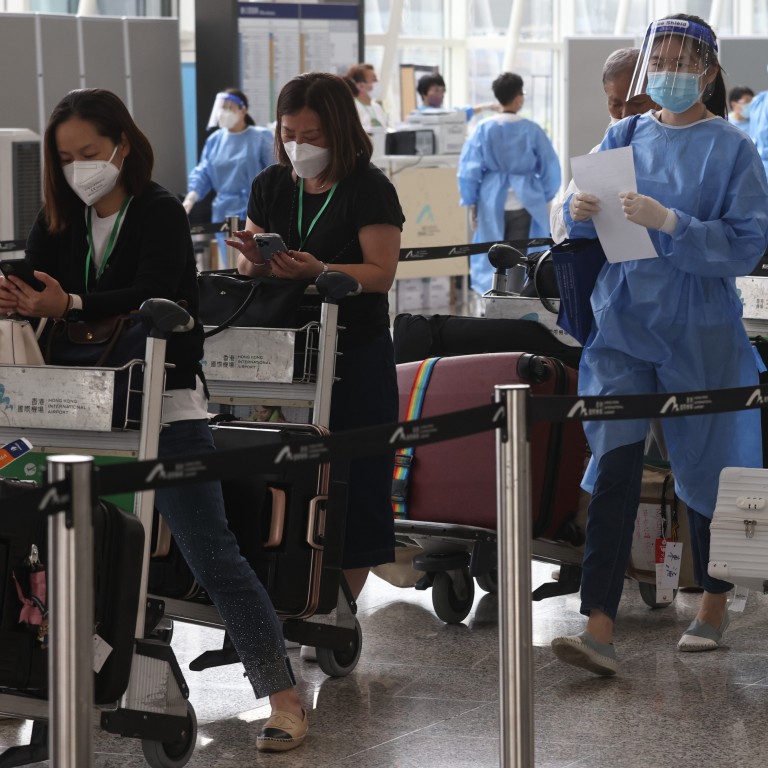 Opinion
Editorial
by SCMP Editorial
Editorial
by SCMP Editorial
End of hotel isolation is a welcome first step on the long path back to normal
It takes more than a change in entry restrictions to reboot the city. What is needed is a clear road map and timetable to bring public life and economic activities back to normal
With many places in the region opening up to visitors, any tweaks in Hong Kong's quarantine policy are just playing catch-up. Long overdue as it is, the replacement of hotel isolation by three days of home surveillance with movement restrictions is a welcome step. The city must further narrow the gap as the world strives to put the pandemic behind, or risk losing its economic competitiveness and vitality in an endless Covid battle.
The much-anticipated 0+3 arrangement – three days of home medical surveillance with no hotel quarantine – is good news to many who have been hankering for business trips, holidays and family reunion. The replacement of PCR tests by self-rapid tests prior to flight boarding also makes travelling more convenient, as do the test-and-go arrangements upon arrival. The ban on non-vaccinated Hong Kong residents returning from overseas will also be lifted. But the three-day surveillance may still be a barrier to overseas visitors.
Chief Executive John Lee Ka-chiu would not be drawn on whether the changes amounted to abandoning the zero-Covid policy but he was confident that the infections could be kept at a manageable level. While he said the road map was to move forward in an orderly manner without turning back, there are still no specific targets and milestones to help bring the city back to normal.
The easing of one of the world's toughest quarantine regimes is indeed as symbolic as it is pragmatic. This came as Taiwan and Japan have released their road maps for full border reopening. For instance, the latter is to resume visa-free travel for individual visitors without a daily entry cap starting from October 11. Similar relaxations were also announced by the Taiwan authorities, with the weekly cap on visitors rising from the current 50,000 to 60,000 as early as September 29, while quarantine for arrivals is to be dropped in the second stage in mid-October. In South Korea, the outdoor mask rule on large-scale gatherings will be lifted from Monday.
Officials must be feeling the heat as the region opens up. This is not just because our tourism and aviation sectors would lose out to their regional rivals. Some international sports and business events have already moved elsewhere because of travel restrictions.
As expected, cross border travelling with the mainland is not available in the near future. The authorities on both sides must redouble efforts to provide more convenience. This includes accelerating the arrangements for Hongkongers to be quarantined before entering the mainland and to raise the daily visitors quota.
It takes more than a change in entry restrictions to reboot the city. Residents look forward to a clear road map and timetable to bring public living and economic activities back to normal.