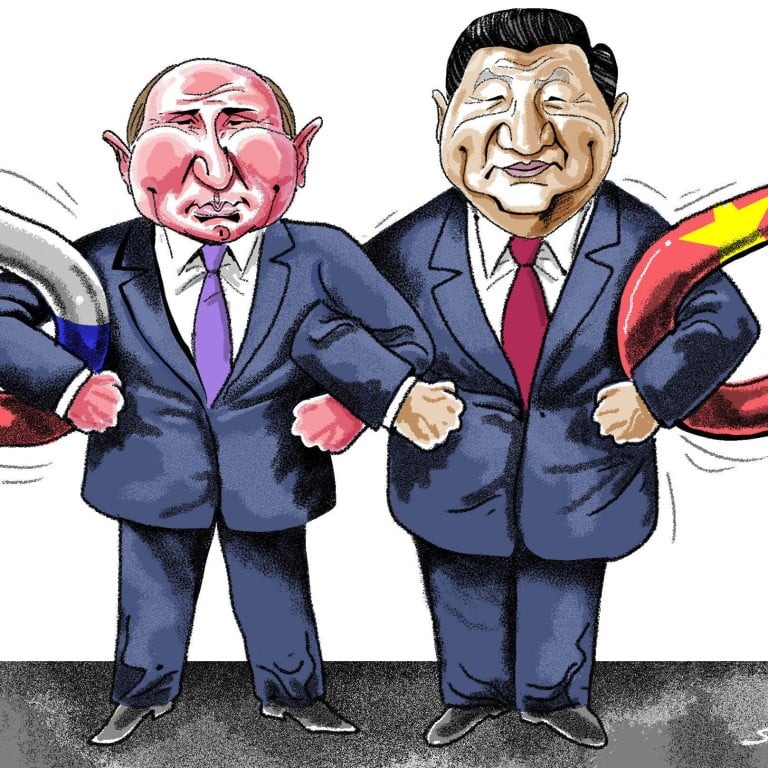 The China- Russia 'no limits' partnership is still going strong, with regime security as top priority
Those who believe Xi has broken with Putin over Ukraine misunderstand the partnership – both view regime security as their main priority and are determined to shape the international order so authoritarian states can be rule-makers
As long as both sides continue to agree to disagree on the issues that divide them, in spite of sanctions pressure, they will remain bound together
This month's meeting between the Chinese and Russian presidents on the sidelines of the Shanghai Cooperation Organisation (SCO) summit in Uzbekistan has led to renewed scrutiny of the scope and depth of the Sino-Russian strategic partnership.
Xi Jinping referred to Vladimir Putin as his "dear and old friend" but Putin admitted Xi had raised "
questions and concerns
" about Ukraine, though the Russian president also praised China's "balanced position" on the conflict.
Many observers jumped to the conclusion that Xi has finally broken with Putin over Ukraine. This reflects a misunderstanding of what the "no limits" partnership between Russia and China really means.
But, under Xi and Putin, the normative dimension has also been significant – both view regime security as their main priority and are determined to shape the international order in such a way that authoritarian states can be rule-makers.
The "no limits" formulation suited the desire of both countries to avoid a formal alliance in the short term, leaving open the possibility of one in the long term, thereby increasing uncertainty for their opponents.
Notably, Xi said not a word in public in Samarkand about Power of Siberia 2 – a proposed second gas pipeline to China, transiting Mongolia – although Putin intimated in a September 7 speech that an agreement was near and Xi, Putin and Mongolian President Ukhnaagiin Khurelsukh discussed the project in Samarkand.
Thus far, the Biden administration has accused five Chinese firms of violating sanctions and aiding Russia's military-industrial complex. Despite Russia's need for military equipment, Sino-Russian military cooperation has been confined to regular military exercises and patrols directed against US alliances in the Indo-Pacific.
Despite the imposition of unprecedented sanctions on Russia, the Sino-Russian partnership has shown resilience.
There is little evidence of Xi's distancing from Putin, so what questions and concerns might Xi have raised with Putin in Samarkand?
Xi may have been concerned that Putin could escalate in a way that would force China to respond – by using tactical nuclear weapons, for example.
Hopes in the US for greater daylight emerging between Russia and China will continue to go unfulfilled as long as the leaders of the two countries persist in prioritising regime security and agree to disagree over the issues that divide them, not just in Ukraine but in the Arctic, Central Asia and Southeast Asia.
A more promising avenue for the US would be to concentrate on Russia's increasingly nervous neighbours in Central Asia and develop a meaningful strategy to engage them.