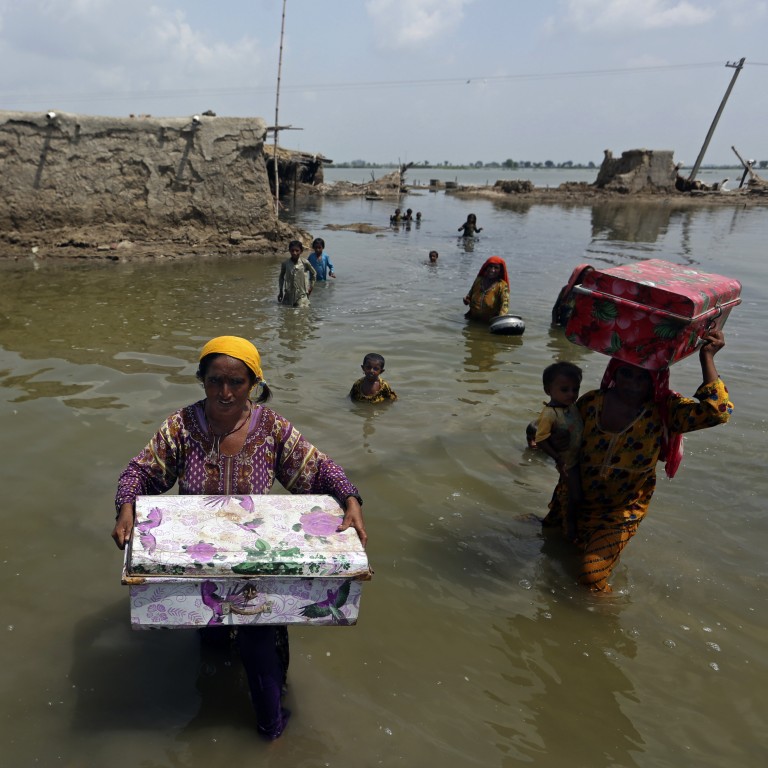 How China is climate-proofing the belt and road, starting with Pakistan
In the wake of devastating floods, Pakistan has, with Chinese help, set up a hi-tech meteorological observation station to predict weather and study climate change – part of an ambitious plan to improve climate resilience
Adapting to a changing climate is one of the world's biggest challenges. China has made addressing the effects of climate change a priority in its
Belt and Road Initiative
, the multi-decade, continent-spanning policy and investment programme designed to accelerate the economic integration of countries along the ancient Silk Road trade route through increased infrastructure development.
This is important as many countries along the route are
climate and ecological hotspots
. Extreme weather has been reported across many parts of South Asia and southern Europe, causing significant economic loss and misery. Severe downpours, in particular, are becoming more frequent.
These countries will be better prepared to deal with climate change if research is clearer. Thus, cooperation among belt and road countries is crucial to improving climate resiliency.
Green development is a primary objective of the Belt and Road Initiative International Green Development Coalition under China's Ministry of Ecology and Environment.
Along with fostering international consensus, understanding, cooperation and concerted action to realise green development along the belt and road, the initiative also aims to help participating countries realise sustainable development goals related to the environment and development.
Last month, Lanzhou University helped set up a state-of-the-art weather monitoring station at Pakistan's Peshawar University. As the first meteorological lidar observation station in the country, it will help predict the weather and environmental disasters, as well as study climate change. The station is part of the belt and road lidar network that includes eight stations in China.
Importantly, the weather forecasting system in Pakistan is working, and the Peshawar station has been upgraded with cutting-edge technology, to supply essential data for precise forecasts. The advanced sensors from China will also help assess and resolve Peshawar's air quality issues and monitor the impact on the city's health and environmental degradation.
The Peshawar station is now collecting a wide range of useful data, including technical measurements on cloud formations. The information helps predict weather conditions with great accuracy – giving a better warning of impending environmental disasters and buying valuable time for preventive measures to be taken.
The Peshawar station and its work will also aid places along the China-Pakistan Economic Corridor that lack observational data on air pollutants, dust particles, water vapour and meteorological factors.
Climate variations are not confined to any one region. With the world's climate warming at an alarming rate, it's more crucial than ever to monitor these changes closely and learn all we can. The Peshawar station will conduct climate change research to international standards.
Furthermore, scientists have developed a regional temperature monitoring system by combining the lidar network and meteorological satellites. This technology will enable them to compile a comprehensive database and weather disaster warning system.
The corridor is a showcase programme of the Belt and Road Initiative, which ultimately aims to not just promote the connectivity of Asian, European and African continents and their adjacent seas, but also realise diversified, independent and sustainable development in the countries involved.
China's lidar network and technology are set to become important tools in Pakistan's efforts to become more climate resilient.
To tackle climate change, collaboration – whether globally, or between individual nations and regions – is vital to improve weather analyses and forecasts, and thus boost early-warning capabilities. As is being shown in Pakistan, China's lidar network has the potential to significantly improve climate resilience for many countries along the belt and road.
Ruqiya Anwar, a PhD scholar of media and communication studies from Pakistan, is a researcher and sociopolitical analyst focusing on the nexus between domestic and global politics and the intersection of politics and security