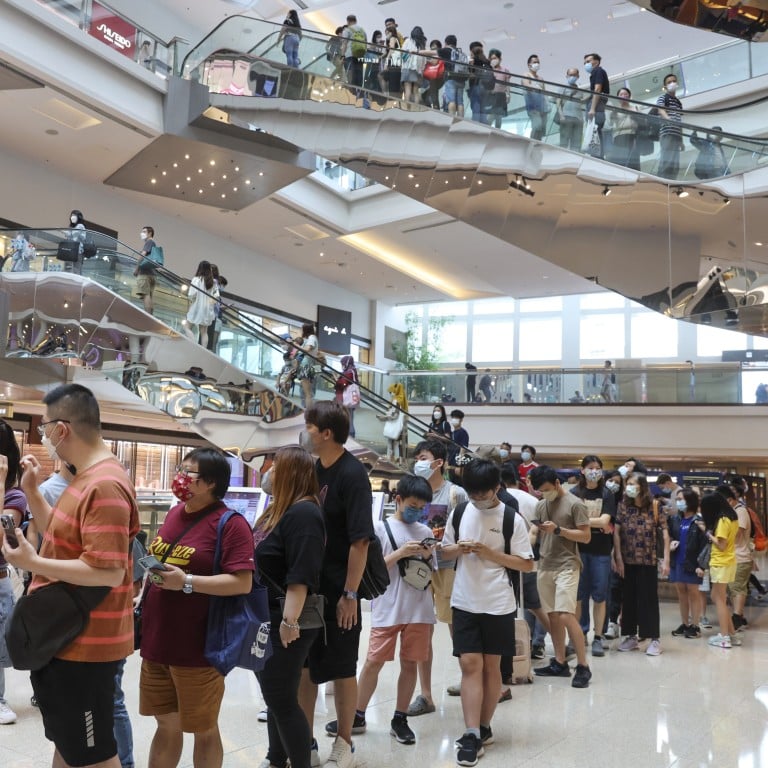 Opinion
Editorial
by SCMP Editorial
Editorial
by SCMP Editorial
Full recovery rests on Hong Kong opening up more
Consumption vouchers and the relaxation of social-distancing rules can only go so far in helping the battered economy
Hong Kong is striving to bring life back to normal after nearly three years of battling the coronavirus, and rightly so. The release of another tranche of consumption vouchers over the weekend and the further easing of business curbs later this week have given the economy and public mood a much-needed boost. And while hopes are also high that travel restrictions may be further relaxed, the Covid-19 firewall with the mainland still shows no sign of being lifted any time soon.
As usual, the latest relaxation, including bigger groups for tables in restaurants, bars and banquets, has received a lukewarm response from stakeholders. Some even criticised it as being "too little, too late". Be that as it may, it is a cautious step taken during a lingering community outbreak that still infects thousands of people each day.
There have been suggestions that the government's spending voucher scheme may no longer work wonders for the battered economy. Finance minister Paul Chan Mo-po also conceded that subsidies may not be enough to rescue the retail sector. Chan said the global economic environment was still affected by multiple interest rate increases, high inflation, supply-chain disruptions and heightened geopolitical tensions. But it would be wrong to entirely dismiss the benefits of the initiative. About 70 per cent of the vouchers worth HK$13 billion issued in August have already been used, with retail and dining accounting for 60 per cent and 30 per cent, respectively. The economy would have been in an even worse state without the spending boost.
The relaxation of travel curbs and return of major events in November will provide further guidance on the way forward. But full recovery will only come after the border with the mainland and the world reopens more. Despite an agreement with the mainland authorities a month ago on the much-touted reverse quarantine arrangement, the plan to isolate visitors in the city for a specified period before going north is still nowhere near implementation. The city will lose out further as Macau will soon welcome the return of mainland tour groups. Chief Executive John Lee Ka-chiu must work harder to reconnect the city with the mainland and the world.