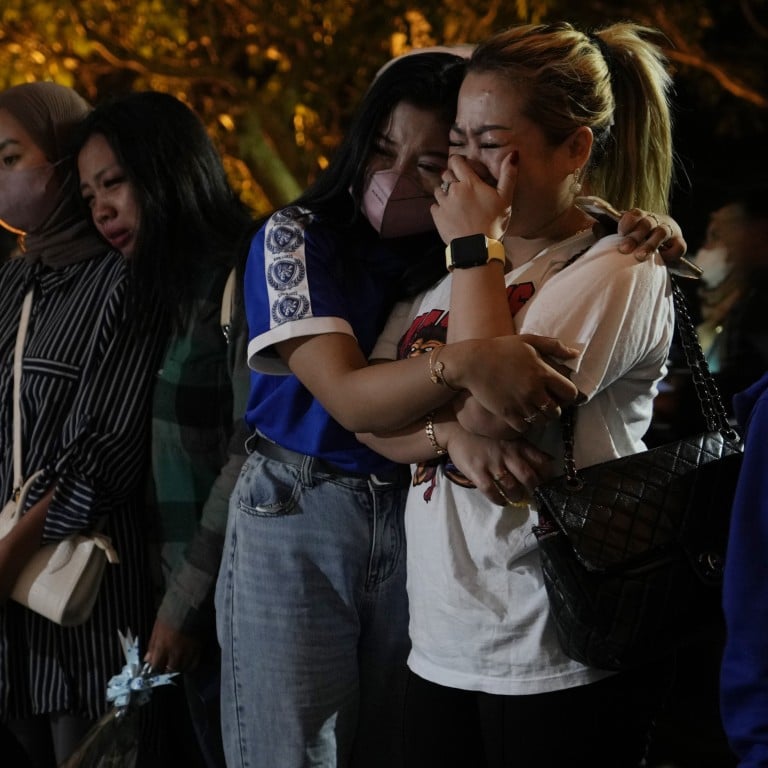 Opinion
Editorial
by SCMP Editorial
Editorial
by SCMP Editorial
Stadium safety must come first in football
As Indonesia comes to terms with the deaths of 125 fans in East Java, it has to ensure the Under-20 World Cup it will host goes ahead without heartbreak
Indonesia's hosting of the Under-20 World Cup next year is a landmark for football in the country after years of problems. A mascot was unveiled last month and the sports minister promised an unforgettable experience. That was two weeks before Saturday's tragedy, when 125 fans died in a horrific crush at a match in East Java. Hundreds more were injured in one of the world's worst sports disasters.
President Joko Widodo has demanded a thorough evaluation of security at matches and an independent fact-finding body has been established. Meanwhile, all Liga-1 matches have been suspended. The inquiry must be impartial and transparent.
Indonesian football has a troubled history. The country's football association was briefly suspended by world governing body Fifa in 2015 after a row over government meddling. The hosting of the U20 championship is a chance for it to bounce back, but stadium safety is a concern. Saturday's match ended in chaos. Away fans had been banned in an attempt to prevent fighting, but attendance was still well over capacity.
Home fans, disappointed with their team's defeat, hurled objects at players and officials and invaded the pitch to protest. Police, it appears, overreacted. They used tear gas to disperse the crowds, creating panic and a mad rush for the exits. Many died in the resulting crush. The use of tear gas in a stadium breaches Fifa regulations. Police have argued fans were rioting, and there was trouble inside and outside the stadium. The local police chief and nine elite officers have since been removed from their posts.
Indonesian football fans are passionate. There is nothing wrong with that. But fervent support has often led to violence, with 74 fans killed between 1994 and 2019. Lessons need to be learned from this latest tragedy. Football disasters elsewhere in the world, notably at Hillsborough in England in 1989, led to change. Stadium safety and security must be paramount. The footballing world needs to be sure all is well in time for the Under-20 World Cup in May. Meanwhile, our thoughts are with the loved ones of the victims. Widodo said he hoped this would be the last football tragedy in Indonesia. Steps must now be taken to ensure that is the case.