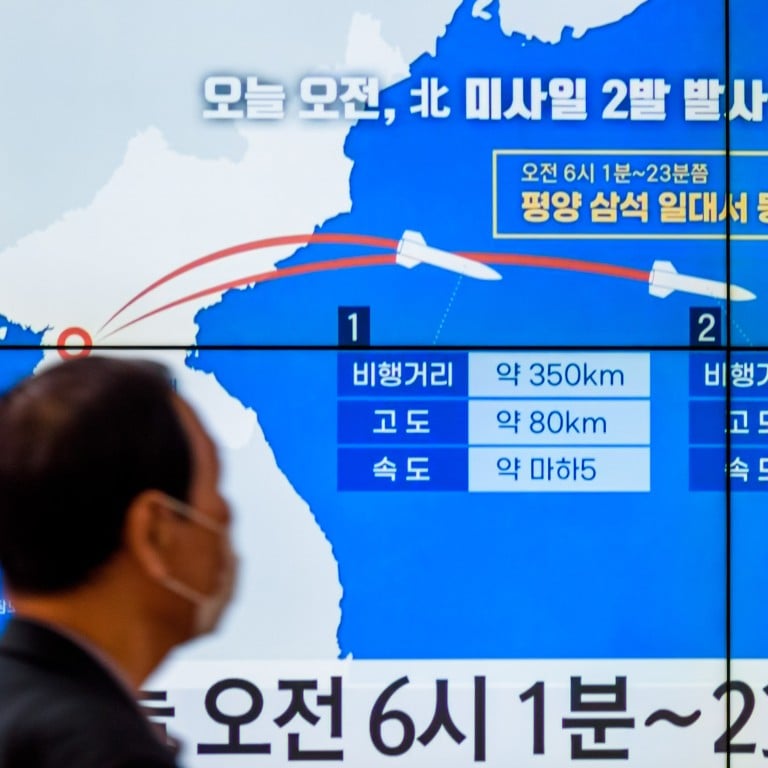 Opinion
Editorial
by SCMP Editorial
Editorial
by SCMP Editorial
Diplomacy only way to defuse missile escalation by North Korea
Latest firing of nuclear-capable missile across Japan has increased regional tensions, with South Korea also revealing a similar weapon
North Korea has fired a nuclear-capable missile across Japan for the first time in five years in the latest escalation of regional tension with South Korea, the United States and Japan.
It came as South Korea unveiled a similar missile, raising fears of an Asian arms race; and as Seoul, Tokyo and Washington have been ramping up joint naval exercises including anti-submarine drills.
These operations infuriate Pyongyang, which sees them as invasion rehearsals. But the rogue nuclear state's launching of an intermediate range ballistic missile is a serious provocation in its own right.
A number of concerns set it apart. South Korea says it flew some 4,500km (2,800 miles), putting Tokyo and Guam within range, as well as the South, along with US military bases if war were to break out on the Korean peninsula.
It was the fifth of continuing missile tests in recent days and followed a visit to South Korea by US Vice-President Kamala Harris to underscore an "ironclad" commitment to the country's defence.
And the US and South Korea have been warning that North Korean leader Kim Jong-un is preparing to conduct the country's sixth nuclear test since 2006, and the first since 2017.
The further development of missiles by two nations still technically at war nearly 70 years after fighting ended is reason enough for all sides to urgently explore talks aimed at reviving failed diplomatic efforts to defuse tension.
But what also sets the North's missile test apart is a twist in the nuclear deterrent narrative.
Until now proliferation has been the most worrying manifestation of the nuclear threat – more weapons of mass destruction in more hands. Pledges they would be used for self-defence only, and explicit disavowal of first use of them, has helped the world sleep easier at night.
Now Russian President Vladimir Putin has issued a veiled threat to use nuclear weapons in the Ukraine conflict, and warned he is not bluffing.
Putin cited the US' use of nuclear weapons in 1945 to end the conflict with Japan as a precedent. It remains a human catastrophe that does not bear thinking about again.
The US described the North's missile test as reckless and dangerous, and European Union head Charles Michel called it unjustified aggression, while China, rightly, continues to call for dialogue to resolve issues on the Korean peninsula. Hopes raised by meetings between former US president Donald Trump and Kim may have come to nothing.
But nuclear-capable missile confrontation in a regional flashpoint, against the background of geopolitical tension, is a reminder that however bleak the outlook, diplomacy remains the only viable way to handle the threat.
All concerned should put aside differences to create room and opportunity for it to be revived.