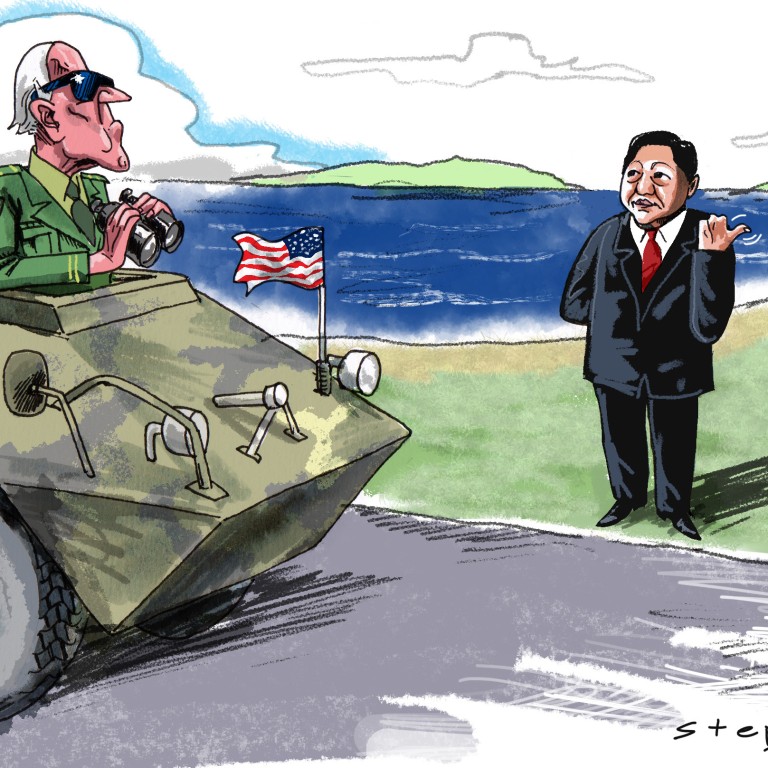 Under Marcos, the Philippines and US draw closer amid rising Taiwan tensions
The Biden administration's embrace of Marcos reflects the growing importance of the Philippines in the US' regional strategy, particularly for Taiwan
While maintaining neutrality on the Taiwan issue, the Philippines has indicated it will allow US forces access to its northern bases should war break out
"We've had some rocky times but the fact is it's a critical, critical relationship, from our perspective," US President Joseph Biden told his Philippine counterpart, Ferdinand Marcos Jnr, during their
first in-person meeting
last month in New York.
By "rocky times", Biden was obviously referring to how former Philippine president Rodrigo Duterte repeatedly threatened to end the Philippines' century-long alliance with America. In his six years in office, Duterte
refused to visit
the White House.
Despite positioning himself as a patron of democratic values, Biden visibly soft-pedalled human rights issues when he met Marcos – whose family has faced court cases in the US over allegations of corruption and human rights abuses. Biden told Marcos that "we want to talk about human rights", before quickly adding: "But I'm mainly interested to know what's on your mind and how we can continue to strengthen this relationship."
The Biden administration's embrace of Marcos reflects the growing importance of the Philippines in the United States' regional strategy, particularly for Taiwan. To this end, the two sides are strengthening their alliance in preparation for contingencies in the region.
During the presidential race, Marcos presented himself as the continuity candidate who would maintain Duterte's Beijing-friendly strategic orientation.
Yet, Marcos' first major diplomatic moves signalled a significant shift in favour of traditional Western partners. He reconsidered an earlier offer to make Vice-President Sara Duterte his defence secretary, instead appointing veterans as his defence and foreign policy chiefs.
By all indications, the Marcos presidency has ushered in a new era of US-Philippine security cooperation on three levels, with a growing focus on the Taiwan crisis.
To begin with, the Philippines' geography has become more decisive than ever. Not only is the Southeast Asian country a major claimant in the South China Sea, it's also perilously close to Taiwan. Philippines' northernmost island of Mavulis, for instance, is only 140km from Taiwan's southernmost shore. Crucially, the island hosts a lighthouse, a desalination plant and a Philippine naval detachment. The Philippine military is also building similar facilities on nearby Fuga Island.
Given the growing strategic importance of such islands, the Philippine navy has raised concerns about Chinese investment in the area. Through simulations, US experts have assessed that any potential Chinese kinetic action would likely focus on Taiwan's southern shores, thus the importance of nearby Philippine military bases.
While maintaining neutrality on the Taiwan issue, the Philippines has indicated it will allow US forces access to its northern bases should war break out. With as many as 160,000 Filipinos based in Taiwan, the Philippines also has an interest in securing the evacuation of its citizens with assistance from key allies.
This brings us to the second issue, namely ongoing efforts to upgrade the US- Philippine military alliance. Over the past year, the two allies have sought to implement a vision, which includes enhancing interoperability and intelligence sharing, updating joint defence guidelines, and expediting the modernisation of the Philippines armed forces.
After years of delay under the Duterte presidency, the two allies are now pressing ahead with the full implementation of the Enhanced Defence Cooperation Agreement, which grants US troops rotational access to vital Philippine bases, which could later include those close to Taiwan.
Recently, US Defence Secretary Lloyd Austin met his new Philippine counterpart, Jose Faustino Jnr, in Honolulu, Hawaii, to consolidate plans to fortify bilateral security cooperation, such as by increasing joint military activities from 300 this year to 500 next year.
The allies also agreed to increase the number of troops taking part in Balikatan, their main annual bilateral military exercise whose name in Tagalog means "shoulder to shoulder", from around 9,000 to 16,000. Perhaps with the Taiwan crisis in mind, this US-Philippine exercise will include "a full battle test for operating together, including in Northern Luzon", according to the Philippine military.
Finally, the Philippines is fast emerging as a key node in the Biden administration's "integrated deterrence" strategy for the Indo-Pacific.
Meanwhile, the Philippines has been enhancing its defence cooperation with fellow US allies, especially Japan and South Korea, which have provided increasingly sophisticated training and weapons to the Philippines. The upshot is a more robust network of US-led military alliances across the Indo-Pacific.
After six years of uncertainty under Duterte, and amid rising tensions over Taiwan, the US-Philippine alliance has entered a new phase of revitalisation under the Marcos presidency.
Richard Heydarian is a Manila-based academic and author of "Asia's New Battlefield: US, China and the Struggle for Western Pacific" and the forthcoming "Duterte's Rise"