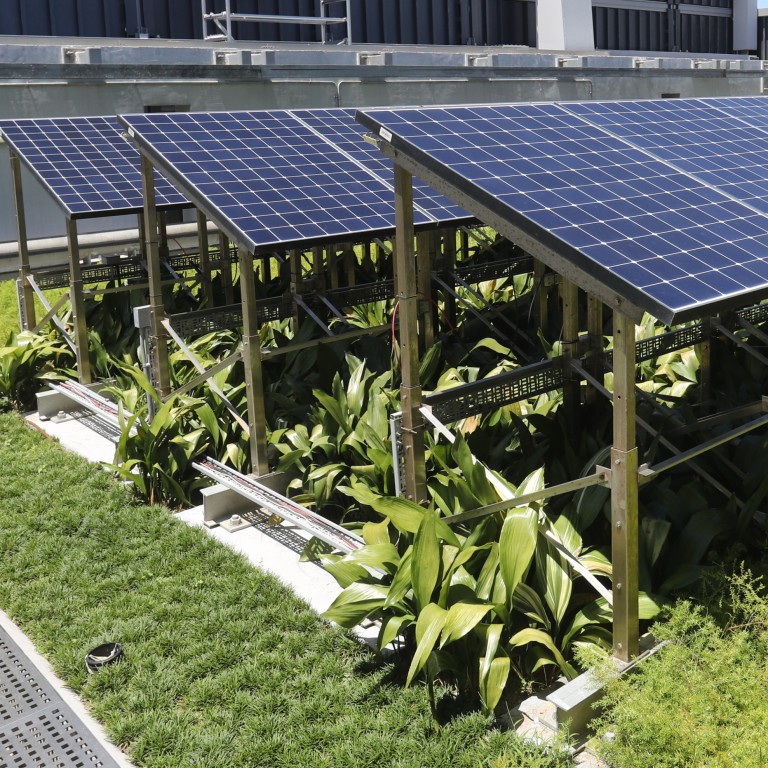 How green design can aid Hong Kong's climate change fight by taking heat off buildings
Landscaping and other green design features are not just pleasing to the eye but can reduce buildings' overall heat gain, lowering the need for air conditioning
While not a panacea, green design features can limit damage to the environment, bring safety and comfort to users and cut energy consumption
Weather records are dropping one after another. We had the
hottest Chung Yeung Festival
since records began in 1884 with the mercury climbing to 33.5 degrees Celsius. We had the
hottest September day
at 35.9 degrees. In July, we had
25 "hot nights"
– defined as a minimum temperature of 28 degrees or above – the highest number in a month ever.
This extreme heat phenomenon was not limited to Hong Kong but affected the world at large. China logged its hottest summer since 1961, with cities
in Sichuan province
experiencing a series of August days over 40 degrees.
India and Pakistan
suffered from spring heatwaves that hit as early as late April, with the temperature reaching 50 degrees. Europe, North Africa and North America were not spared, with often-extreme heat combined with droughts and wildfires overstressing power grids while people were advised to
limit electricity usage
.
Extreme heat does not simply make us uncomfortable. Studies show it can trigger serious health issues including heatstroke, heart attacks and dehydration. Researchers at the University of Southern California found that when extreme heat mixes with pollution – which is
common in urban areas
– the toxic particles from vehicle emissions could worsen ground-level ozone and induce respiratory distress. Extreme heat also hurts economic growth by decreasing
work productivity
, affecting crop yields and setting off power shortages when supply cannot meet demand.
Since architects and engineers discovered two interdependent materials as being reliable and long-lasting more than 100 years ago, most buildings and infrastructure have been built with concrete and steel. Concrete is great for compression and steel offers a good strength-to-weight ratio, which made them ideal materials for high-rise construction.
Currently, our building codes do not mandate green design measures or energy use. Instead, the Buildings Department, Lands Department and Planning Department issue "joint practice notes" which offer floor area concessions for owners who implement green features from a predetermined menu.
They are encouragements and recommendations at best. The Hong Kong Green Building Council's "Beam Plus" initiative is also voluntary. Other than awarding certificates to buildings that collect enough credits, there are incentives from other departments and utility companies, such as tax deductions and assessment fee subsidies.
We also need an overhaul of the city's building codes as an urgent response to the extreme climate changes around us. Realising green design should not come down to a decision based on costs and benefits by building owners but rather be premised on the health and safety of the general public. What would be better than rebranding Hong Kong as a green building jungle?
Dennis Lee is a Hong Kong-born, America-licensed architect with 22 years of design experience in the US and China