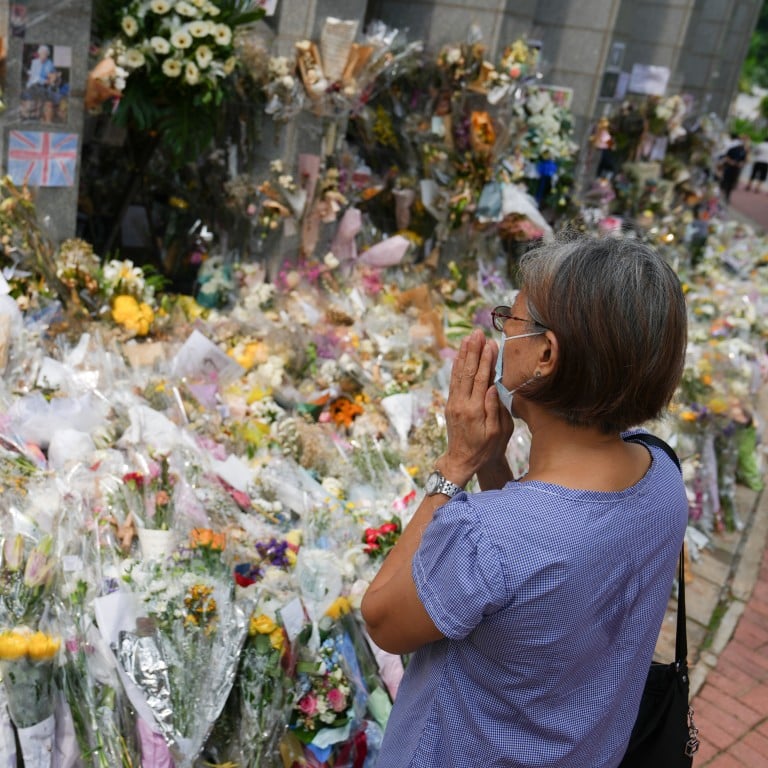 Hong Kong needs consensus on decolonisation instead of romanticising British rule
Even 25 years after China regained sovereignty over Hong Kong, local culture has not progressed to a point at which condemning colonialism is natural or common
The University of Bristol, an institution whose inaugural funds depended on the transatlantic slave trade, was one of the first in Britain to officially commit to "decolonisation" efforts, including diversifying its curricula and installing anti-racism mechanisms on campus. Its Black, Asian and Minority Ethnic Network, of which I was a committee member during my studies, has also introduced a new role: decolonisation officer.
This would have been unconceivable in 2017, when I was a student at a Catholic boarding school in Essex. My writing about Britain's role
in the slave trade
was rejected and criticised by the school newspaper for being "too negative", which was, in my view, precisely why it deserved to be printed.
On the passing of Queen Elizabeth, many acquaintances from my cohort – who are white and British – have taken to social media to remind their followers of the shameful history of
British imperialism
. They weren't celebrating the late monarch's death but were warning against romanticising an institution that is historically responsible for the deaths and oppression of millions.
However, the same could not be said of many young people in Hong Kong. The reality is that a quarter-century after China regained sovereignty over Hong Kong, the culture sadly has not progressed to a point at which condemning colonialism is natural or common. This might be because of the city's overreliance on the Western capitalist structures built by its former ruler.
After the Chinese government announced plans to draft a national security law for Hong Kong, there was undue media attention on Britain's response, particularly the views of Hong Kong's last British governor. There has been hand-wringing over Hong Kong's East-meets-West characteristics being "eroded". Yet, how the West came to "meet" the East, by forcing opium into the region, is often omitted. Obsessing over the opinions of former colonial rulers in a postcolonial world is at best absurd and at worst morally deficient – and this has nothing to do with whether one is an admirer of the Chinese Communist Party's rule.
As Sinophobia becomes increasingly portrayed as anti-authoritarian activism, especially amid the Covid-19 pandemic, romanticising 150 years of British colonial rule has also gained in popularity. We have seen some young Hongkongers reminisce about an imagined time they have never experienced.
In a world where people are strong enough not to internalise oppression, why would anyone seek governance advice – or advice of any kind – from their former oppressors? Their explainable ignorance is no justification for imperialist ideology to live on.
Most would not deny that the British rulers developed much of the city's infrastructure, but an overemphasis on these narratives minimises, and perhaps even erases, the local population's disobedience of the colonisers. The
riots and protests
of many people's grandparents against imperialist occupation is as important a historic episode as the economic advancements that could be credited to the colonial government.
Another piece of lingering evidence of the segregated colonial order is the simple fact that, after 150 years of British occupation, much of the former colony's population is still either unable to or uncomfortable conducting conversations in English, which was the city's
sole official language
until 1974 despite not being spoken by many outside the city's elite.
The West has had to make little effort to meet the East in Hong Kong, not even to learn the language spoken by 95 per cent of the population, yet Chinese immigrants who are even slightly inarticulate in English face the prospect of being ostracised and discriminated against in their new homes in the West. The colonial hierarchy is not one to be romanticised.
As a society, we are nowhere near a consensus on decolonisation. Western portrayals of an authoritarian China have pushed such a consensus beyond the bounds of possibility, with the aid of the many well-intentioned yet misinformed "progressives". I would like to remind them that the narrative of refined British missionaries teaching Hongkongers democratic values which would now be taken away by a "Chinese empire" overly simplifies disturbing historic events into Disney-style good-versus-evil tales which help nobody.
Perhaps take a look at the Caribbean nations trying to sever ties with the monarchy, which Prince William said his family would support. Instead of glamorising people's internalised colonialism, perhaps consider the cultural failure of the local authorities' "decolonisation" project, if there was one at all.
Cyril Ip joined the Post in 2021 after graduating from the University of Bristol with a degree in sociology, specialising in postcolonialism