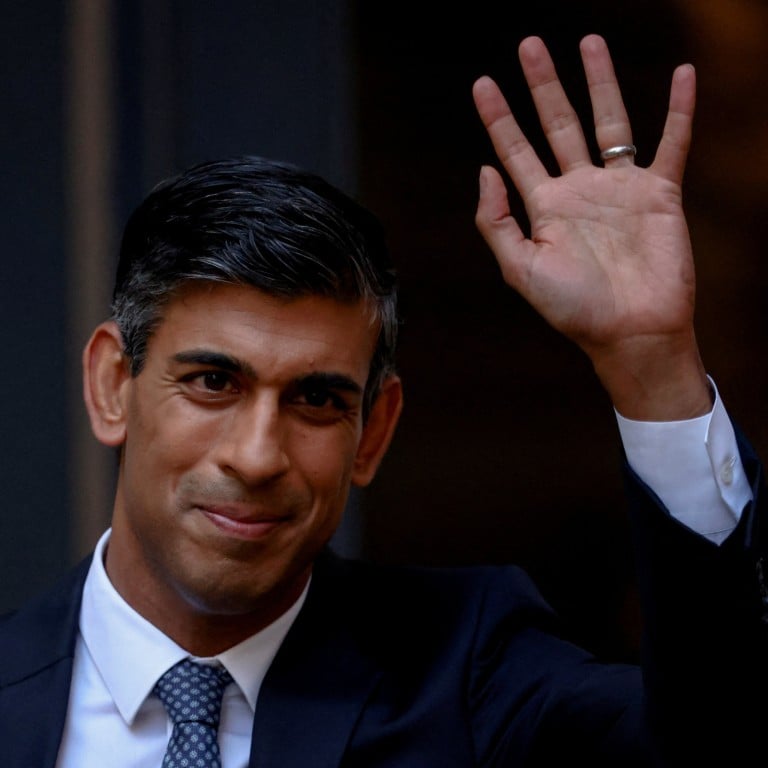 Opinion
Editorial
by SCMP Editorial
Editorial
by SCMP Editorial
Stability has to come top of Rishi Sunak's agenda
Britain's first leader of Asian heritage, and its youngest for two centuries, would do well to engage China as he faces enormous economic and political challenges ahead
The appointment of a new British prime minister comes with a sense of déjà vu. It is only seven weeks since the last one took office.
Liz Truss resigned last week after her disastrous tax-cut policy spooked the markets, prompted U-turns and damaged Britain's credibility. The ruling Conservative Party moved quickly to replace her. Rishi Sunak was the only candidate to secure enough nominations from the party's lawmakers.
Sunak, of Indian heritage, will be the country's first British Asian leader. He was born in England, but his parents were immigrants. This is welcome.
At 42, he will be the youngest prime minister for two centuries and among the most inexperienced. He is also extremely wealthy.
Sunak's appointment marks an extraordinary political comeback after losing the earlier leadership contest to Truss.
But he faces enormous challenges. A cost of living crisis, high levels of government borrowing, rising interest rates and a looming recession are among the many problems confronting the new leader.
Speaking outside 10 Downing Street, Sunak warned Britain was facing a "profound economic crisis". He pledged to fix recent mistakes and to place economic stability and confidence at the heart of his agenda.
A former hedge fund manager and finance minister, he has a reputation for fiscal conservatism. It is to be hoped his elevation will mark a return to prudent economic policies after the turbulence of the brief Truss term.
That will reassure the markets and be well received globally at this time of economic uncertainty. But raising taxes and cutting public services will not be popular at home.
Sunak talked tough during the summer leadership contest, describing China as the biggest threat to Britain.
It remains to be seen whether this was just campaign rhetoric. Supporters of rival candidate Truss, at the time, said Sunak had been working hard when finance minister to boost trade with China.
It is to be hoped his pragmatism and prudence will, now that he is in office, extend to engaging China, Britain's third-largest trading partner.
Closer ties and warmer relations would benefit both countries. Greater stability is needed, for both the economy and international relations, not just in Britain but around the world.