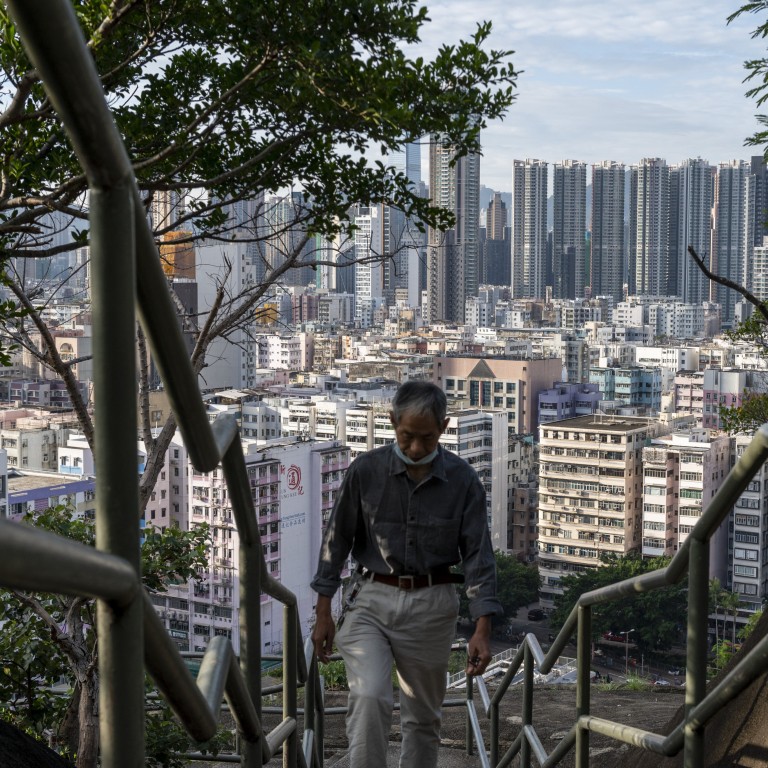 On Hong Kong's housing and land supply, John Lee must avoid the mistakes of past leaders
After the Asian financial crisis, a group of professionals tried to warn the government against a damaging standstill in land development, but the advice fell on deaf ears
Hong Kong continues to face mountain-like obstacles to land development, and would benefit from a more participatory approach to governance
In his first policy address, Chief Executive John Lee Ka-chiu said land and housing were the government's top priority. This was also the case with his predecessors Carrie Lam Cheng Yuet-ngor and Leung Chun-ying.
During the Asian financial crisis around 2000, as property prices in Hong Kong plummeted to record lows, the Hong Kong government stopped holding scheduled land auctions and developing new sites in order to stabilise property prices. However, after the economy recovered, this policy remained in place and virtually no new land was developed in the decade from 2005 to 2015.
This prolonged suspension of land development alarmed a group of professionals who understood that capital, land and labour are primary economic inputs and that the absence of one of these elements would create bottlenecks in future economic growth. I was part of this group which around 2008 sounded the alarm bell through an extensive campaign – newspaper articles, advertisements, a seminar and videos – to educate the public and government officials. In a 2009 research report, we suggested resuming land development, developing a competitive housing market and increasing the number of property market participants.
However, this advice fell on deaf ears. By the time chief executive Donald Tsang Yam-keun acknowledged the government's land policy mistake in a radio interview in 2011, the damage was done. Undoing the effects of the policy that had been in place for a decade would take longer than that. It may have become a mission impossible.
It is well recognised that Hong Kong faces three mountain-like obstacles in land development.
First, although all land in Hong Kong has been owned by the government since 1843 and buyers hold lease rights only, the British 99-year lease on the New Territories continues to present prickly problems of land ownership.
Indigenous inhabitants of the New Territories
hold pockets of quasi-freehold land inherited from their pre-British-era ancestors.
This means that whenever the government seeks to reclaim this land for development, the residents either refuse to move out, or ask for market-rate compensation. Consequently, a complex web of negotiations that involves the government being asked to "repurchase" its own land at exorbitant prices often ends in deadlock.
The second issue relates to usage of
brownfield land
. In the 1983 case of Attorney General vs Melhado Investment Ltd, the court ruled that "use of land listed in the schedule of the lease was descriptive only". This decision meant that land described as agricultural could be used for storage or other purposes that did not require building. The case led to the proliferation of open storage and other unsightly uses of farmland until 1991, when the government enacted zoning legislation to bring this situation under control.
If the government starts to aggressively reclaim brownfield land for housing, it will adversely affect an established part of the local industry and economy. The time and resources required to relocate these businesses would understandably be contentious.
Third, there is the matter of Hong Kong's hilly terrain. After a century of rapid economic development, few sizeable pieces of flat land are available for development. The last remaining significant piece of flat land, in Yuen Long, is the site of the Shek Kong military airbase and therefore unavailable; constructing tall buildings near it might obstruct flight paths.
If Hong Kong had allowed wider participation in governance in 2008, it would have not fallen behind in land development by 10 years. In this case, it seems clear that independent and civic-minded professionals armed with the necessary economic knowledge offered a more accurate assessment of the situation and a more farsighted solution than government officials or professionals appointed by institutions, who might have felt the need to toe the official line or protect vested interests.
The hard lesson that must be learned is that governing without the necessary knowledge is as good as governing blindfolded.
Dr Victor C.K. Wai is a retired banker and accountant