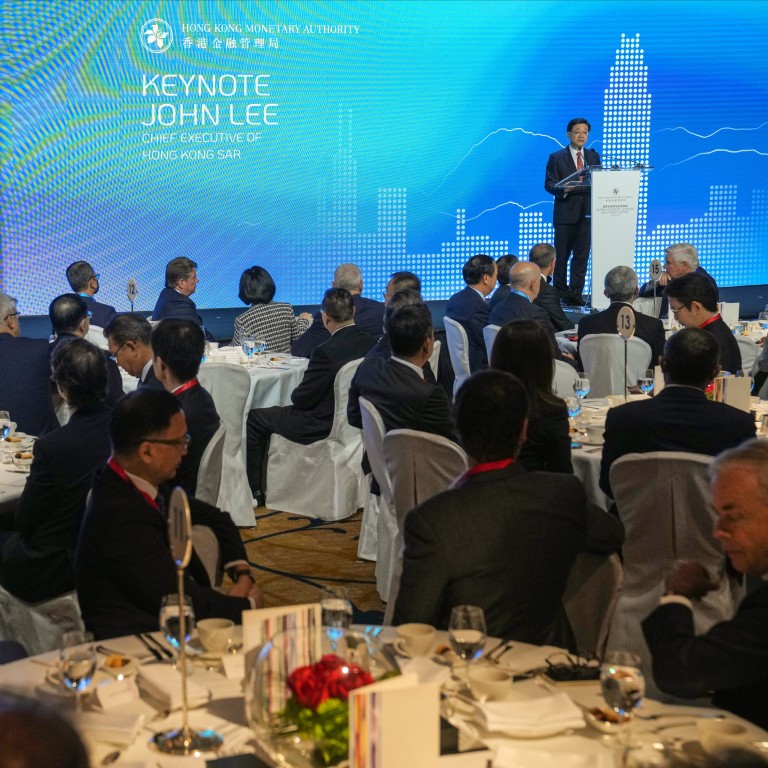 Opinion
Editorial
by SCMP Editorial
Editorial
by SCMP Editorial
Reputation as global financial hub rests on return to normality
Industry leaders at a top investment summit are putting their faith in Hong Kong and that should be repaid with the cautious ending of restrictions
A global financial hub that bridges East and West attracts international conferences. It takes something extraordinary to set one of them apart. In the case of the current Global Financial Leaders' Investment Summit in Hong Kong, it has gone ahead against all the odds amid Covid-related restrictions, with hardly a significant absentee among a galaxy of bankers and finance chiefs. For a city that emerged from social unrest into a pandemic, it forms a reassuring counterpoint to geopolitical and economic uncertainty. Indeed, the theme of the summit is "Navigating Beyond Uncertainty".
In a keynote address, Chief Executive John Lee Ka-chiu did not miss the opportunity to extol Hong Kong's capacity for moving on from uncertainty. Hong Kong "remains the only place in the world [where] global advantages and the China advantage come together", he said, pointing out that its unique combination of advantages such as "one country, two systems", a free flow of capital and information and the common law system, had never been in doubt. Its location at the heart of Asia, air cargo hub, five universities among the world's top 100 and proximity to China made it the best city for business.
In keeping with President Xi Jinping's recent pledge of full support for Hong Kong to develop its economy, the appearance at the summit of three top mainland financial regulators boosted Lee's sales pitch. "Hong Kong has great potential in deepening connections with the mainland financial market, financing and investing under the Belt and Road Initiative, fintech and green finance," said Yi Gang, governor of the People's Bank of China, in a pre-recorded video. The city had full support to maintain its law-based, open, inclusive and enabling business environment.
Yi appeared with Xiao Yuanqi, vice-chairman of the China Banking and Insurance Regulatory Commission, and Fang Xinghai, vice-chairman of the China Securities Regulatory Commission, who discussed the positions of China and Hong Kong amid economic headwinds. Underscoring Hong Kong's role, Fang said building up a high-quality capital market in China took time. "So for China's economic growth, we need Hong Kong."
Meanwhile, Financial Secretary Paul Chan Mo-po assured those taking part of the many financial opportunities Hong Kong offers. John Lee said Hong Kong was seeing a rebound as it continued to lift Covid-19 restrictions. But they continue to cast a shadow, as reflected in exemptions granted to those attending the summit, raising the question of when they will be fully lifted. Given that the Hong Kong Monetary Authority plans to make the summit an annual event, and the city can implement its own Covid measures, the return of normality is paramount, subject to public health considerations.