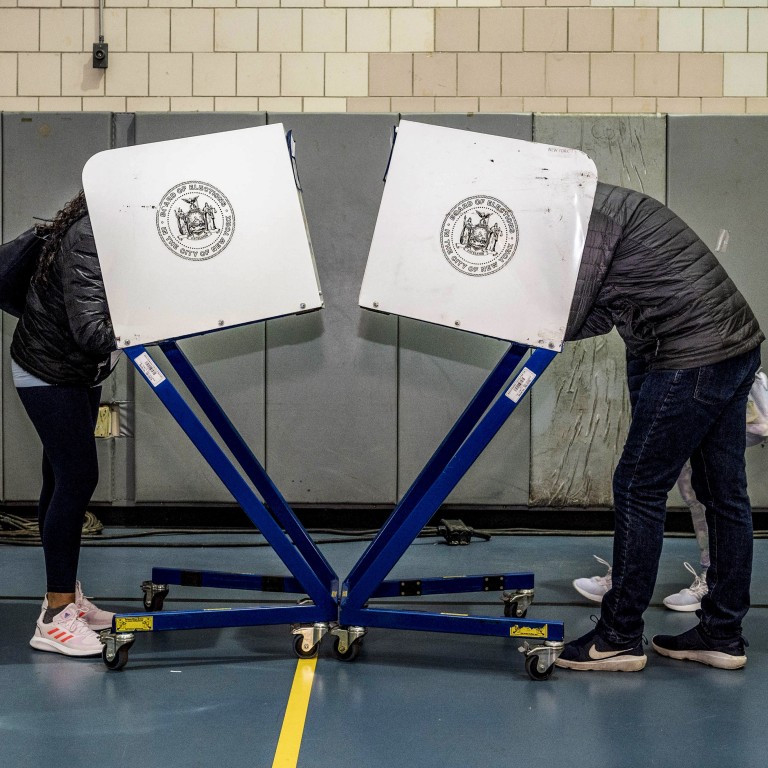 Opinion
Editorial
by SCMP Editorial
Editorial
by SCMP Editorial
Midterms provide no let-up for China from a divided America
US election results are unlikely to reassure Beijing, or a world facing economic and geopolitical instability; instead more tension and conflict looms between the two major powers
A swing in voter intentions towards the Republicans became evident in polling long before the United States midterm elections. But it failed to gather momentum.
It fell well short of a possible landslide, or a "red wave", which would have wiped much Democratic Party blue from the electoral map, the White House excepted.
At best, it seems the result has reversed a small Democratic majority in the House of Representatives. Control of Congress ultimately depends on a run-off for a Senate seat in Georgia.
With high inflation hurting hip pockets, and President Joe Biden's abysmal approval ratings, it might have seemed a question of how big a Republican victory.
In terms of damage limitation, the result is even seen as a victory for the Democrats.
Other concerns apart from the economy, such as crime and abortion rights, may have muddied the water but, on balance, Republicans need to reflect on the outcome.
Many women voters apparently turned against them over abortion.
America remains bitterly divided. That is unlikely to reassure China, or a world facing economic and geopolitical instability. Instead we can expect more tension and conflict between the two major powers.
Biden has maintained the hard line on Beijing set by predecessor Donald Trump. At times it seems that consensus between the Republicans and Democrats is limited to rivalry with China.
More broadly, however, their core foreign policies are not that far apart. Given the close result, neither can afford to look weak on China ahead of a presidential election in two years.
The elephant in the room is Trump, amid speculation he is about to announce another presidential bid. The false parallel narrative of American politics, that the Democrats stole the 2020 presidential election from him, continues to haunt.
With more than 40 congressional races still to be called, more than 160 candidates identified in one way or another in the past, or even now, as "election deniers" were projected to have won, according to one report.
Most may have campaigned on other issues this time, but their victories are seen as having implications for American democracy.
Election deniers will have a majority in the new House Republican caucus, where they are expected to elect as speaker the current House minority leader Kevin McCarthy, who has repeatedly expressed his intention to visit Taiwan.
That is sure to trigger a repeat of a crisis over Nancy Pelosi's visit that brought China-US relations to a new low.
In the two years until the next presidential election, Republicans can be expected to attack China and Biden's policies. It is to be hoped Biden does not try to match or double down on such hawkishness. The lesson of the recent past is that bipartisan antagonism towards China does not yield bipartisan cooperation on other big issues.