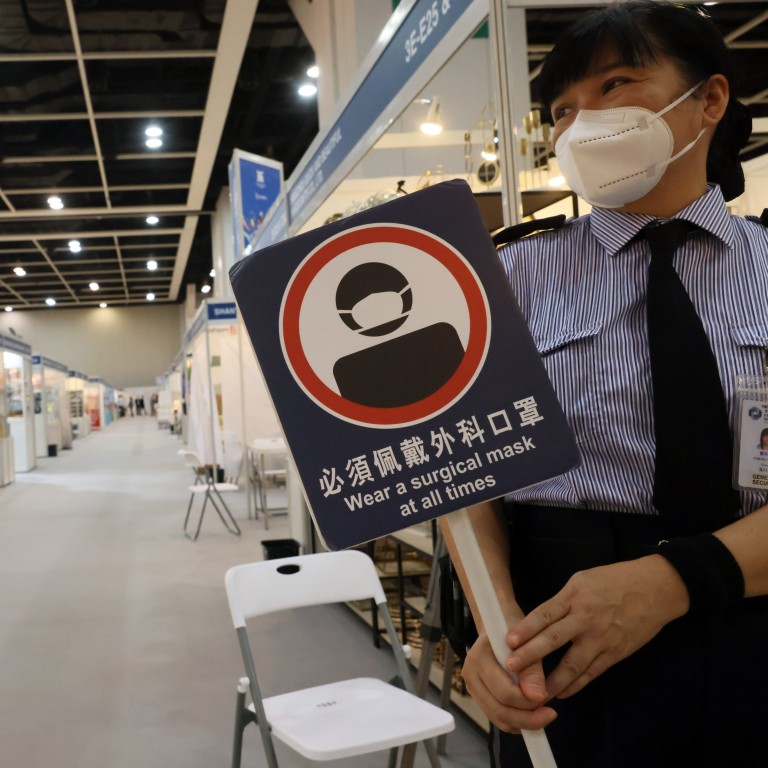 Opinion
The View
by Duncan Cheung
The View
by Duncan Cheung
As trade fairs flounder, why is Hong Kong easing out of Covid-19 so slowly?
Recent rugby and bankers' events enjoyed exemptions and were a success but international trade fairs, and the wider events and tourism industry, continue to suffer
How does Hong Kong plan to keep its strict measures and still fulfil its economic role in China's national plan?
The physical presence of overseas exhibitors and buyers is crucial to the success of international trade fairs, but travellers continue to be turned away by Hong Kong's anti-epidemic measures, the gradual relaxation of which has been described frustratingly as "
squeezing toothpaste
".
As an Asian product sourcing event with a long history of 30 years, Mega Show returned on November 15 at the Hong Kong Convention and Exhibition Centre with only 700 booths this year, a mere eighth of its size before the Covid-19 pandemic.
We urge Chief Executive John Lee Ka-chiu to explain the following matters to the industry and the public. First, when will the Hong Kong government announce a
clear road map
for Hong Kong's return to normalcy?
Second, given that anti-epidemic measures were
tailor-made
for the participants of the two major events this month, can a similar
special arrangement
be made for those attending large international trade fairs? For example, allowing those assigned an
amber code
on their vaccine passes to dine in specified restaurants?
Third, with the slow easing of the anti-epidemic measures that are tantamount to trade barriers, how is Hong Kong to succeed as a national economic platform for "bringing in" and "going out", to fulfil its
role in China's 14th five-year plan
?
Last September, Hong Kong's quarantine measures for inbound travellers were relaxed to 0+3, meaning no hotel quarantine and just three days of medical surveillance. But the rebound in visitors has been
lacklustre
. On November 12, for example, the 14,624 arrivals were mostly of Hong Kong residents, with only 1,886 from the mainland and 1,635 from other places.
Though nearby countries such as
Singapore
,
Thailand
,
Japan
and South Korea are not completely free of Covid-19, they have loosened their epidemic measures much sooner than Hong Kong. As a result, these economies are expected to expand by 2-4 per cent this year, meaning that all of them have embarked on a post-pandemic recovery.
Like Hong Kong, these countries are export-oriented, and affected by interest rate increases and global economic factors. Yet Hong Kong is looking at an economic
contraction of 3.2 per cent
for the year.
Tourists bring considerable foreign exchange earnings. In particular,
business tourists
are high spenders. As the exhibition capital of Asia and an international centre of trade, Hong Kong used to attract many overseas business travellers every year.
Before Covid-19 hit, in 2018, more than 14 million people flew into Hong Kong, an average of nearly 1.2 million per month. In 2019, despite the social unrest, nearly 800,000 overseas tourists still visited Hong Kong in December.
Quite simply, Hong Kong has not relaxed its Covid-19 measures enough to bring tourists back. This is directly harming the city's economy – stifling tourism-related enterprises, forcing travel agencies and restaurants to go out of business, and shrinking international trade fairs. The economy will continue to suffer unless the Hong Kong government takes serious action.
The battle against Covid-19 has lasted for more than 1,000 days. While daily caseloads still number in the high thousands, the number of severe cases and fatality rate remain extremely low.
The coronavirus has not been cleared, but the local economy has been emptied. The Hong Kong government has insisted that it will continue with epidemic prevention but the sad reality is that it is chasing its own tail.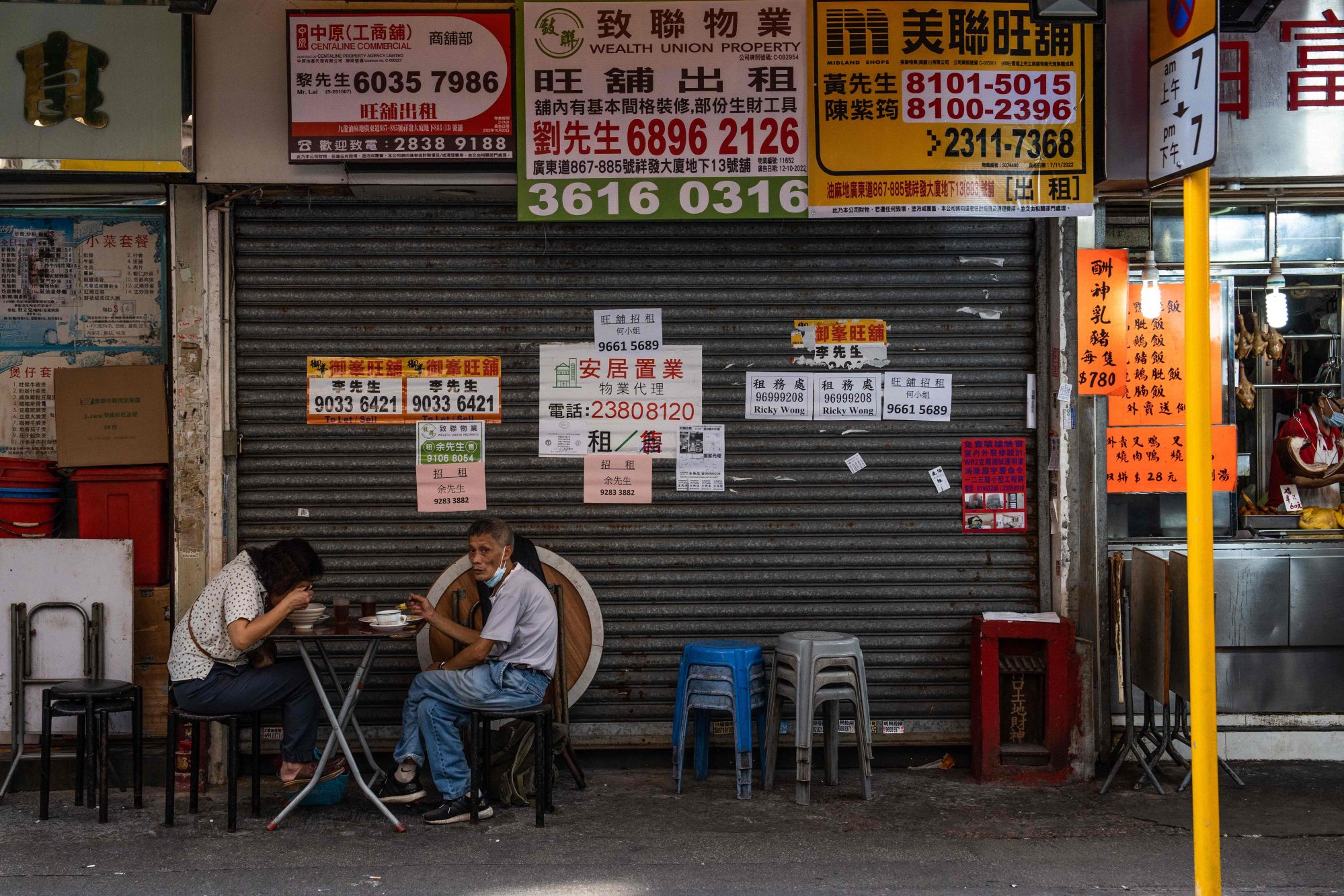 Having been engaged in the international trade exhibition business in Hong Kong for more than 30 years, we see that the current strict anti-epidemic policy being kept on by Hong Kong government is deterring most overseas exhibitors and buyers. Requiring inbound travellers to undergo multiple rounds of compulsory testing, for example, is complicated and lacks transparency.
As business travellers generally have a tight schedule, it is really difficult for them to accept the three-day amber code restriction upon arrival. This is a barrier to efforts to attract them to Hong Kong. Therefore, the number of passengers arriving continues to be sluggish, and airlines cannot arrange too many flights, which directly leads to high air ticket prices.
Before the pandemic, Mega Show was the largest Asian product sourcing event held in Hong Kong every autumn, with more than 5,000 booths in its heyday, attracting buyers from around the world.
The glorious days when such international trade fairs brought Hong Kong hundreds of millions of dollars in foreign exchange earnings have become history. During the epidemic, such trade fairs were cancelled, forcing many senior industry professionals to switch careers, and the industry has, sadly, lost talents.
China's 14th five-year plan clearly supports Hong Kong in enhancing its status as an international centre of trade. The Hong Kong government has also shown that it is actively exploring the huge opportunities offered by
domestic and international circulation
, in helping Chinese enterprises to tap the international market, and helping foreign investors to explore business prospects in the mainland and Asia.
In the past, many buyers would go on to make stops in the mainland and around the region after attending Hong Kong's exhibitions. But given Hong Kong's epidemic-prevention measures, and with quarantine-free travel between the mainland and Hong Kong yet to resume, there is now even less desire to visit Hong Kong.
The Hong Kong government and the central government must solve this problem as soon as possible.
Duncan Cheung is the founder of Mega Show, the renowned sourcing show for Made-in-Asia products in Hong Kong every October