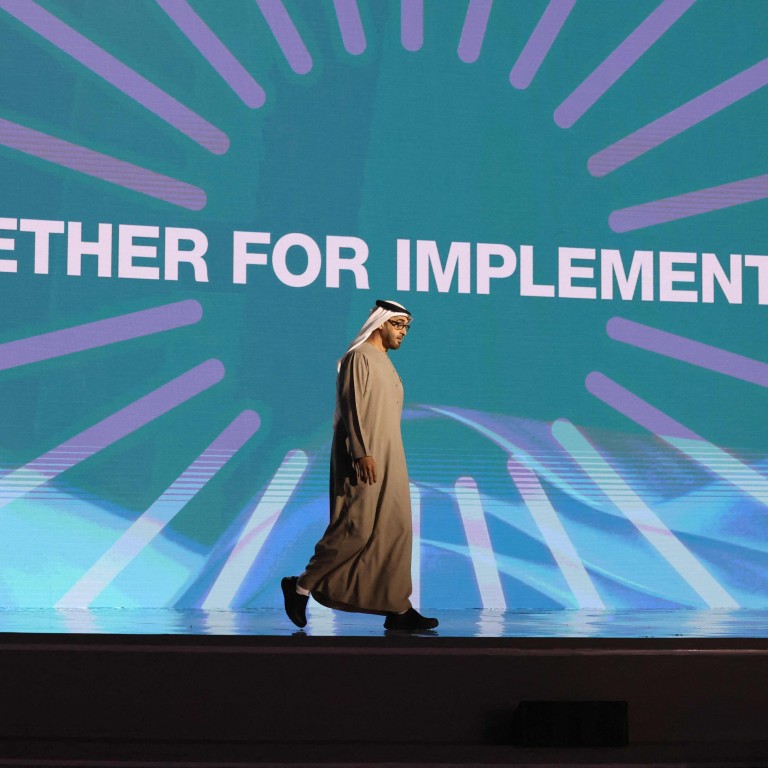 Opinion
Eye on Asia
by Guy Burton
Eye on Asia
by Guy Burton
As climate debate heats up, Gulf states can help bridge differences between East and West
New findings show economies can grow even as carbon dioxide emissions decline. These findings are important for developing countries like India
As hydrocarbon producers with net-zero goals, Gulf states can help facilitate dialogue between historic polluters in the West and growing economies in the East
Can we have economic growth without further damaging the environment? Such concerns may have been overshadowed this year by a post-pandemic increase in greenhouse gas emissions and economic activity, and the reorganisation of the production and supply of hydrocarbon after Russia's invasion of Ukraine.
Looking further ahead, the prospects seem even more bleak. Asia's economic rise looks set to see greenhouse emissions increase further; already,
China
produces more than the rest of the developing world, while India's share is set to grow. Meanwhile, at this month's United Nations climate summit,
COP27
, limiting global temperature rises to 1.5 degrees Celsius already seemed a lost cause.
Yet against all this, the UN Intergovernmental Panel on Climate Change's report back in April offered some modest hope: greenhouse emissions grew slower in 2010-19 than in 2000-9. In addition, the Global Carbon Project noted in a new report that carbon dioxide emissions in 24 economies that represent a quarter of all such releases fell during 2012-21. Moreover, they did so even as those economies grew.
The findings are important since the world's population will grow over the coming decades. Much of that growth will be in the developing world, including Asian countries like India, Pakistan and Indonesia, which will need more economic growth to fulfill people's needs.
For that economic growth to be sustainable in these countries, many of the lessons learned from the 24 historic polluters will therefore need to be applied at scale.
They include the introduction of new laws and policies to boost energy efficiency, alongside less deforestation and greater uptake of renewable energies.
Falling costs of cleaner forms of energy have also helped. But this alone won't be enough; greater availability and uptake requires capital, which for some countries may not always be easily at hand. For that reason, efforts like the US-UAE Partnership for Accelerating Clean Energy (PACE), which was signed days before COP27, will be useful.
The agreement commits the United States and the United Arab Emirates to "catalysing" US$100 billion in financing, investment and other support to deploy clean energy in developing countries and supply chains. PACE also envisages decarbonising transport and industry, as well as boosting the use of advanced nuclear energy.
Beyond PACE, the UAE and other Arab Gulf states like Saudi Arabia could also contribute to economic development and the energy transition in other ways. Despite being major hydrocarbon producers, the Arab Gulf states are already trying to reduce their own dependence on oil and gas and
adopt alternative forms
of energy at home.
Because of this, they can speak with authority and serve as an example to other countries, especially in Asia and the developing world.
The UAE, for example, recently built on its strategy to achieve net zero carbon emissions by 2050 by identifying the actions it must take to increase clean energy use and cut back on fossil fuels at home while also ensuring that gross domestic product and job opportunities continue to grow. Such measures may be useful for other countries, like China and India.
In addition, the Arab Gulf states can act as facilitators of dialogue between countries to reduce carbon emissions and limit climate change. As major energy suppliers, they have the ear of much of the world and so can smooth tensions between the West and the rest in Asia and Africa.
In short, Arab Gulf states like the UAE can operate between historic polluters like the US and Europe, which benefited from earlier carbon-based industrialisation, and developing countries, which suspect the West wishes to hold them back economically with the climate agenda.
In sum, while the overall picture at COP27 this month may seem gloomy, there are some signs of hope. As the centre of the global economy shifts towards Asia, questions of how to balance economic development, growing populations and environmental needs will become ever more important. While the answers are neither completely clear or comprehensive, efforts are being undertaken and which, over time, could start to make a difference.
Guy Burton is an adjunct professor at the Brussels School of Governance, Belgium