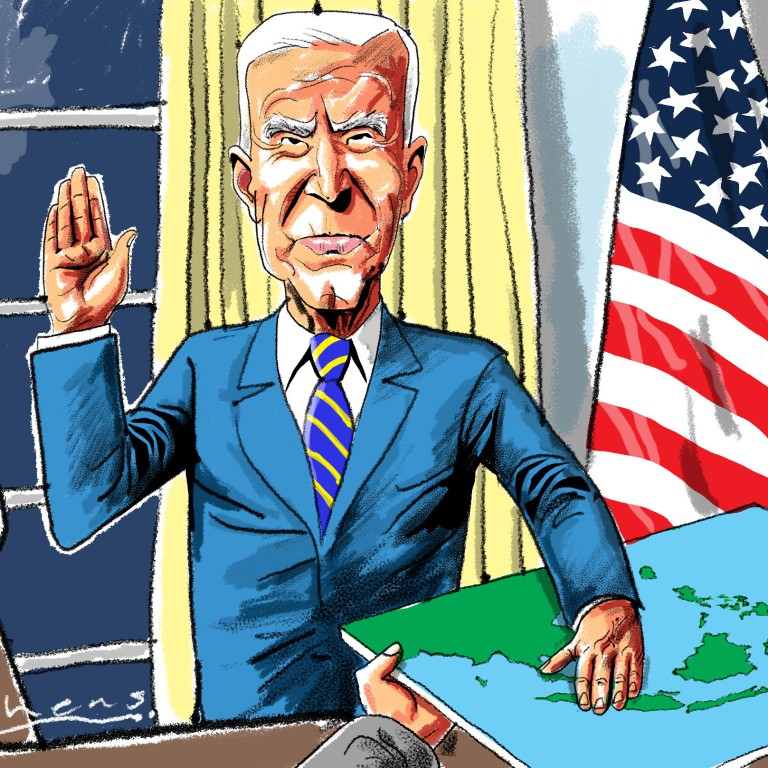 If the US means to win back Asean from China, showing up isn't enough
For years, dwindling US economic engagement hurt American credibility in the region, while China looked increasingly like the only game in town
Joe Biden has a critical chance to build on the momentum from his attendance at recent summits, if his administration can put its money where his mouth is
Southeast Asia, which hosted
three major summits
in November – the Association of Southeast Asian Nations, Group of 20 and Asia-Pacific Economic Cooperation meetings – is a resource-rich and strategically vital region of immense importance to the US. But for years, Washington has underinvested in it.
Dwindling US economic and diplomatic engagement had taken a toll on American credibility in the region, while
China
– which is investing heavily – looked increasingly like the only game in town.
However, with the Democrats' surprisingly robust showing in the midterm elections, the summits in Southeast Asia showcased a revitalised America that is deeply engaged in the region. This offers Joe Biden a critical chance to build on the momentum from these meetings if – and it's a big "if" – his administration can put its money where his mouth is and deliver on its many promises.
It's been said that 80 per cent of success in life is just showing up, and perhaps nowhere does that apply as aptly as in Asia, where respect and personal ties carry great weight. High-level US diplomacy matters greatly in Southeast Asia, and sustained engagement with Asean was crucial to former president Barack Obama's strategic rebalance to Asia.
But showing up only gets Biden 80 per cent of the way to real credibility. And at a moment of intense geostrategic rivalry when smaller countries are making far-reaching decisions about where their interests lie, 80 per cent is simply not good enough.
The developing countries in Asia want follow-through on past pledges by Washington, not more acronyms and shiny new initiatives. The US has exhausted the power of promises; now implementation is the yardstick by which American credibility will be measured.
However, that signal should not be taken as reassuring evidence that the US has now done enough, but rather as a call for Washington to buckle down and follow through on its promises.
The US-Asean fact sheets from the Cambodia summit were filled with new programmes and undertakings by the administration. But past pledges by Washington remain largely undelivered.
The Mekong-US Partnership that was launched in 2020 and promised progress on economic connectivity, energy security and climate resilience is grievously underfunded. Massive illegal fishing is devastating Asia's ocean ecosystems and threatening the food security of hundreds of millions of people.
Cost-effective soft power programmes like the Young Southeast Asian Leaders Initiative work wonders in building bonds with the region's most promising future leaders, yet a modest appropriation of US$25 million for the programme remains stuck in Congress.
Now that the summitry is over, the administration's task is to fulfil the promises it has made to the region poised to be the world's fourth largest economy. Biden needs to go further in showing that America and the West offer viable and sustainable alternatives to China's initiatives and to demonstrate that he takes Asean's needs and agenda seriously.
Implementing these measures is crucial; the United States simply cannot afford to cede the field to China. Real success in securing America's vital economic and strategic interests in Southeast Asia will require further resourcing and robust implementation of key programmes and promises to the region.
Southeast Asian countries are anything but naive about Beijing in light of their millennia of experience with the Chinese. Given the tightrope these small nations walk with their powerful neighbours, their willingness and ability to resist Chinese pressure increasingly rests on whether they can be convinced to trust that the US will reliably deliver a viable alternative.
Without putting real resources behind American engagement in the region, Biden risks losing the positive momentum his administration has built over the past two years through creative diplomacy and by showing up. In that case, 80 per cent will not be a passing grade.
Danny Russel is vice-president of the Asia Society Policy Institute