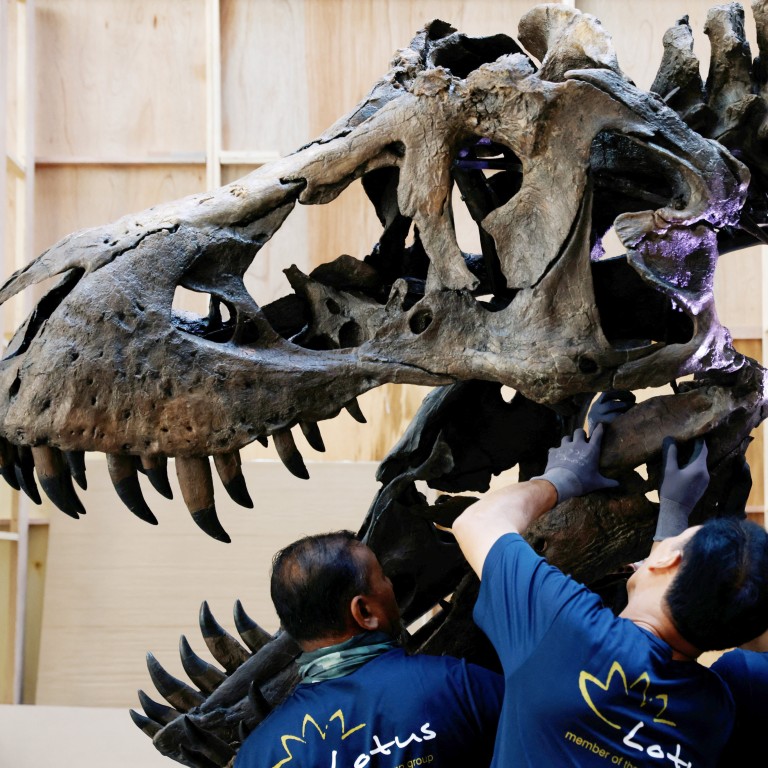 Opinion
Editorial
by SCMP Editorial
Editorial
by SCMP Editorial
Hong Kong auction sector shrugs off dinosaur drama
Failed T. rex sale merely took a bite out of Hong Kong's aspirations to become more diversified auction base
Fictional palaeontologist Alan Grant quips in one of the Jurassic Park films that the great thing about dinosaur bones is "they never run away". But Hong Kong saw a real opportunity stomp off when Christie's cancelled the auction of a Tyrannosaurus rex skeleton days before it was to go under the hammer in the city.
There were high hopes for what would have been Asia's first auction of a fossilised T. rex specimen. Dug up in the US state of Montana, the skeleton named "Shen" was expected to sell for as much as HK$200 million (US$25.6 million).
Prehistoric skeletons, eggs and other fossils have raked in tens of millions of dollars on auction in recent years. In 2020, Christie's New York sold a T. rex fossil named "Stan" for US$31.8 million to a buyer later identified as a planned natural history museum in Abu Dhabi.
It is extremely rare to find a complete dinosaur skeleton, and most go on display using casts of bones to fill in the missing bits. Only 80 of Shen's 380 bones are actual fossils dating back some 67 million years.
The Hong Kong auction was halted over claims that Shen's missing bones were copied from Stan. Its former owner, the US-based Black Hills Institute of Geological Research, holds intellectual property rights to sell Stan replicas.
Christie's halted the sale amid the controversy, and Shen's owner is now loaning the exhibit to a museum instead.
The failed T. rex sale took a bite out of Hong Kong's aspirations to become a more diversified auction base, but the sector is still moving in the right direction. As China's art market posts exponential growth, the city has become one of the world's largest hubs for art and antiquities auctions held with standardised procedures and high transparency.
Major auction houses have offices in the city, with Christie's and Phillips building regional headquarters here and moving towards year-round sales. The market has been resilient during the pandemic with auctions going online to reach global buyers.
What could hold Hong Kong back is a lack of authenticity and provenance experts who ensure honesty and integrity. The city would be wise to attract such talent from abroad and encourage local training so a strong auction sector is not going, going, gone.