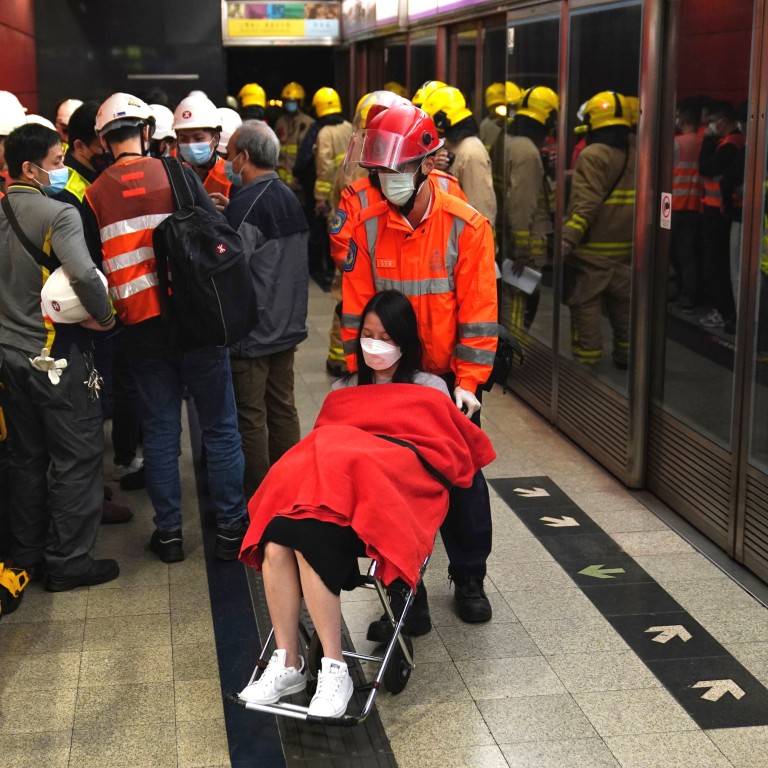 Opinion
Editorial
by SCMP Editorial
Editorial
by SCMP Editorial
Line of inquiry needs to show what is going wrong with the MTR
Unhappy passengers are entitled to ask questions about Hong Kong's railway operator following second serious incident in less than a month
Hong Kong's railway operator is in the news for the wrong reasons again. Some 1,500 passengers were evacuated yesterday morning through a tunnel after an MTR train broke down in the second serious incident in less than a month.
The incident does nothing for the reputation of the MTR Corporation, and raises questions about what has gone wrong with both the rail system and its management.
Photographs showed passengers leaving the stricken rush-hour train on the Tseung Kwan O line. Initial investigations found couplings connecting the sixth and seventh compartments had malfunctioned, triggering the safety protection system and halting the service near Tseung Kwan O station.
A Post photographer, who was on the train, said some people fell over when it stopped abruptly. Passengers were stranded for about 20 minutes before being evacuated from an emergency exit at the front of the train. The MTR Corp said a full investigation would be carried out, but stressed there was no derailment.
The public needs no reminder of the derailment last month that saw the doors of a train ripped off and wedged inside a glass-panelled platform at Yau Ma Tei station.
The evacuation procedure was then called into question when hundreds of passengers fled along the tracks while services were not fully suspended, in a situation described as "totally undesirable" by the rail operator.
The evacuation yesterday was thankfully conducted safely with the help of MTR staff and the Fire Services Department. Two passengers reportedly felt unwell and were taken to hospital.
Unlike the previous occasion when services on the busiest section of the Tsuen Wan line were disrupted for 15 hours on a Sunday, services were largely resumed within four hours.
However, the incident still spelled Monday morning misery for hundreds of thousands of commuters. Chaotic scenes at stations swarming with people looking for directions and alternative routes showed the handling of emergency situations still leaves much to be desired.
Even though the provision of special buses and other transport may have been improved, there is still some way to go in terms of coordination and support.
Just days ago, MTR Corp officials were questioned at a Legislative Council committee meeting about the earlier derailment. Some lawmakers called for deductions from the bonuses of company executives to enhance accountability.
Their calls reflected growing discontent with the performance of the MTR in recent years. Even though the city's train system operates with clockwork precision most of the time, the emergence of yet another mishap shows something is clearly amiss. And the public is entitled to ask why.