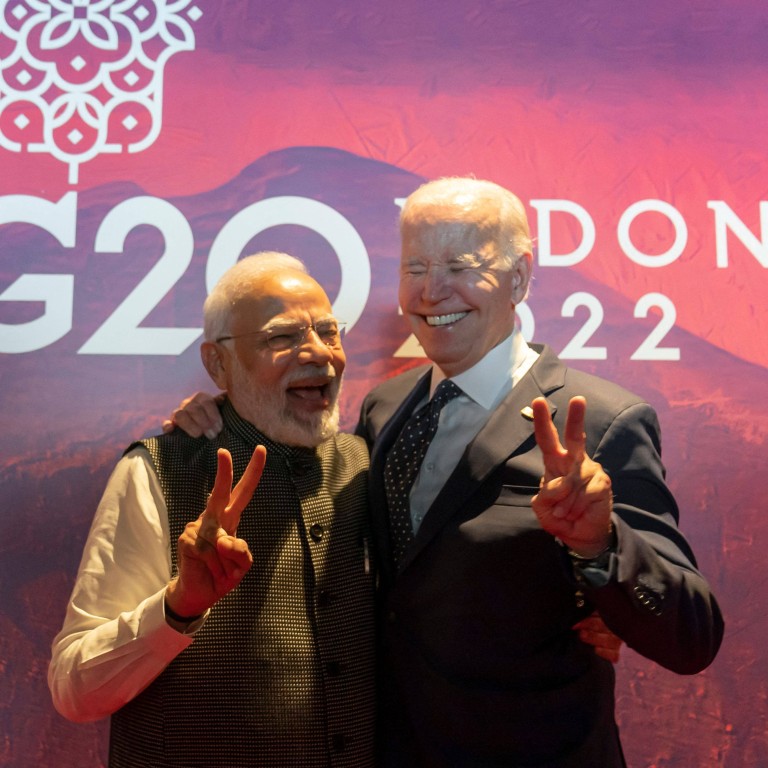 Despite US unease, India may be its best partner in a multipolar world
India's strategic autonomy and aversion to ideological groupings irk Washington but, unlike other allies, it is not reliant on US military aid and defence exports
As India assumes the G20 chair, the US will become patently aware of New Delhi's role in the Global South and the West – and should seek to capitalise on this
At the risk of sounding polemical, if Indian analysts at think tanks in Washington, New York or London got a penny every time they heard an armchair expert opine about how India is a very difficult country or why it is not condemning so and so, they'd all be rich by now.
Last year,
New Delhi's position
on Russia's invasion of Ukraine meant that those opinions became a prominent feature of any commentary on US-India relations, like a broken record. The US-India partnership has expanded far and wide, from Hawaii to the Himalayas, from defence and maritime security to vaccines, climate change and, most recently, supply chains.
Yet, Washington's Cold-War-era ideas of India, and the Biden administration's bifurcation of the world into "us vs them", has proved a dampener on the relationship.
India was the leading force behind the
non-alignment movement
during the Cold War. A 21st-century transformation of that policy is the Modi administration's multi-alignment strategy, which aims to forge issue-based partnerships and alliances over the ideological groupings the West champions.
But this
frustrates
the government and think-tank analysts alike in Washington – they dislike India's strategic autonomy and aversion to ideological groupings.
For India, its collaboration with Russia is a time-tested defence and trade partnership and, more recently, one of
economic value
. In mid-2022, Moscow offered New Delhi a steep discount on crude oil and was providing a steady supply of fertilisers.
Understandably, India did not shoot down that offer. With over 58 per cent of its population engaged in agriculture, it can afford neither high fertiliser nor crude prices since they would have a direct impact on inflation, affecting large swathes of the population.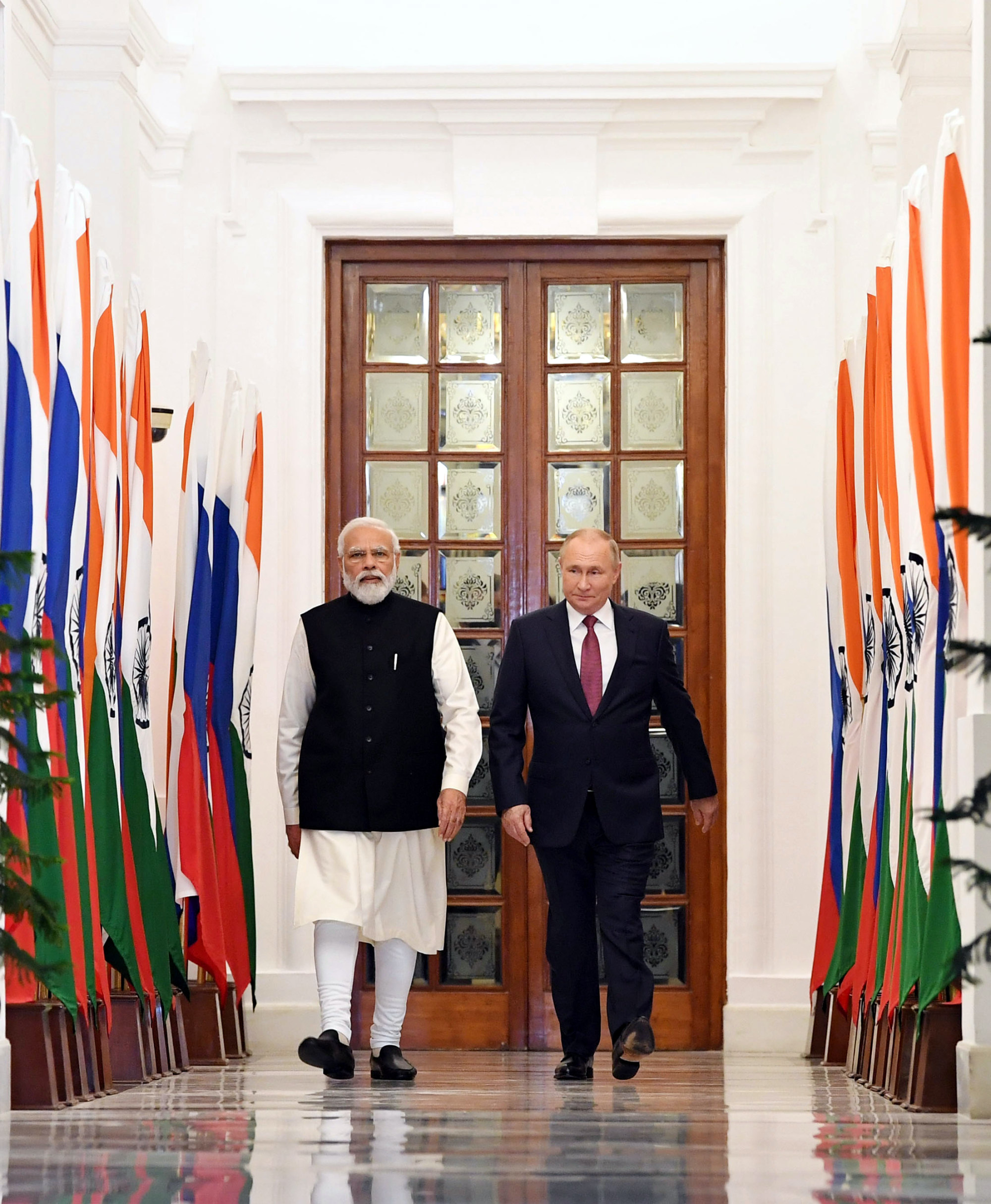 New Delhi takes into account these issues that affect the bottom of the proverbial pyramid while crafting its multi-alignment foreign policy strategy. This explains
India's abstentions
in the
UN resolutions
condemning Russia. Still, Indian Prime Minister Narendra Modi has made headlines by publicly telling Russian President Vladimir Putin that it "is not an era of war".
Interestingly, Modi's calls for peace, like Indonesian President Joko
Widodo's
, weren't ideologically motivated but in the interests of the global economy and his electorate.
This year, as India assumes the G20 chair, Washington will become patently aware of India's feet in both worlds – the Global South and the West – and its agnostic approach to ideological groupings.
Modi, through op-eds in newspapers – from the
South China Morning Post
and The Washington Post to the Kommersant – has outlined his administration's vision as the chair of the Group of 20. In the Kommersant, he wrote that "the priorities of our G20 presidency will be shaped in consultation not only with our G20 partners, but also with our fellow travellers from the Global South, whose voices usually go unheard".
In evoking slogans such as "one Earth, one family, one future", and characterising the "confrontation and competition between ideas, ideologies and personalities" as "a zero-sum mindset", Modi has dismissed the West's courting of India to enter its ideological fold.
India seeks to champion the causes of the Global South while forging its path in the fourth industrial revolution through partnerships with advanced Western economies.
Countries in the Global South are aware of India's strategic multi-alignment and, as a result, seek its leadership in global causes from vaccines to conflict prevention. From Mexican President Andres Manuel Lopez Obrador to, most recently, Ukraine's President Vladimir Zelensky, world leaders have reached out to Modi for a
peaceful settlement
on the Russia-Ukraine conflict.
But should India step up to this role, it will not be from the partisan place the West expects it to be – siding with Ukraine while severing ties with Russia.
New Delhi has actively worked towards de-hyphenating the Russo-India bilateral relationship with the US-India relationship. Interestingly, that has not been the case for US-India-China. New Delhi's deteriorating relations with Beijing has proved to be a catalyst for its increased cooperation with Washington.
With Indian and Chinese troops
clashing once again
last month, shared concerns or an antagonism towards China could become the impetus for US -India cooperation to grow, as long as Cold-War-era differences do not take precedence.
India's feet in the Global South and its ambitions of modernising using Western technologies are not necessarily at odds. The US, for once, should partner with a nation not reliant on its military aid and defence exports.
While this independence may irk some in Washington, American taxpayers can rest assured their tax dollars are not underwriting the security of a faraway land nor will they be deployed to fight a war in the region.
Unlike America's allies in the Middle East, Europe and East Asia who underspend on defence and count on America to save the day, India, with the world's second-largest ground forces, as the fifth-largest economy with over 150 nuclear warheads, and having fought three wars since its independence, is well equipped to deal with its own challenges.
This year, as the chair of the G20 and
Shanghai Cooperation Organisation
, and the host of the Indo-Pacific Economic Framework for Prosperity meetings, India's multi-alignment strategy will be in action and its multipolar ambitions will come to fruition. The US should capitalise on India's rising role both on the world stage and in the Global South. India may be America's best bet for a partner, not just in the Indo-Pacific region but in the Global South.
Akhil Ramesh is a fellow at the Pacific Forum