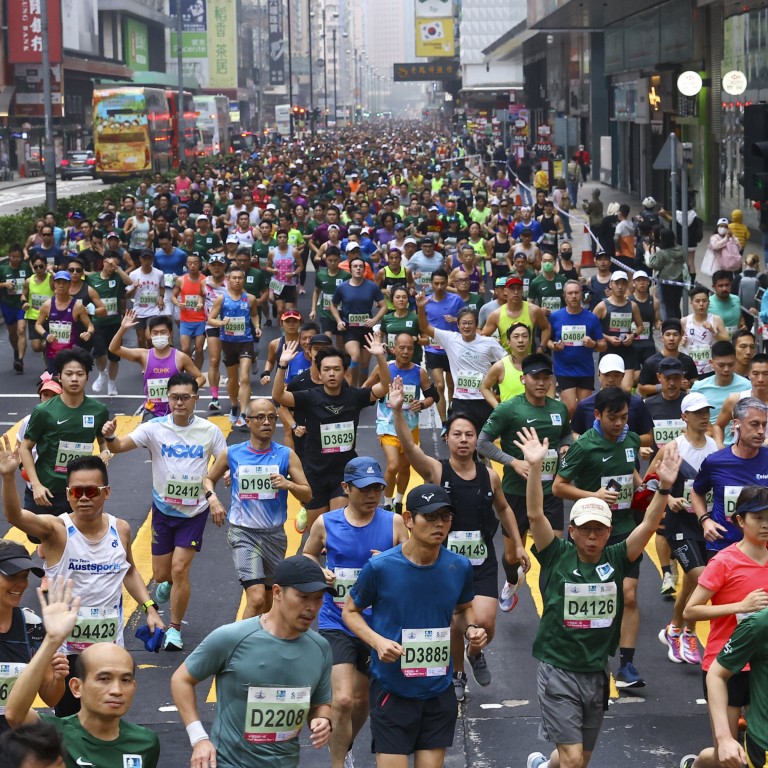 Opinion
Editorial
by SCMP Editorial
Editorial
by SCMP Editorial
Marathon is just the start in a long race to bring back normality
Successful staging of popular event is proof that Hong Kong is now on the road to recovery after the dark days of Covid-19 restrictions
Hong Kong plans to stage 250 "mega events" as it returns to the international stage after the pandemic. The marathon was welcomed back on Sunday. It is one of the best advertisements for the city. The sight of 37,000 runners, from seasoned elite athletes to nervous novices, pounding the streets in a bid to achieve their personal goals, sent a clear message that the days of stifling restrictions are over.
There was great disappointment last year when the marathon was cancelled two months before it was due to take place. The flagship event was only held once during the pandemic, in 2021. But it was scaled down. Fewer than 17,000 took part. They were required to take a Covid-19 test before the race and had to hurry away after crossing the finishing line. There were no runners from overseas.
In contrast, there were no testing requirements yesterday and the cheering zone was back. The festive atmosphere returned. It was a joy to watch.
Runners spend months preparing for the races, which include a marathon, half marathon and 10km competitions. There were 50,000 applications for places in the starting line-up. Those lucky enough to compete endured wet and slippery conditions – not conducive to fast times.
It is significant that runners from overseas returned, six of them "gold" status athletes. The winner of the men's marathon was Philimon Kiptoo Kipchumba from Kenya. The women's race was won by Fantu Eticha Jimma, of Ethiopia. Local runners who completed the marathon inside three hours (for men) and 3½ (for women) received HK$10,000 (US$1,270). But it is the taking part and – hopefully – finishing, that matters most. Among the competitors were film star Chow Yun-fat and boxer Rex Tso Sing-yu.
The importance of the occasion, as Hong Kong seeks to re-establish itself after the pandemic, was underlined by the presence of Chief Executive John Lee Ka-chiu, who sounded the air-horn to start the marathon. Beginning in Kowloon, heading out west and returning to finish on Hong Kong Island, the race was run against the backdrop of the city's spectacular skyline, taking in key landmarks and showcasing the harbour.
The marathon comes at a time when the city is seeking to bring back tourists with a big "Hello Hong Kong" campaign. Other major sporting events will follow. The Oxfam Trailwalker, another iconic event, will be back this month after a four-year absence. The ever-popular Hong Kong Rugby Sevens will begin at the end of March.
Hong Kong's bid to bounce back will be a long-distance race, rather than a sprint. But the staging of the marathon clearly shows the starting gun has been fired.