If Hong Kong is truly back to normal, it should be able to host peaceful rallies
A judgment in December overturning the conviction of an activist highlighted the Hong Kong authorities' duty to facilitate peaceful assemblies
Police action during recent protests in France shows how this can be done even when the threat of violence is present
Last week, a women's rights group
cancelled
what would have been the first authorised rally in Hong Kong in three years. While the organisers did not offer a reason for the cancellation, the Hong Kong police, who had issued a letter of no objection for the demonstration, said violent groups had expressed an intention to take part.
The cancellation is unfortunate as it further delays a return to the normal functioning of civil society in Hong Kong.
After several turbulent years, Hongkongers need to see that their right to peaceful assembly continues to be exercised. They also need to be confident that the government and the police not only allow such demonstrations, but also take their positive duties to facilitate peaceful assemblies seriously.
Article 27 of the Basic Law declares that "Hong Kong residents shall have freedom of speech, of the press and of publication; freedom of association, of assembly, of procession and of demonstration". The duties of the authorities to facilitate the exercise of rights of protest are laid out in the Public Order Ordinance.
These rights and duties were reinforced in the High Courts in December last year when Justice Judianna Barnes
overturned
activist Chow Hang-tung's earlier conviction in respect of her involvement in a proposed vigil in 2021 to mark the 1989 Tiananmen Square crackdown.
The conviction against Chow for inciting others to take part in an unauthorised assembly was dismissed because the legality of the police ban on the demonstration was "not established" and that the police failed to "exercise their responsibility to allow and facilitate public assemblies wherever feasible, as stated in the Public Order Ordinance".
The right to assemble and to demonstrate and the positive duties of the authorities to facilitate these rights are not unique to Hong Kong. During a February visit to Paris, I witnessed a version of this facilitation when I observed the behaviour of the police at
large protests
against retirement reform.
The largely peaceful protests involved many thousands of people, including students, labour unions and political organisations. There were sporadic acts of destruction perpetrated mostly by a small minority of black-clad, masked protesters, known as the "black bloc". Those who were in Hong Kong
in 2019
will note some similarities.
The French police were present in the thousands, clad in riot gear and heavily armed with both lethal and non-lethal weapons, but stayed mostly well out of the way of the protesters. Whenever violent destruction started, the police materialised in overwhelming numbers to shield targets like store windows and banking machines. They then faded back into the side streets as the protest moved on.
The protests I observed in France were not banned or cancelled just because there was a possibility of violence from some protesters. Instead, the police came fully equipped to meet violence with violence if necessary.
But police behaviour and tactics served to suppress the violence, not inflame the larger demonstration. The French police acted in a way that protected property, and protected peaceful protesters from escalation by a violent fringe bent on confrontation.
Of course, the French people have
not always been
angelic when it comes to non-violent protest. And their police have not always been as restrained as they seemed to be on the days that I observed them. Their tactics may be new, and they may well change in different circumstances. Crowd control is a complicated business.
What I witnessed, however, was an example of how a demonstration can be conducted, and how it can be handled in a positive way by those in positions of power.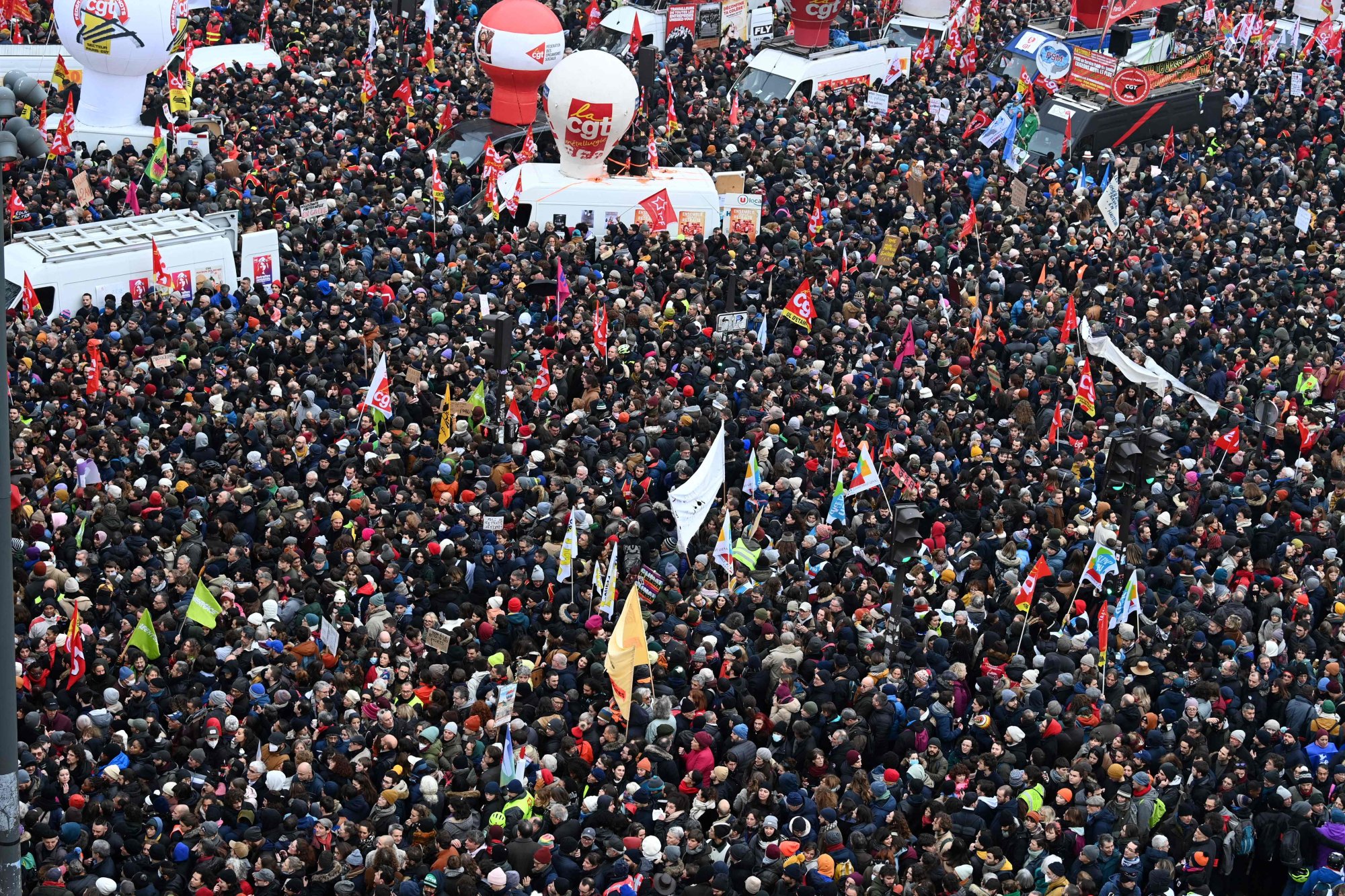 I imagine that the vast majority of participants in the demonstrations will have left with the feeling that they had an opportunity to make their voices heard, and that the police will have returned to their stations knowing that they had done their duty in protecting the public and property. In the process, they assisted the people in exercising their rights.
It's a shame that this past weekend's demonstration in Hong Kong did not proceed. More careful planning and even creativity may needed, particularly if threats from a small minority are being allowed to interfere with the exercise of Hongkongers' rights.
Sometime soon, Hong Kong needs to get a successful, and peaceful, rally under its belt. For Covid-19 restrictions and the febrile atmosphere of 2019 to fade into the past, the government must do more than just permit demonstrations. It needs to be seen to be supporting them.
Robin Hibberd is a financial services executive and long-time resident of Hong Kong