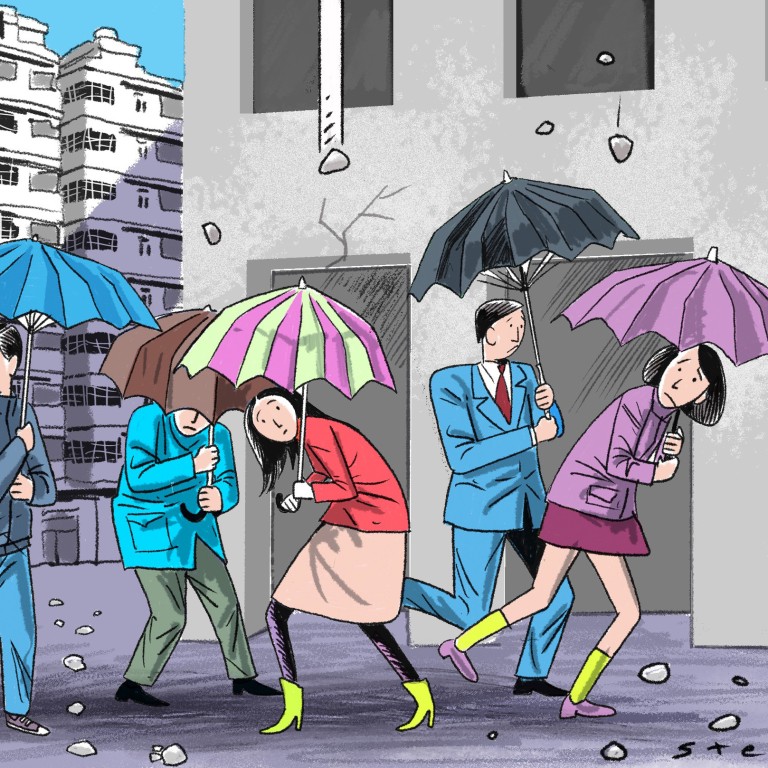 Hong Kong must repair its decaying buildings – with public funds if necessary
Maintaining the city's ageing buildings is a costly and complex process involving multiple parties
It is also closely related to urban renewal, and the Urban Renewal Authority must take a lead to improve the living conditions of people in run-down areas
In an architectural history class, my professor noted that architecture was anything but creating artificial built environments, and that our creativity would always submit to the power of nature. This is why the best works that stand the test of time are vernacular architecture that draws from the native context and serves local needs.
In an urban environment that demands density and efficiency, rarely do we come across this kind of architecture in cities. Instead, most modern buildings are built with concrete and steel because they are cost-effective, structurally sound, durable and safe against fire hazards.
Concrete is strong in compression and steel performs well in tension, which is how they work together in spanning floor slabs between beams and columns. Spalling, or deterioration, happens because the thin protective layer of concrete at the bottom of the steel is stretched under tension.
With lack of maintenance, the bottom of the slab will slowly crack and
pieces will fall
. Extreme weather such as typhoons and torrential rain only accelerates the weakening of the bond.
The buildings will not crumble because the compressed concrete above and the tensioned steel bars still work in sync to hold up the slabs, but spalling should be repaired to prevent further deterioration.
From the mandatory building and windows inspection schemes to the compulsory owners' corporations to the statutory notices on prescribed inspections and repairing works, our Buildings Department has established clear requirements on property maintenance and repair. The problems associated with
ageing buildings
– with several incidents of concrete falling from buildings in the past two months – were not because of insufficient statutory guidelines and regulations but a lack of execution and enforcement.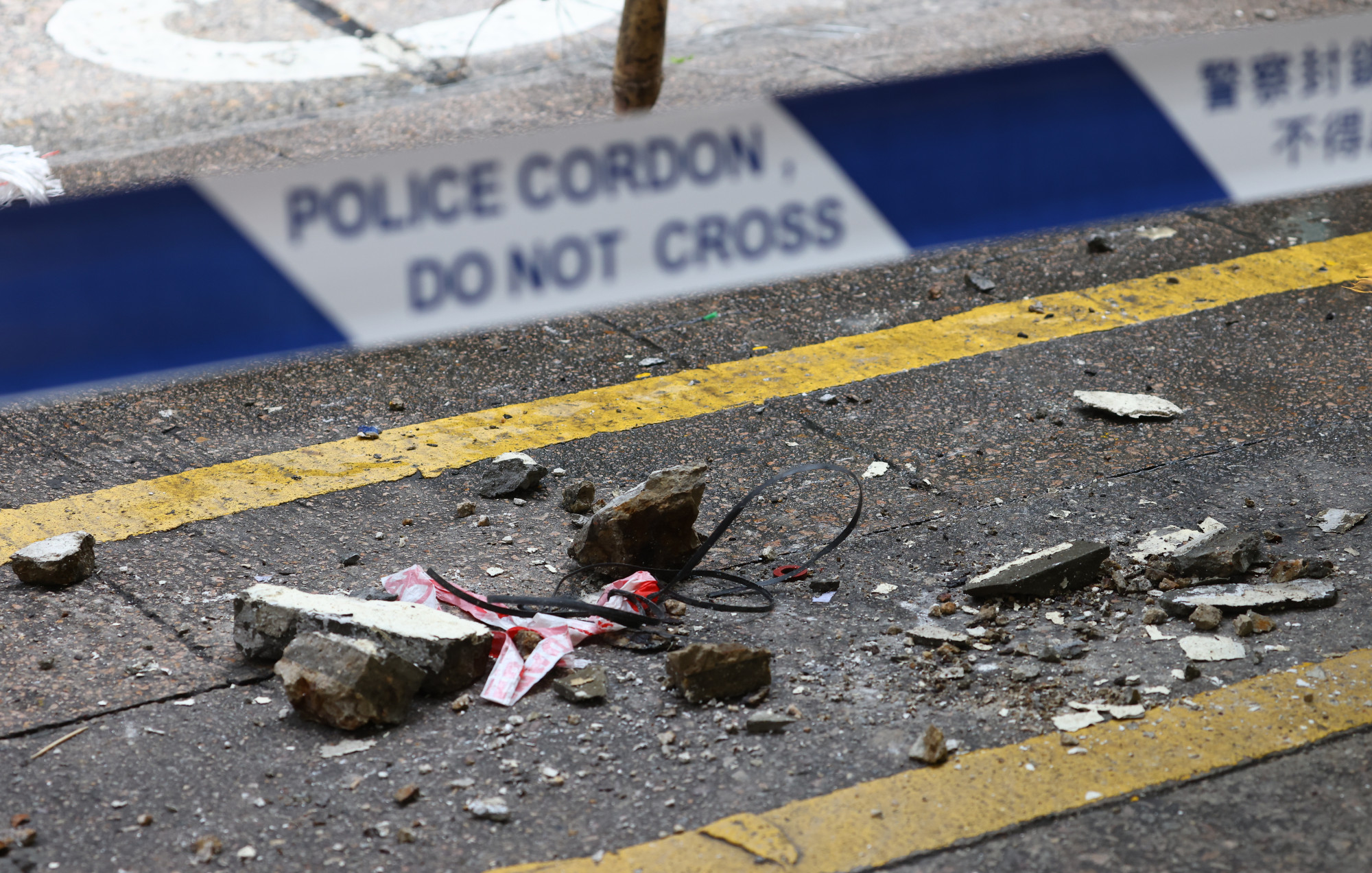 There are at least three reasons building maintenance is difficult to carry out. First, many old buildings have strata titles and ownership. It is common for some owners to not be found or others not bother to show up at owners' corporation meetings, not to mention the struggles in gathering enough votes or a common consensus on
repairing their ageing properties
.
Second, building maintenance is
usually costly
. A simple spalling repair job could open a Pandora's box of multiple related issues, including leaky piping, degraded waterproofing or a malfunctioning rainwater drainage system. Just because they are property owners does not mean they are flush with spare cash, and the potential repair costs might be too much to bear.
Third, with about 2,700 private buildings more than 30 years old
failing to comply
with the mandatory inspection requirements as of May this year, enforcement of the Building Management Ordinance is a huge undertaking. If not for the
rain of concrete debris
on public pavements that posed a danger to pedestrians and caught the media's attention, many of the inspection and repair orders would simply drag on without follow-up actions from the Buildings Department or the owners.
Ageing buildings are closely related to urban renewal. Except for a handful of structures with architectural and historic value, most decaying urban areas will be demolished and rebuilt. In run-down neighbourhoods where developers do not have full title ownership, they often do not want to pay to repair the existing buildings as they are working on buying them out.
What role does the Urban Renewal Authority (URA) play in this? One of the URA's stated objectives is "addressing the problem of urban decay and improving the living conditions of residents in old districts". The URA has a maintenance subsidy scheme to help owner-occupiers with up to 80 per cent of the repairing works, with a cap of HK$40,000 (US$5,100) per unit, while elderly owner-occupiers aged 60 or above can receive subsidies up to 100 per cent, with a cap of HK$50,000 per unit.
Whether the amounts are enough depends on the complexity of the structure, the number of units in the building, and the extent of the repair needed. What we truly need is an accurate assessment of both the owner-occupier's status and the individual building conditions.
However, this kind of
subsidy scheme
is merely passive and can barely scratch the surface of the problems since it relies on the owner-occupiers to take the initiative to apply. Nothing is resolved if they do not. Even when they do apply, they might still turn away if the estimated cost exceeds the total subsidy.
While the URA plans to partner with private developers on large-scale gentrification projects, it should also put comparable attention on the less-profitable renewal of decaying neighbourhoods without tearing them down.
It is debatable whether the repair costs should be charged back against the owners or the owners' corporation leaders should be prosecuted if they ignore statutory orders. The issue involves liability and responsibilities, and it should be evaluated on a case-by-case basis.
To put this differently, if we can afford to pour billions into building an underutilised
bridge to Zhuhai and Macau
, raise controversial
artificial islands in Kau Yi Chau
or subsidise the West Kowloon Cultural District's operations that are rapidly
depleting public funds
, we should also consider spending taxpayer money wisely and rationally with the interest of improving living conditions in dilapidated districts and reducing social inequality.
Substantial government investments with the expectation of long-term financial returns are understandable and necessary as long as they are well-managed, strategically planned and have a vision for the future of Hong Kong. Compassionate spending on social capital while repairing our decaying urban conditions should be equally important, as the price of public safety and well-being far outweighs any price we pay repairing ageing buildings. This is the moment to be socially generous.
Dennis Lee is a Hong Kong-born, America-licensed architect with years of design experience in the US and China