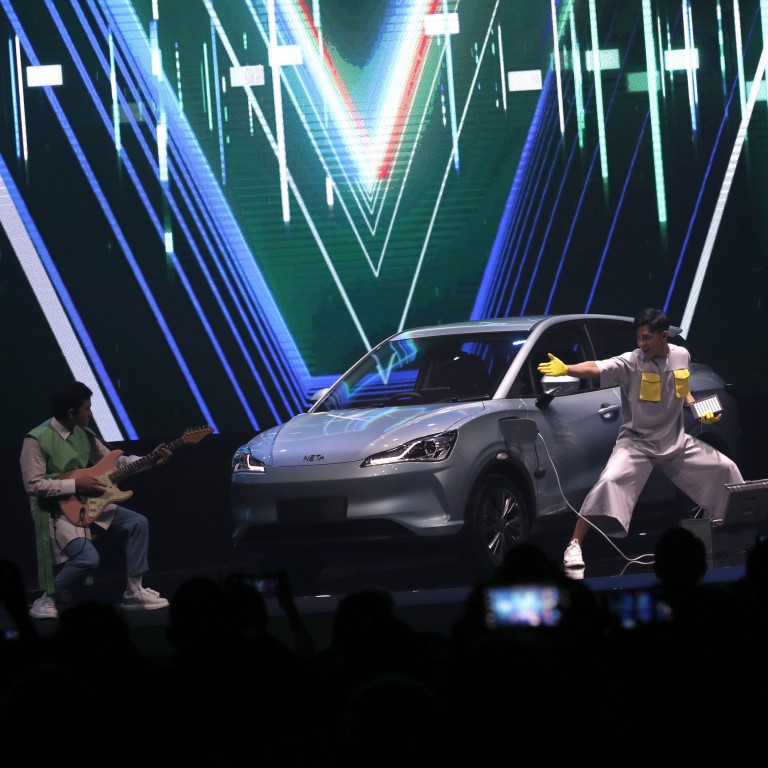 Opinion
Bob Savic and Chris Dixon
Bob Savic and Chris Dixon
In Thailand, China's EV makers have found a refuge from EU subsidy probe
Thailand is quickly becoming Southeast Asia's EV manufacturing hub as Chinese carmakers escaping geopolitical tensions set up shop in the friendly state
The EU is unlikely to extend its probe to Thailand and risk alienating ties with a key Asean dialogue partner
The European Union's
call to investigate
Beijing's use of state subsidies in the production of Chinese electric vehicles, along with the possibility of tariffs on EV exports to Europe, comes as Chinese carmakers diversify their manufacturing of EVs into Southeast Asia.
Chief among Chinese EV makers' prospective hubs is
Thailand
. The country has by far the largest automobile sector within the Association of Southeast Asian Nations, and is luring Chinese EV carmakers under an ambitious government programme titled the "30/30 policy". According to this three-stage programme, by 2030, about a third of all vehicles produced in Thailand will be EVs.
These ambitious targets should be seen in the context of Thailand's large and well-established motor vehicle sector, estimated to be 10th in global rankings, the country's long history of government support in the form of investment incentives, and significantly, local promotion.
The US-China trade war, instigated by the former Trump administration, was likely to have been a major factor in boosting Chinese manufacturing investment in Thailand. In 2019, Chinese manufacturers' concerns over trade frictions, which was affecting their value chains, catapulted China into becoming Thailand's
largest
overseas direct investor, beating Japan for the first time.
Thailand claims that up to US$1.44 billion will be invested by Chinese EV carmakers in the country. Consequently, the next few years point towards a rising inflow of investment from China. While this was initially prompted by trade and political frictions with Washington, there may be further impetus from Chinese EV makers relocating overseas as a result of similar simmering tensions with Brussels. Thailand and the broader Asean region is emerging front and centre in that "de-risking" process.
Part of Thailand's success story in attracting Chinese investment into its EV sector can be credited to the Thailand Board of Investment's promotion of its fiscal and financial incentives. Over the past year, Board of Investment roadshows have taken place around the industrial clusters of Shanghai, Chongqing and elsewhere in China.
Although the EU's investigation into possible government subsidies in Chinese EV manufacturing will be regulated by World Trade Organization rules, there are undeniable political undertones surrounding the entire exercise which could undermine already strained WTO governance.
While Chinese EV makers had committed to setting up production in Thailand well before the surprise announcement of subsidy investigations by the EU, their forward-looking diversification strategy may also enable them to benefit from the geopolitical security afforded by Thailand's friendly relations with major international partners amid the escalating geopolitical turmoil afflicting China's ties with the West.
Given this context, the prospect of EU subsidy investigations into Thailand's package of government incentives for EV production seems unlikely for now.
Such an investigation, at this stage, would risk the EU alienating Thailand as one of its key strategic dialogue partners in Asean. This comes as the West in general is seeking to win over much of the Global South in the wake of the Ukraine conflict with Russia, alongside securing Asian partners in siding against Beijing over its alleged assertive activities in Taiwan and the South China Sea.
Bob Savic is head of international trade at the Global Policy Institute and visiting professor of international relations at the University of Nottingham
Chris Dixon is director of the Global Policy Institute and professor of international development
This article is a summarised version of a larger research report on Chinese and European trade and investment in Asean which can be obtained from the Global Policy Institute, London, UK