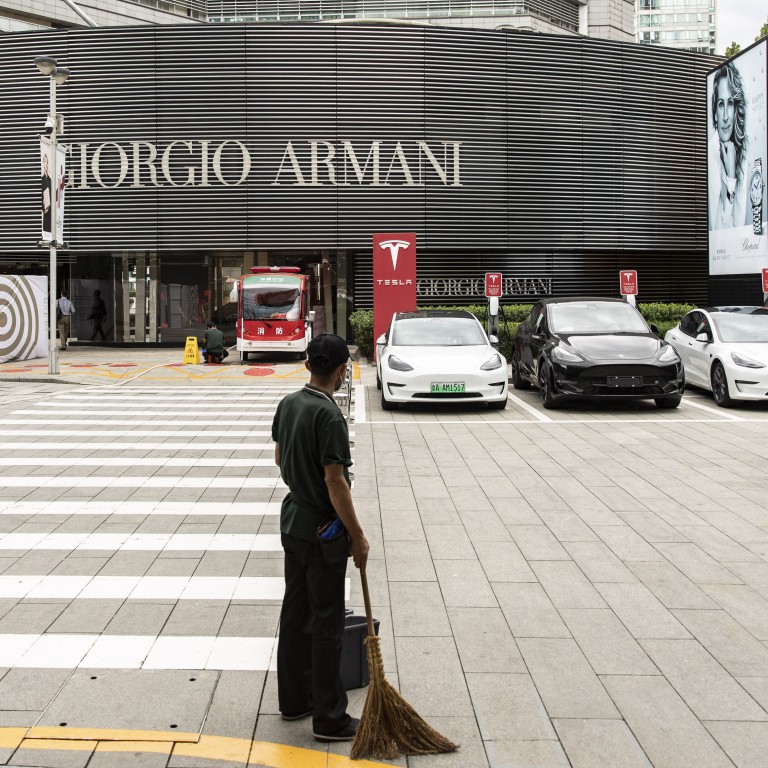 The winners and losers as 'common prosperity' reshapes China's economy
Improving the lot of the less well-off could boost consumption and drive capital towards 'policy-friendly' sectors such as electric cars and green energy
Most at risk are entertainment companies in gaming and live streaming, while those offering public services such as health or housing can expect greater scrutiny
Earlier this year, the underperformance was largely attributed to China's slowing economy; more recently, investors are blaming stricter regulatory oversight. It has been a struggle to find a reliable framework to understand and predict regulatory moves – now, common prosperity looks like the best conceptual lens through which to understand the policy direction.
Deng's policy pivot towards decentralisation and privatisation allowed Chinese household wealth to grow astonishingly over the past few decades – with gross domestic product per capita rapidly converging towards advanced-economy levels.
Over the years, policymakers have prioritised growth at any cost with the belief that a rising tide lifts all boats, leaving China's breakneck growth
lopsided
. Today, the average urban household income is 2.5 times the rural level, and
China's Gini coefficient
– a measure of income inequality – makes it one of most unequal major economies in the world.
In hindsight, China scholars would argue that common prosperity's return to the top of the political agenda was only a matter of time, especially with policymakers loathe to allow inequality and the cost of living to become serious social issues, and China's socialist spirit still foundational to the political system.
Xi unveiled his most ambitious campaign yet, to promulgate socialist values, at the Communist Party's centenary celebration earlier this year, where he proclaimed China's success in
ending "absolute poverty"
while outlining an all-encompassing effort to redistribute wealth and reduce inequalities. While light on details, the new policy has broad implications.
Already,
Zhejiang province
has been selected as a demonstration zone for common prosperity. Highly profitable technology companies may feel targeted, although officials insist the new policy
isn't designed to penalise
private businesses or high-flying entrepreneurs.
Last month, Xi chaired a
meeting
dedicated to common prosperity, where officials said they would "reasonably adjust excessively high incomes and encourage high-income groups and companies to give back more to society". Soon after, many technology companies and billionaires boosted their charitable donations.
Policymakers maintain that the intent is to narrow the income gap by enhancing health care and education services, and strengthening the pensions system and other social safety nets. Personal income, consumption and property taxes could be reformed, though these changes would most probably be modest and further down the road.
The policy seeks to help those less well-off and protect small businesses while the wealthy are expected, even required, to contribute more to society, even as powerful businesses are more tightly regulated.
This could boost domestic consumption, especially from lower-middle income groups. It should also drive even more capital to "policy friendly" sectors already receiving strong support in the form of tax subsidies and easy access to capital, such as in hi-tech manufacturing, electric vehicles,
5G
and alternative energy.
On the flipside, as policymakers try to narrow income inequality, sectors such as residential real estate development, internet platforms and for-profit education could face continued regulatory headwinds.
Other private companies providing what are considered public services, such as health, housing and assisted elderly care, could be the next to face political scrutiny.
Sectors viewed as exacerbating or highlighting China's wealth gap, such as recreation services companies, could face increasing price-control regulation and limits on commercial activity. Most at risk are media and entertainment companies, especially those in
gaming
and
live streaming
.
As China continues to battle the Covid-19 pandemic amid faltering economic growth, the promise of a fairer and more equal society could win popular support. For now, the common prosperity campaign appears far-reaching – potentially affecting all businesses and society as a whole – and, most importantly, here to stay.
David Chao is a global market strategist (Asia Pacific) at Invesco