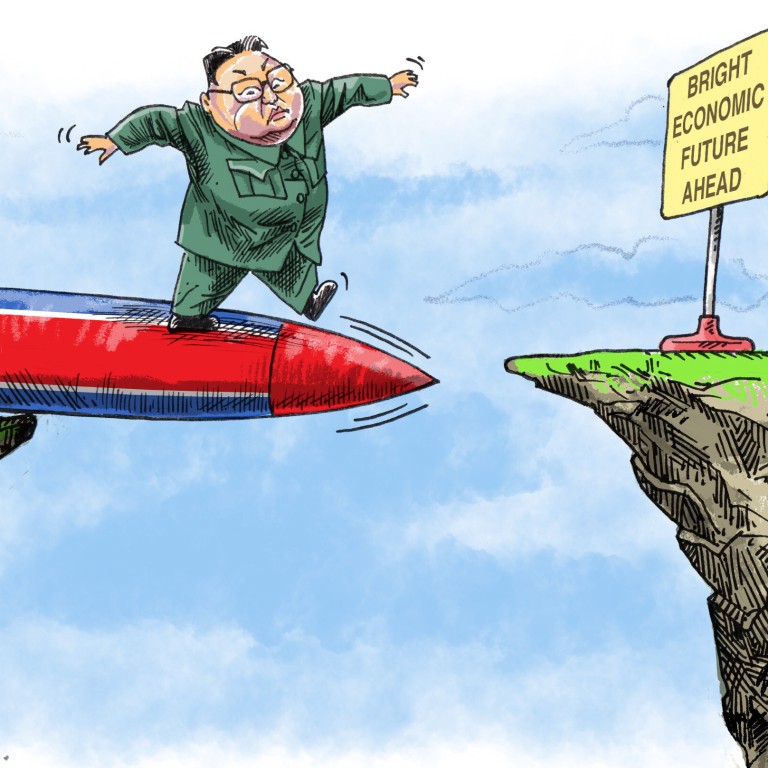 With North Korea on the edge, Kim Jong-un has three options – but only one will ensure regime survival
Kim could seek to maintain the status quo, or trade nuclear arms for the lifting of sanctions and security guarantees while maintaining totalitarian rule
Yet, his only realistic option is to deliver a bright future by agreeing to open up the country with financing tied to economic reform and disarmament
North Korea and its leader, Kim Jong-un, are living on borrowed time. This brutal truth is evident given the nation's dire state of affairs.
The protective shield that has served as a bastion for Kim has evaporated. A derelict and inefficient command economy, harsh sanctions and the Covid-19 border closures have left Kim in an
untenable position
. He has no viable exit strategy to guarantee his survival or that of North Korea.
So, here are three options as North Korea struggles for survival.
The first is to maintain the status quo and seek survival as a nuclear weapon state, but this is untenable. Nuclear weapons fulfil four essential functions in sustaining North Korea and Kim's rule. First, the nuclear armaments deter all real and imagined US military threats while cost-effectively providing military superiority over South Korea.
Nuclear weaponry is also one of the two pillars of the
byungjin policy
(economic development and military development through nuclear arms). By disarming, North Korea would be simultaneously relinquishing
byungjin
by losing its most cost-effective source of military power.
Moreover, the development of a nuclear weapons programme symbolises a monumental achievement, from which Kim draws his legitimacy as supreme leader. Internally, nuclear weapons provide the basis for public solidarity through waging a belligerent foreign policy.
Yet internal, not external, threats will lead to North Korea's demise. Its steep trade deficit has drained the treasury and foreign reserve funds. This imbalance has
essentially halted
all imports and exports necessary for even the basic functioning of the economy.
Since the state command economy has failed to provide for its citizens' basic needs, a
robust shadow economy
(estimated to constitute 70 per cent of North Korea's economy) has emerged via "benign neglect". The collapse of state enterprise has rendered the rationing system effectively useless.
The prevailing reality of life in North Korea, aided by the inflow of uncensored information, contradicts the ruling ideology. With no other controlling mechanisms, Kim's only remaining tool is terror, which will eventually lead to a breaking point when Kim will lose control of the nation.
The second option is to trade nuclear weapons for the lifting of sanctions and security guarantees from the international community while continuing to build up a socialist country based on the ideology of class struggle and
Juche
.
However, Kim cannot restore a socialist state because of the irreconcilable contradiction between the ruling ideology and prevailing reality that will precipitate a loss of legitimacy and the disintegration of the regime.
The ideology of class struggle precludes market-oriented reform, opening up or any peaceful coexistence with the international community. Without the credibility and cost-effectiveness of a nuclear arsenal, a confrontational foreign policy is untenable.
In the event that Kim should decide to give up his nuclear arsenal without radical economic reform, North Korea is likely to disintegrate. As a distorted socialist state on the verge of collapse, the nation faces chronic economic deficits burdened by a military budget that takes up about 20 per cent of its gross domestic product, which have weakened Kim's internal and external controlling mechanisms.
Pursuing this second option would obstruct the necessary structural economic reform – a viable restructuring from heavy industry into exports and the consumer goods-oriented industry – and would halt integration with the global economy.
To ensure Kim's legitimacy without nuclear weapons, popular support is required, which will only come from spectacular economic development and raising people's economic well-being.
The third – bold and audacious – option, is if Kim were to trade nuclear weapons for a "bright future", which would more than compensate for what he loses by giving up nuclear arms.
In delivering this "bright future", Kim would become a benevolent authoritarian leader, engineering a spectacular economic miracle through robust economic development.
This can be accomplished via a multilateral deal with a tangible economic fund, tied to market economy reform and disarmament conditions. A shared framework between the United States, China, Russia, Japan and South Korea would align the strategic interests of all stakeholders, while employing all the "sticks" and "carrots" that no one stakeholder, not even the US, could.
Under such a deal, all sanctions would be lifted for North Korea to sustain economic growth at 10 per cent per year over an initial 10-year period, to maximise its chances of survival. Consequently, Pyongyang would have to cease its brinkmanship and adopt a friendly foreign policy to attract foreign investment.
Shifting from a totalitarian system to an authoritarian one would usher in free-market economic principles: property rights, a free labour market and the legalisation of free enterprise.
Fuelled by a
US$300 billion economic development fund
, financed by stakeholder nations, this package would deliver a "bright future" with sustainable economic development as a market socialist state by implementing market-oriented reform, which would foster infrastructure, institutional and human resource development.
For this deal to materialise, the US should normalise relations and diplomatically recognise North Korea, North and South Korea should sign a peace treaty, along with the assurance of US military withdrawal from the Korean peninsula on fulfilment of the terms. In addition, newly reaffirmed defence pacts with China and Russia would provide added security.
North Korea's transformation into a vibrant economy would stabilise the geopolitical balance between US and Chinese strategic interests, and ensure the only viable exit strategy for Kim.
Dr Chan Young Bang is president of KIMEP University, principal investigator at the North Korea Strategic Research Centre, and a former economic adviser to the former president of Kazakhstan Nursultan Nazarbayev