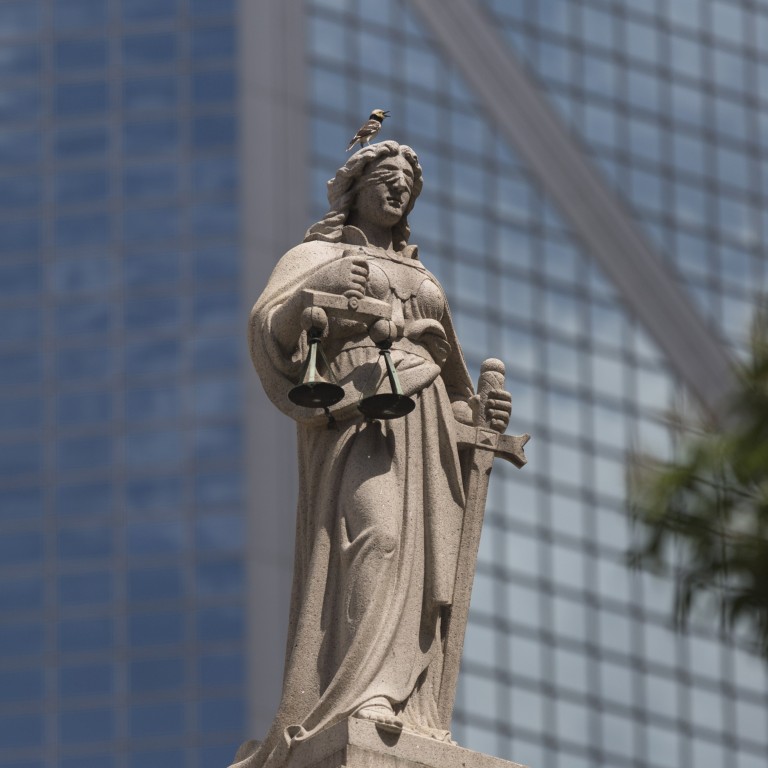 Hong Kong's judiciary remains fiercely independent, and here's the evidence
Top international judges still serve on Hong Kong's highest court and attest to its independence
The city is also routinely ranked higher than many of its vocal critics – including the US and Britain – in measures of rule of law and judicial independence
How independent
is
Hong Kong's judicial system? Some people raised this question after the
national security law
was enacted in June last year.
Although it was perfectly legal and within the Basic Law that the National People's Congress could promulgate the national security law for Hong Kong, the way in which it was implemented raised fears that the city's rule of law would be eroded.
First, what are the symbols of rule of law and judicial independence? They are embodied in the Lady Justice statue – her balance scales represent impartiality in weighing evidence presented in court, her sword symbolises enforcement, and her blindfold represents how justice must be blind to external pressures and influences such as from the government and private sector.
Let us examine the facts. To give you an example of Hong Kong's international legal flavour, as of March, there were 1,540 registered foreign lawyers in Hong Kong from 33 jurisdictions and 86 registered foreign law firms.
Some 75 per cent of the non-permanent judges on the Court of Final Appeal are from other common law jurisdictions: three from Australia, eight from Britain and one from Canada.
Lest we think that these overseas judges are from lower courts, they include two former chief justices of the High Court of Australia, the former and current presidents of the British Supreme Court, and a former chief justice of Canada, to name but a few.
Recently, Britain's top two judges, Supreme Court president Robert Reed and deputy Patrick Hodge,
announced
that they would continue to serve on Hong Kong's highest court.
Lord Reed declared that "the judiciary in Hong Kong continues to act largely independently of government and their decisions continue to be consistent with the rule of law". This is a reassuring attestation of how independent Hong Kong's judiciary really is.
Being able to attract foreigners to sit as judges in Hong Kong is a reflection and acknowledgement of the city's international legal reputation. Having an international judiciary in our Court of Final Appeal shows Hong Kong and China's commitment to the city's rule of law and judicial independence.
In another vote of confidence for Hong Kong, Singapore has reappointed Hong Kong's Justice Anselmo Reyes for a third term as an international judge in its International Commercial Court, which is the court where foreign judges can be appointed. Hong Kong cases are also frequently cited in overseas jurisprudence, reflecting the quality of our judiciary and legal system.
Furthermore, in ratings by independent third parties, Hong Kong is routinely ranked higher than many of its vocal critics in measures of rule of law and judicial independence.
For example, Hong Kong was ranked No 2 in Asia and No 8 in the world for judicial independence by the World Economic Forum in its 2019 Global Competitiveness Report, ahead of the US at No 25 and Britain at No 26. The latest global competitiveness report has no equivalent rankings, focusing instead on how countries are recovering from Covid-19.
Last year, the World Justice Project, based out of Washington, ranked Hong Kong 16th globally in its Rule of Law Index 2020, notably ahead of the US in 21st place.
Critics may argue that these reports are too dated to reflect the impact of the national security law. However, this June, Switzerland's Institute for Management Development issued its World Competitiveness Ranking 2021, which put Hong Kong in eighth place globally in terms of the fair administration of justice, better than Britain, in 15th place, and the US, in 23rd place.
The top two "key attractiveness indicators" for Hong Kong were its "competitive tax regime" and "effective legal environment", according to the executives surveyed. Clearly, this is proof positive that Hong Kong is recognised as one of the leading rule-of-law jurisdictions in the world.
We all know that judicial independence is vital to Hong Kong's status as an international financial centre and business hub, and one of the key factors that distinguishes Hong Kong from other Chinese cities.
Surely, British Supreme Court judges Reed and Hodge agreeing to serve on our Court of Final Appeal is an explicit endorsement of Hong Kong's judiciary. I, for one, believe that Lady Justice's scales of justice are balanced and her blindfold is firmly intact.
Bernard Chan is convenor of Hong Kong's Executive Council