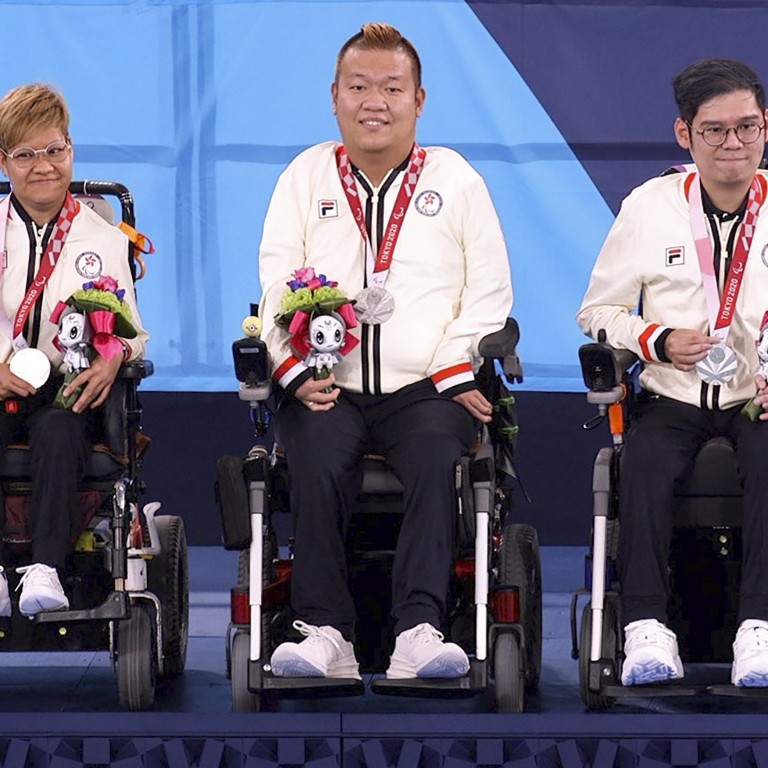 If Hong Kong is truly proud of its Paralympic athletes, the city should be more disabled-friendly
Few would describe crowded Hong Kong as disabled-friendly. With its narrow pavements and old buildings, getting from one place to another can be difficult for the able-bodied, let alone those with disabilities
The recently concluded Tokyo Paralympics and Hong Kong's
stellar performance
of two silvers and three bronzes has raised awareness of disability in our society. With a total of 131 medals dating back to 1972, Hong Kong has actually been much more successful in the Paralympics than the Olympics, though our Paralympic athletes have largely been overlooked and not accorded the same attention and glory.
Luckily this year, local free-to-air television highlighted our Paralympians' journeys and backstories, bringing into focus both their disabilities and incredible abilities.
The Paralympians' stories are inspirational and motivational. Paralympians have had to achieve a lot more than Olympians, as they not only have to train and qualify to compete on a world stage, but also have to overcome hurdles of health and everyday living that we take for granted.
To me, the Paralympics is the pinnacle of sporting achievement, given these athletes' starting point of disability. Hong Kong is proud of our disabled athletes' success, but are we doing enough for the disabled in everyday life?
About 8.1 per cent of the Hong Kong population is considered disabled. From the latest government survey, disabilities are defined as a restriction in body movement, hearing, speech and seeing difficulties, autism, specific learning disabilities, attention deficit/hyperactivity disorder and mental illness/mood disorder.
It is likely that this figure is an underestimation, as Hong Kong is a
rapidly ageing society
, and almost 43 per cent of elderly aged 70 and above have disabilities.
According to the World Bank, 15 per cent of the world's population experience some form of disability. In 20 years, almost one third of our population will be over the age of 65, so the proportion of disabled in the population will only grow.
In a crowded city like Hong Kong with space constraints, old buildings and narrow pavements, getting from one place to another can be difficult for the able-bodied, let alone those with disabilities.
It was only in 2008 that the Buildings Department implemented a
barrier free access code
; unfortunately, any buildings constructed before 2008 are exempt from the mandate.
Few would describe Hong Kong as disabled-friendly. We introduced
wheelchair-accessible minibuses
just 3½ years ago and they require pre-reservation and an accompanying person.
About one in five franchised buses are not accessible to people with physical disabilities. Only 0.5 per cent of our taxis are wheelchair-accessible, though
Diamond Cab
is a speciality taxi company for wheelchair users.
In comparison, all taxis in London and 58 per cent across Britain are wheelchair accessible. Hong Kong's trams have no wheelchair access at all.
And it's not just the disabled. Anyone who has had to navigate Hong Kong with a baby stroller, crutches or luggage has experienced all the pavement curbs, small restroom doors, cramped space between most toilets and the door in shopping centre restrooms, and stairs to access older buildings.
Thankfully, most MTR stations are now equipped with lifts, though there are still access problems for the mobility impaired when it comes to negotiating the stairs at the entrances to stations (built that way to prevent flooding during heavy rain).
To address this issue, the MTR has installed stair lifts or wheelchair aids, which are battery-powered stair climbing machines. Both these aids and the portable ramp that bridges the gap between train and platform require staff assistance.
Although we have inherited British infrastructure, which is less than hospitable to those with physical or mental impairments, we shouldn't use that or space limitations as an excuse not to do better.
After all, other cities seem to be able to change their laws and facilities to accommodate everyone. If we are truly
Asia's world city
, we need more progress in this area.
Perhaps Hong Kong can adopt
"universal design"
to build physical, learning and work environments accessible to everyone regardless of age, size or disability status?
At issue is the often profit-oriented developers who want to maximise space and return, rather than incorporate accessibility features not mandated by law.
Is it due to a lack of will or disability consciousness in our society that we have been slow to improve? Or is it due to planning for the majority vs the minority? While Hong Kong has seen much improvement in accessibility over the years, we have a long way to go.
Bernard Chan is convenor of Hong Kong's Executive Council