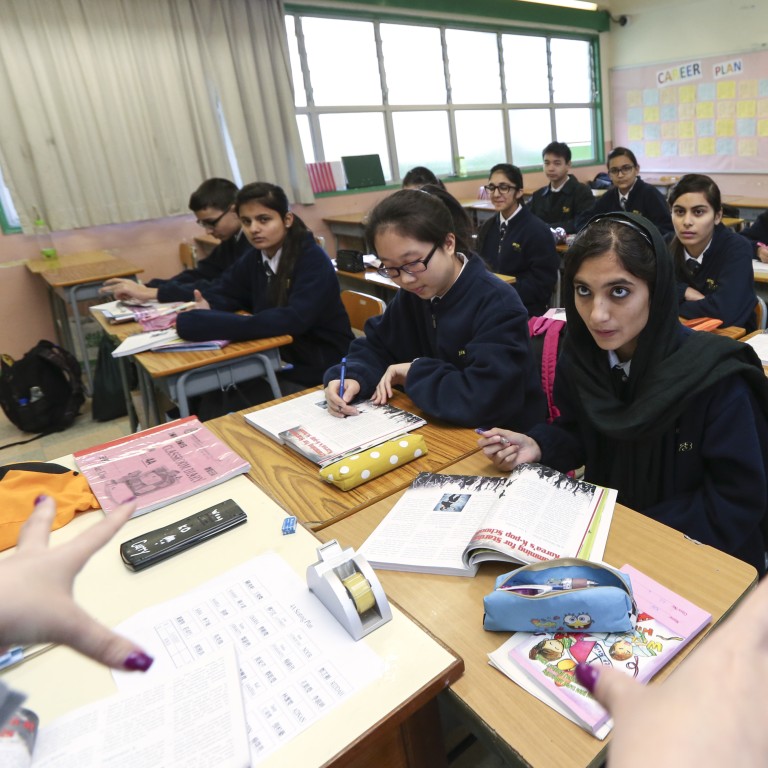 Hong Kong's ethnic minority students need more than government funding to master Chinese
While the government has been generous in allocating funds for the purpose, progress in learning Chinese as a second language can't be measured by money spent
Instead, clear learning outcomes for language proficiency must be set and monitored closely if government resources are to be used wisely
Here I am once again, talking about an issue that does not seem to go away. The aim to improve Chinese language proficiency among non-Chinese speaking students, such as those from ethnic minority backgrounds, is a matter
still unresolved
.
In response to demand for more language learning support for these students, the government has, among a range of measures, provided additional funding to schools and introduced the "Chinese Language Curriculum Second-Language Learning Framework" starting from the 2014/15 school year.
Eight years on, how is the policy working?
Its stated objective was to act as a bridge for non-Chinese speaking students to join mainstream Chinese language classes. So it would be fair to ask how many students in fact made the jump.
Other indicators of improved Chinese proficiency, if available, would also be helpful to measure progress. However, given the paucity of data, we are forced to look at proxies for progress indicators.
The first proxy is government spending to aid non-Chinese speaking students in learning Chinese, in which the government has been generous. For the 2021/22 school year, the expenditure was more than HK$500 million. But do more resources mean better outcomes?
The second proxy indicator is the number of non-Chinese speaking students who sit the Diploma of Secondary Education (DSE) Chinese exam.
The number of Secondary Six non-Chinese speaking students in public and Direct Subsidy Scheme schools has increased from 1,186 in 2016/17 to 1,403 in 2020/21. But among them, the number who sit the DSE Chinese examination has remained small, with 106 and 111 in the two corresponding years, an increase of just five. The proportion has actually fallen, from 9 per cent to 8 per cent.
A number of reasons may be behind this. It could be the fact that the DSE Chinese examination is a challenge even for Chinese students.
It could be the availability of simpler options for non-Chinese speaking students – such as the General Certificate of Secondary Education (GCSE), the International General Certificate of Secondary Education (IGCSE) and the General Certificate of Education (GCE) exams. These alternative courses are recognised by local universities for admissions but are foreign exams unsuited to Hong Kong's needs.
Or it could be that in many schools, non-Chinese speaking students are streamed into these alternative courses early in their secondary education without much of a chance to test their ability to learn a higher level of Chinese.
Whatever the reasons, the outcome is that non-Chinese speaking students' Chinese language proficiency levels, particularly in reading and writing, remain far below par despite 12 years of local schooling.
We need more detailed data to get the full picture. But in the
absence of success markers
, we will never be sure if the money spent is delivering the intended results.
We need to clearly define the learning outcomes. A learning outcome is a clear statement, written from the student's perspective of what they should be able to do at the end of the learning period. Learning outcomes are not simply the amount of money spent.
Defined that way, it would seem obvious that the ability to speak, read and write Chinese to a level that allows a student to get into a university course of his or her choice and compete for jobs on a level playing field, should be the desired learning outcome.
An outcome-oriented approach, a principle that the new Hong Kong chief executive
has pledged
, is a good guiding principle.
The Equal Opportunities Commission, in consultation with key stakeholders, made several recommendations on improving Chinese language teaching for non-Chinese speaking students in an extensive
report
in 2019. Keeping the focus on the outcome, the report gives suggestions on curriculum, teacher training and examination pathways.
To be fair, it is not for want of trying on the part of the government that Chinese language proficiency among non-Chinese speaking students continues to be an issue. However, let us not lose sight of the end goal.
Ricky Chu Man-kin is chairperson of the Hong Kong Equal Opportunities Commission