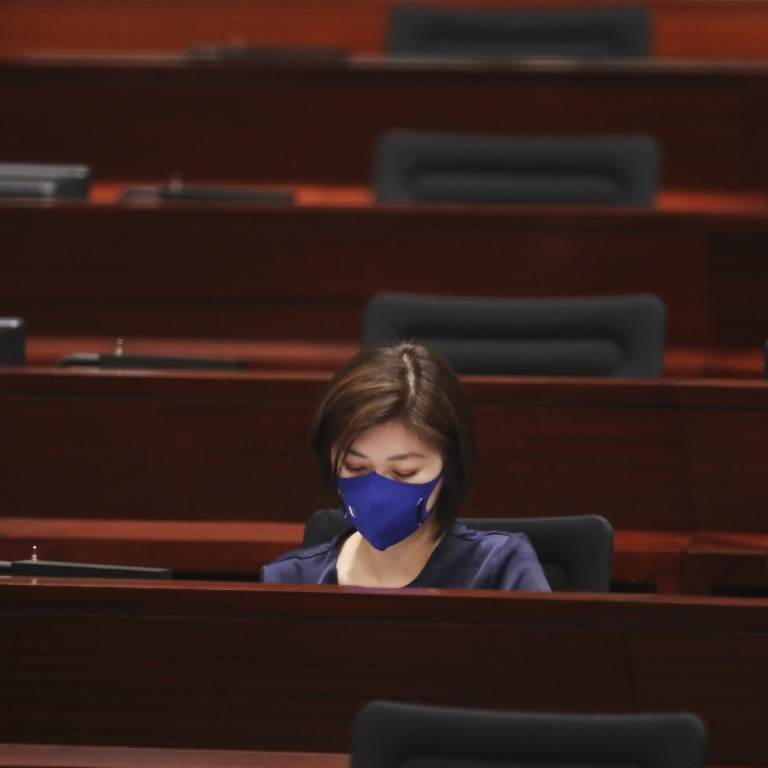 Hong Kong politics could do with less melodrama and more concrete plans
While lawmaker Eunice Yung has caused a stir by publicly severing ties with her father-in-law, there are more pressing political matters to be resolved
There has been no official word on refilling empty Legislative Council seats, not to mention district council seats that continue to gather dust
Hong Kong's political scene is becoming increasingly like a melodramatic soap opera. The most recent and obvious example is legislator Eunice Yung Hoi-yan's very public display of
severing ties
with her father-in-law, Elmer Yuen Gong-yi, by taking out an advertisement in a local newspaper to declare "the official breakaway of the relationship with Yuen as father-in-law and daughter-in-law".
Yuen is among three opposition activists, now all living overseas, accused of subversion by the authorities for pushing for the creation of a "Hong Kong parliament". Yuen said the proposed parliament-in-exile – backed by a sizeable donation from an anonymous donor – would provide an alternative platform for residents frustrated with Beijing's "patriots-only" reform of the Legislative Council last year.
Yung's ad, which cost her about HK$30,000, caused quite a stir, and the publicity was worth every penny. Even if in-law drama isn't a new phenomenon, and Yung may have simply wanted to draw a line under it, she nevertheless was able to tap into the power of soap opera and natural nosiness.
Many jumped in to comment on the legality of the breakaway and ridiculed Yung, a lawmaker and barrister, saying that since in-laws are related by marriage, for her to sever ties with them, she would need to legally end her marriage.
With very little happening on the political scene, Yung made a great splash, catapulted herself onto all the right radars, and inserted herself into our dinnertime chatter. She has made herself a protagonist in the national security story, while most of her colleagues continue to struggle to stand out from the crowd.
There have been plenty of rumours about possible candidates and their parties, but surely it is important to hear any plans from the officials, and not from the political grapevine.
Traditionally, the district council would serve as such a point of contact for the government when it comes to that sort of "on the ground" politics. But if the government is to establish its own teams, what role would district councils have?
Recall also that in addition to scrapping the super district council seats, a key feature of the 2012 constitutional reform package, the district council functional constituency seat at the Legislative Council has also been abolished. There is no seat at the table of power for district councillors.
It is safe to say that the 2023 district council elections will be the city's most uneventful. Whether it is the inconsequential office that begets inconsequential elections or the other way around no longer matters.
If the vacancies left by the four lawmakers, all hailing from the powerful election committee constituency, are deemed inconsequential, then it sends a very disturbing message.
Alice Wu is a political consultant and a former associate director of the Asia Pacific Media Network at UCLA