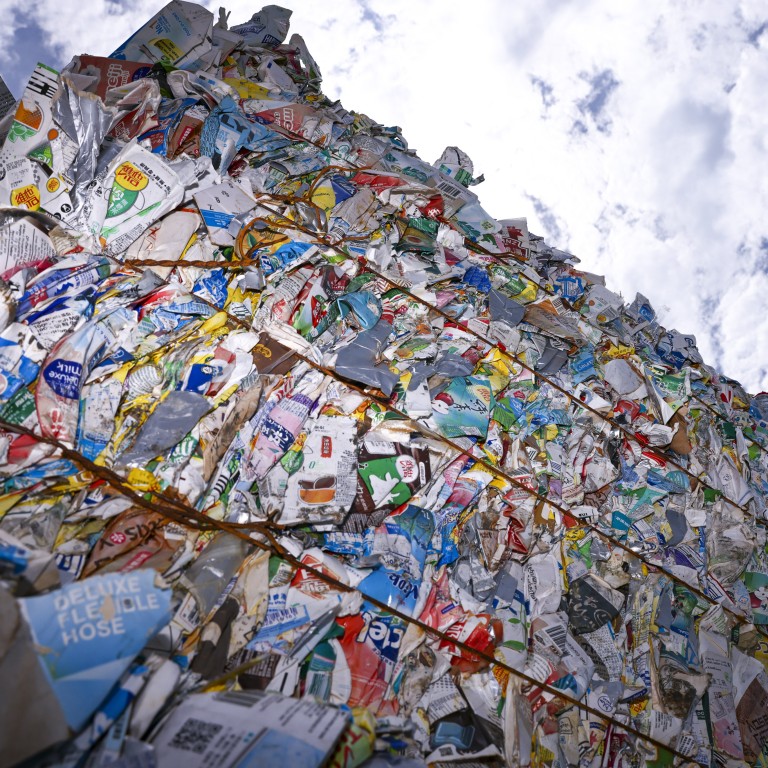 How digital tech can revolutionise Hong Kong's industries in climate fight
Research shows that AI, machine learning and automation can accelerate decarbonisation and cut emissions by up to 20 per cent by 2050
Scaled up across industries, digital solutions could be most effective at reducing emissions in the three highest-emitting sectors – energy, materials and transport
Climate change is the defining crisis of our time and a rapidly escalating issue that has left many feeling hopeless and helpless. Thankfully, new initiatives and developments are taking shape, giving government and certain industry segments some power to take action to reduce emissions.
In 2020, former chief executive Carrie Lam Cheng Yuet-ngor said Hong Kong would strive to achieve carbon neutrality by 2050. Last October,
Hong Kong's Climate Action Plan 2050
was announced, setting out strategies and measures to reduce carbon emissions as well as an interim target to halve emissions before 2035, using 2005 as a base.
Getting to net zero is critical to insulating the world against the worst effects of climate change. And digital technologies, such as
artificial intelligence (AI), machine learning and automation
– scaled up across industries – have the power to accelerate decarbonisation efforts and reduce emissions by up to 20 per cent by 2050, according to Accenture research.
More than that, scaled-up digital solutions could be most effective at reducing emissions in the three highest-emitting sectors – energy, materials and mobility.
But to make this a reality, high-emitting industry sectors must rethink their strategies to leverage efficiency, circularity and sustainability.
With digital solutions,
Hong Kong's energy sector
can reduce its carbon-intensive operations and emissions. To transition to more renewable energy sources, utility suppliers need better methods to estimate how much total energy is required so they can make better use of resources and fill any gaps with renewables.
One such method is machine learning, which can anticipate energy outputs and demands through its data analysis.
The benefits of these machine-learning algorithms extend beyond the utilities sector and can be
used in any business
. More accurate supply and demand forecasting can drastically cut manufacturing and transport waste. Targeted suggestions can drive ecologically responsible purchases by optimising power usage and avoiding unnecessary storage and waste.
Intelligent automation solutions can also improve sustainability in industries such as manufacturing, infrastructure and data centres. Organisations can cut emissions by employing data automation and modelling to digitise and analyse processes and develop predictive maintenance and monitoring capabilities.
Intelligent automation algorithms that anticipate energy consumption already exist. But there is room for improvement to ensure they can keep up with the multiple sources of energy production today, and meet evolving regulatory and measurement requirements. Complex algorithmic features also need fine-tuning to be able to react to changing trends or behaviour, and to expand beyond the industrial level to cater to family and individual demands.
One-stop digital solutions such as intelligent automation not only boost efficiency and production, but also enable new procedures that reduce power consumption and harmful emissions.
AI has the power to support climate action by
reducing waste
. The problem is that, even among the many firms that use a high level of automation, a fragmented approach to AI is often adopted.
This stifles transformation, wastes time and staff resources and generates "technical debt" – costs that arise from organisational reworking after suboptimal solutions are chosen for fast, short-term results.
Organisations need to reimagine their strategies and use varied technologies that can work together to maximise efficiency and reduce waste. AI-managed energy systems can then calculate the energy needs at any time.
These insights support the fight against climate change by minimising energy waste, simplifying processes and maximising productivity through efficient and unified workflows.
The future may uncertain, but there are opportunities to generate innovative technologies that drive climate goals forward. Only five years ago, a company's intelligent automation objectives often outstripped the capabilities of technology. The market hype around advanced technologies didn't deliver the promised business results.
Since then, automation technology has progressed significantly, with billions of dollars invested in research and development. The prioritisation of generating digital solutions in this sector, including the use of process analysis and predictive maintenance to reduce energy waste, has done much to accelerate the journey towards net zero.
AI-enhanced digital solutions can help develop tools so individuals and businesses better understand their carbon footprint and outline steps to make it smaller.
Digital solutions are an actionable step towards net zero and can help Hong Kong play its part in dealing with the climate crisis.
Organisations that have committed to such targets will reach their goals by continuing to employ digital solutions, and do so faster as they implement intelligent automation to simplify work processes, reduce waste and contribute to a sustainable and brighter future.
Saranjit Singh is vice-president of telecommunications and utilities, APAC, at SS&C Blue Prism