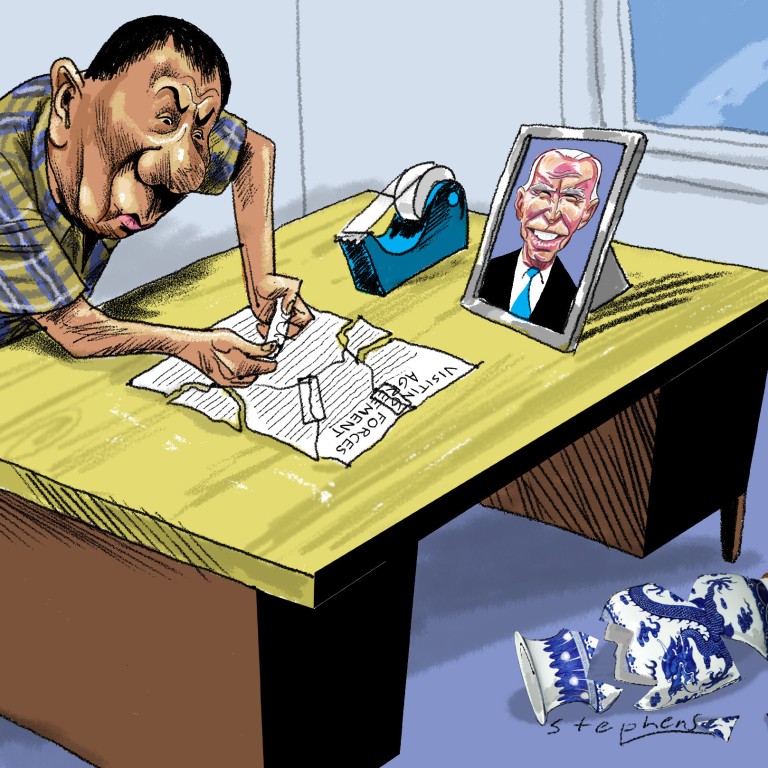 US-Philippines alliance back on track as Duterte's China charm offensive crumbles
After years of Duterte pledging separation from the US and courting China's friendship, Manila and Washington appear to be on good terms again
Unfulfilled Chinese promises, maritime incidents involving Chinese vessels and strong pro-US advocacy within the government have changed Duterte's foreign policy
The more things change, the more they stay the same. In many ways, this is the story of the US-Philippines alliance which, following a few turbulent years of diplomatic acrimony, is rapidly returning to form.
Five years ago, Philippines President Rodrigo Duterte
threatened to end
his country's century-old alliance with Washington. Amid diplomatic rows over human rights issues, he even
cussed
at then US president Barack Obama.
But Duterte has entered his twilight months in office with a
radically different tone
and strategic predisposition. He openly thanked US President
Joe Biden
for pandemic-related help, restored the all-important
Visiting Forces Agreement
(VFA) and oversaw an upgrade in bilateral defence cooperation.
The Philippines military chief recently announced that, not only are the Balikatan joint military drills set to return in "full scale", but the two allies are expected to conduct more than 300 joint defence activities and exercises next year. That is by far the largest in both countries' history and among the most in America's long roster of Indo-Pacific allies.
When Duterte first came to power, few took seriously his promise to overhaul foreign policy. Yet, even before his election, the Filipino populist had repeatedly signalled his preference for a pivot to China at the expense of traditional alliances, especially with the United States.
Aside from his personal grievances and ideological antipathy towards Washington, which has dominated military affairs in his home island of Mindanao, this was also about strategic pragmatism.
Just a few years earlier, during a high-profile visit to Manila, Obama repeatedly refused to categorically commit to helping the Philippines in an event of war in the disputed area.
No wonder Duterte's strategic flirtation with China and his decision to abrogate the VFA – which facilitates large-scale Philippine-US joint exercises – amid diplomatic rows over human rights issues with Washington, seldom provoked massive public backlash.
Three factors, however, have forced a major turnabout in Duterte's foreign policy in recent months.
As a result, Duterte has struggled to show any major achievements in Philippine-China relations as he enters his final few months in office. Meanwhile, the US has doubled down on its commitment to the Philippines, vowing to stand by its ally in the event of an attack on its troops, vessels or aircraft by a hostile party in the South China Sea.
Earlier this year, on the eve of the 70th anniversary of the Philippine-US Mutual Defence Treaty, both Lorenzana and Locsin visited Washington and met top Biden administration officials.
Having successfully advocated for the restoration of the VFA, the two Filipino officials agreed to the full implementation of all key bilateral defence deals, including the Enhanced Defence Cooperation Agreement. This would allow the Pentagon to rotate large numbers of troops and position weapons in key Philippine bases near the disputed islands in the South China Sea.
Already negotiating an F-16 fighter jet deal and exploring a new maritime security framework agreement, the two allies also agreed to resume their bilateral strategic dialogue as well as 2+2 high-level meetings in the coming months.
Biden is also expected to hold a bilateral summit with Duterte on the sidelines of the Association of Southeast Asian Nations summit in November to reinforce the ongoing revitalisation in bilateral ties. By all indications, the alliance is returning to form after years of strategic dithering and diplomatic disruption.
Richard Heydarian is a Manila-based academic and author of "Asia's New Battlefield: US, China and the Struggle for Western Pacific" and the forthcoming "Duterte's Rise"