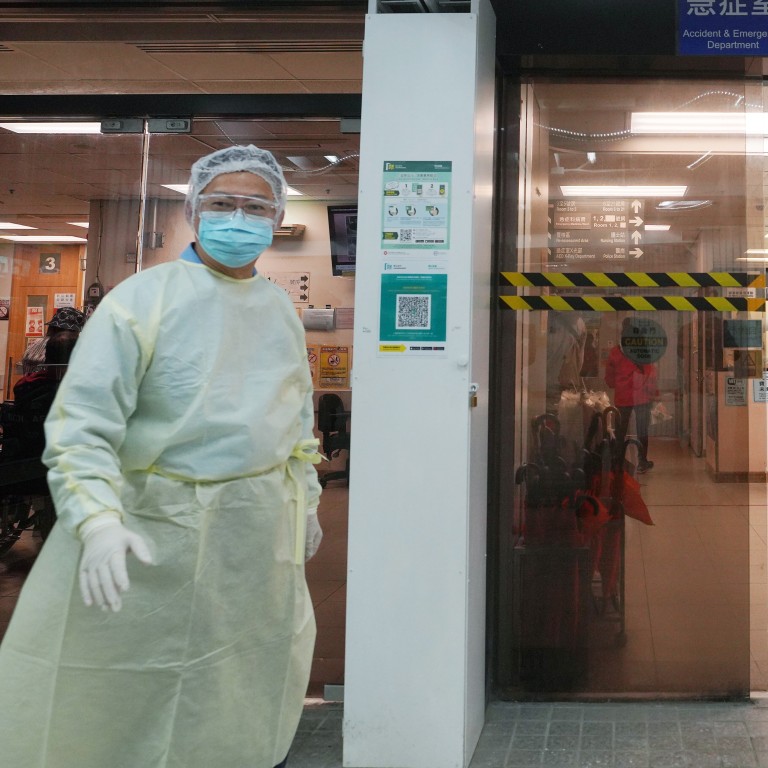 Coronavirus cluster at Hong Kong public hospital triggers mandatory screening, while city records 70 new cases and another death
All people who have entered either of two wards hit by 'super spreading' event since December 15 must be screened by Wednesday, authorities say
City also records fewest arrivals at airport so far this year, with just 194 travellers entering on Saturday, down from the previous low of 228 in April
Hong Kong is racing to contain its first
Covid-19
cluster at a public hospital by ordering everyone connected with two wards to undergo mandatory testing after a "super spreader" patient infected seven more people, pushing the size of the outbreak to 19.
About 60 to 70 medical staff at United Christian Hospital in Kwun Tong deemed close contacts of the patient must be quarantined, while all 6,000 to 7,000 employees are encouraged to undergo screening at a mobile testing centre, which will remain on site until Thursday.
The seven infections were among 70 new cases confirmed on Sunday, of which 25 were untraceable and one imported, an arrival from Britain. About 50 people also tested preliminary-positive. The city's Covid-19 tally stands at 8,610, while a 92-year-old succumbed to the disease, taking the number of related deaths to 137.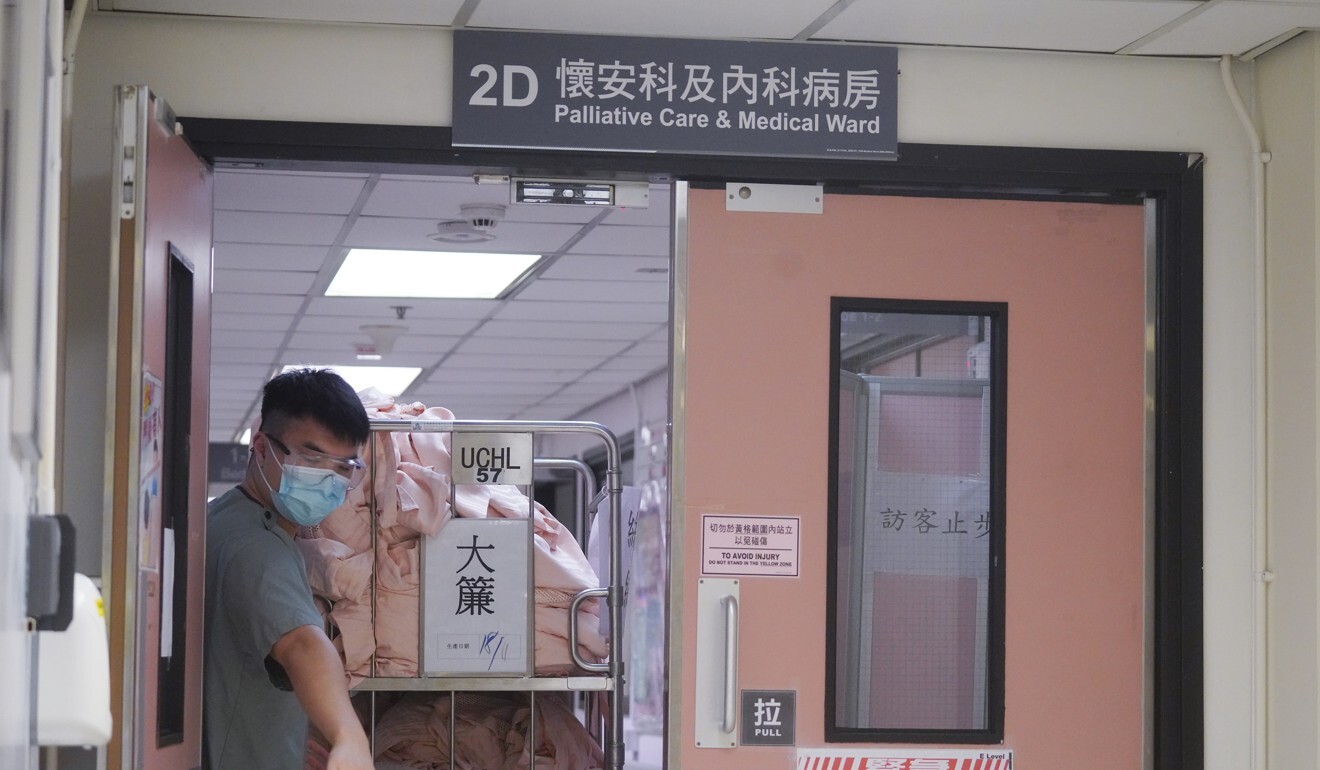 Authorities on Saturday revealed that an 84-year-old woman admitted to the hospital's palliative care ward who initially tested negative for the virus was later found to have contracted it. A leading health expert who visited the facility noted patients were being moved across wards and one worker had not worn eye gear when cleaning the woman's mouth.
All patients and staff members who had entered either the 2D ward or the intensive care unit since December 15 must undergo testing by Wednesday, health officials announced on Sunday, although it remained unclear how many people would be involved. But failure to comply can result in a HK$25,000 fine and six months' jail.
"With doctors and nurses from the hospital being sent to the quarantine centres, services at the hospital will be affected," said Dr Lau Ka-hin, the Hospital Authority's chief manager for quality and standards. "Some services may have to be postponed."
As of Sunday night, 13 patients and workers were confirmed as infected, while six others were listed as preliminary-positive. Officials have pledged to do more to contain the outbreak and enhance protection measures.
Dr Lau said public hospitals had already restricted visits except on compassionate grounds. Families and friends who are given permission to visit must wear masks at all times and are not allowed to feed their loved ones.
Professor Yuen Kwok-yung, an infectious disease expert at the University of Hong Kong who inspected the hospital, sought to reassure the medical workers they had little to fear and pointed to the mobile testing centre.
"Any medical staff, even in unrelated wards, can undergo testing there," Yuen said in a television interview. "This is the first time with a cluster of medical staff, but I believe we can handle it."
The latest imported case was an 18-year-old man who arrived from Britain on December 7 but only tested positive on Friday. He was found to be infected on his 19th day of quarantine spent at home, after completing 14 days of isolation in a hotel. Hong Kong already banned all flights from Britain and South Africa earlier this week after a new variant of the coronavirus emerged in the two countries.
Dr Chuang Shuk-kwan, head of the Centre for Health Protection's communicable disease branch, said the case was listed as imported for now, but the possibility he was infected by a family member could not be ruled out. Chuang added gene sequencing would be carried out on his test sample to determine whether he carried the new mutant strain. Three other arrivals from Britain have so far been confirmed as infected with the strain.
Dr Joseph Tsang Kay-yan, a specialist in infectious diseases, said those infected with the variant strain from Britain typically carried a high viral load while showing no or often overlooked symptoms.
"A high viral load means transmissibility would be very high," he said. "So, if such cases with the mutant strain somehow leak into the community of Hong Kong, then it will cause a lot of problems and overwhelm the health care system. That's why border control by all means is very important [to prevent the spread]."
Another new case involved a 35-year-old Vietnamese man being held at the Castle Peak Bay Immigration Centre. Two people who were being held with him at the facility in Tuen Mun will be quarantined.
About 10 staff and residents at the Alice Ho Miu Ling Nethersole Nursing Home will be isolated after a 53-year-old female worker was confirmed as carrying the virus.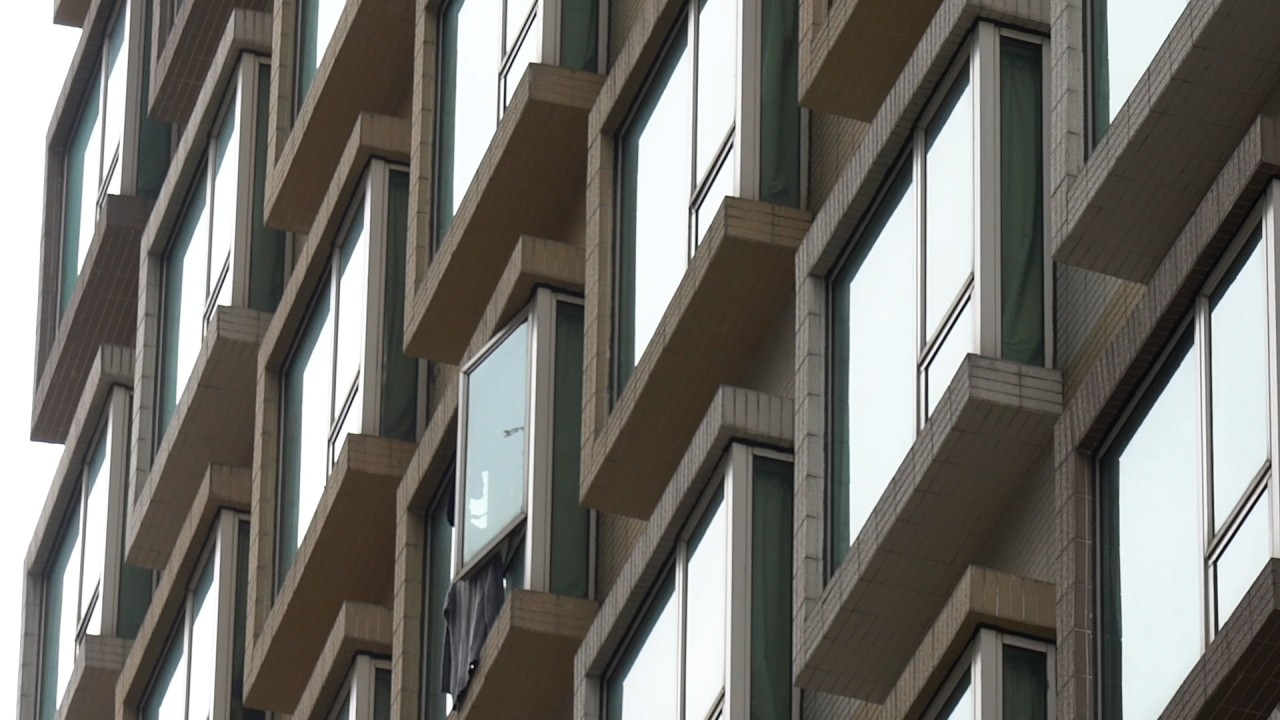 03:02
Coronavirus: Hong Kong extends hotel quarantine for overseas arrivals to 21 days
Coronavirus: Hong Kong extends hotel quarantine for overseas arrivals to 21 days
Authorities are also investigating a cluster of cases at Ming Wah Dai Ha public housing estate in Shau Kei Wan. Nine cases were reported from five flats in Block A and all residents must be tested by Saturday. Chuang said the coronavirus may have spread through pipes or exhaust fans.
Yuen warned of a potential surge in cases in the coming days, despite new infection numbers having dropped by roughly 40 per cent in recent days compared to an earlier peak of the fourth wave.
"The drop is not non-existent, but it is slow," he said, going on to attribute his predicted spike in cases to increased activity around the recent holiday.
"This is because of the winter solstice and Christmas season. We can still see many people on the street. Public support is dropping as we introduce more
social-distancing measures
."
Yuen, who has been studying the city's testing results, said 3 per cent of more than 610,000 screenings of high-risk groups carried out over the past year contained no human DNA and thus the samples were likely to be merely water. Chuang said she had no information on the matter but noted anyone who submitted water for a required test could face legal consequence.
Authorities also carried out checks for social-distancing violations across the city, including country parks, and issued HK$5,000 fines to 43 people.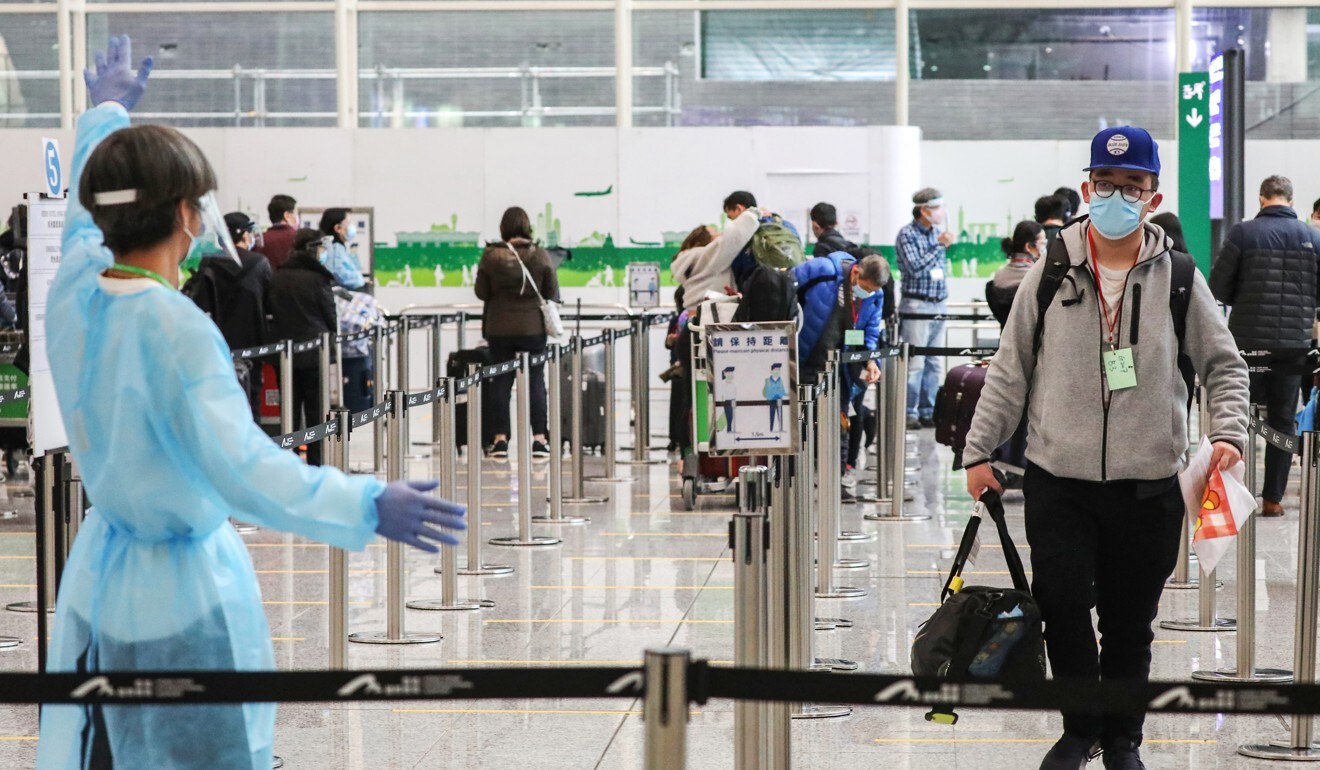 Amid the newly extended quarantine requirements and recent flight bans, the number of arrivals at the airport has fallen sharply, to only 194 travellers on Saturday, the fewest since the pandemic began, according to the Immigration Department. The previous single-day low was on April 11, when 228 people entered Hong Kong through the airport.
Just a few weeks ago, the airport was recording the most arrivals it had seen in months as travellers flocked home for the holidays. It logged 1,883 passengers entering the city on December 6, the most for any single day since March.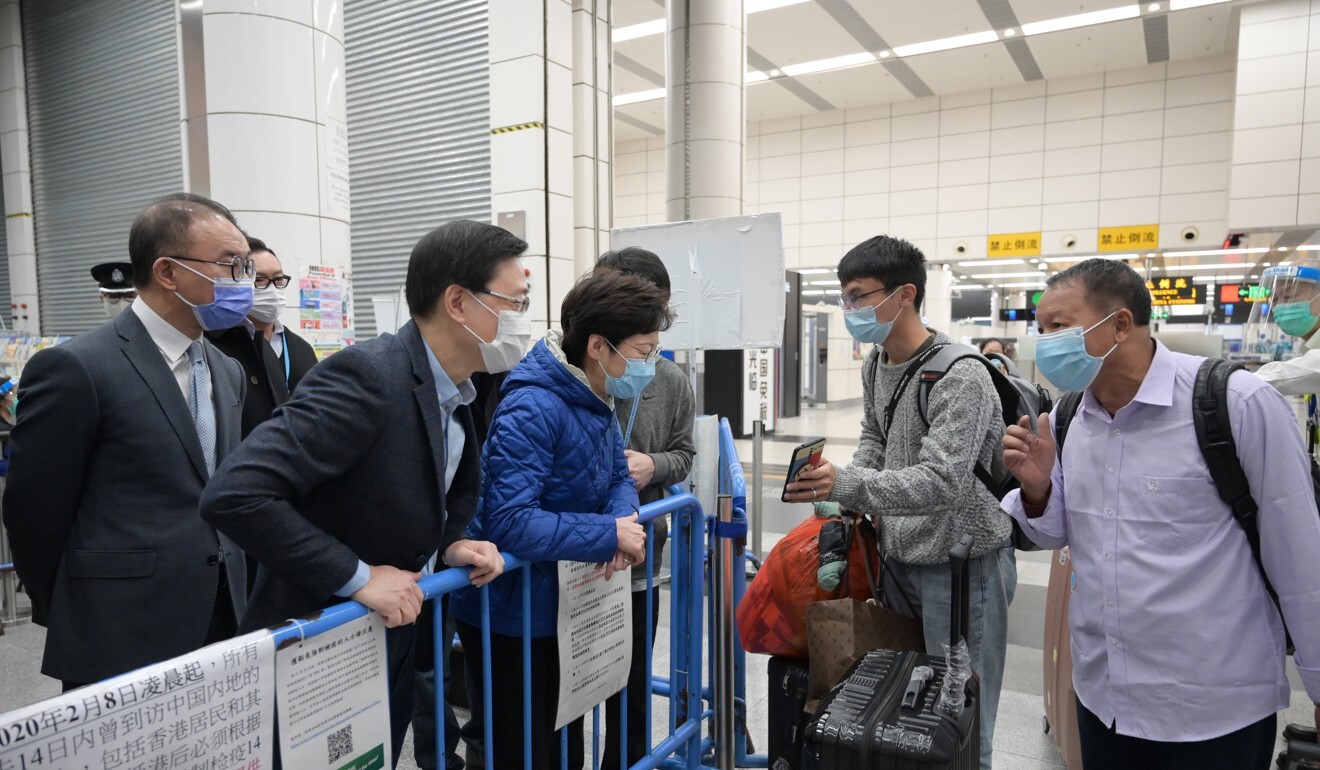 Meanwhile, Chief Executive Carrie Lam Cheng Yuet-ngor visited the Shenzhen Bay Control Point and the Hong Kong-Zhuhai-Macau Bridge Control Point to inspect the implementation of a scheme allowing Hongkongers to return to the city from Macau or Guangdong province without the need to undergo a 14-day quarantine. About 20,000 Hong Kong residents have returned to the city via the Return2hk programme since it was launched a month ago, but up to 5,000 are allowed to do so each day.
Separately, in a Sunday blog post, health secretary Professor Sophia Chan Siu-chee noted previous instances of Covid-19 were detected on frozen food and packaging on mainland China. The Centre for Food Safety, she said, had since tested over 1,000 frozen food and packaging samples, and all results had come back negative.
Additional reporting by Danny Lee
This article appeared in the South China Morning Post print edition as: tests ordered for everyone linked to hospital cluster