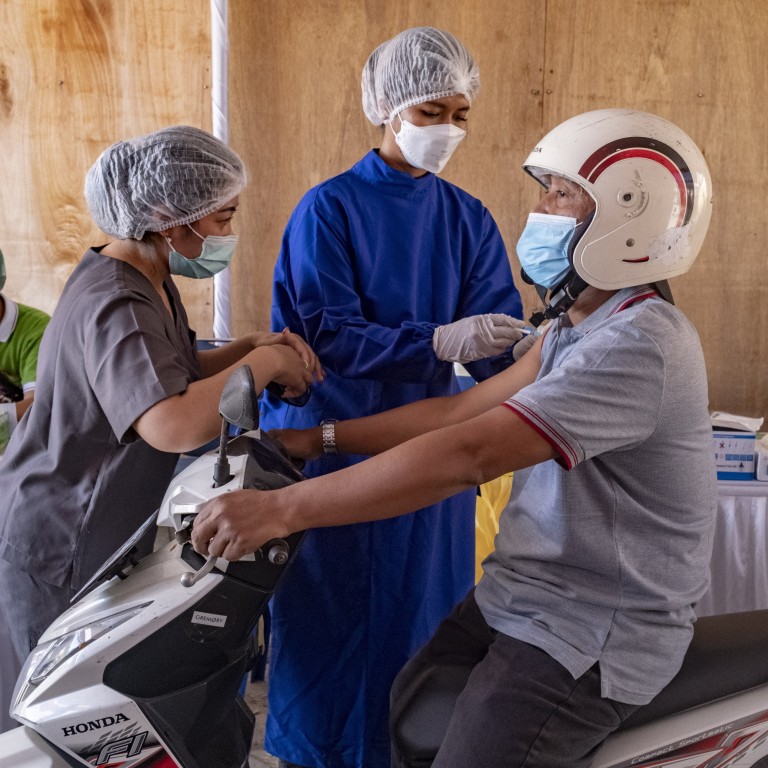 Coronavirus: Indonesia approves Sinopharm vaccine for emergency use; Thailand says latest wave has peaked
Indonesia has administered at least one shot of Covid-19 vaccine to about 12.3 million of its 270 million population
Japan's Nippon Yusen said a passenger on its cruise ship Asuka II had tested positive for Covid-19, while Vietnam recorded its first local case in 35 days
Indonesia
's drug regulator on Friday approved the
Covid-19 vaccine
of China's Sinopharm, which it will use in a private immunisation scheme where companies buy government-procured vaccines to inoculate their staff.
After Sinovac Biotech and AstraZeneca, Sinopharm is the third company to have its vaccine approved by Indonesia, which is seeking to inoculate 181.5 million people by January 2022.
It has suffered one of the worst Covid-19 outbreaks in Asia, with 1.66 million infections and more than 45,000 deaths reported.
Penny K. Lukito, chief of Indonesia's food and drug agency (BPOM), said Sinopharm vaccine recipients had reported higher antibody rates and rare side effects, such as swelling or diarrhoea.
"Based on the evaluation and the benefits or risks consideration … BPOM has issued an emergency use authorisation [for Sinopharm]," she told a news conference.
Verdi Budidarmo, CEO of pharmaceutical company Kimia Farma which distributes the vaccine, said the private vaccination programme, which starts next month, could "back up the government to reach herd immunity".
Over 482,000 ready-to-use doses of the Sinopharm vaccine arrived on Friday.
No detailed efficacy data of Sinopharm's vaccine has been publicly released.
However, its developer, Beijing Biological Products Institute, a unit of Sinopharm subsidiary China National Biotec Group, has said the vaccine was 79.34 per cent effective in preventing people from developing the disease, based on interim data.
Indonesia's vaccine programme has slowed due to an export ban from India and other supply issues, although health minister Budi Gunadi Sadikin said he hoped it could get back on track in May.
The country received 6 million doses of the Sinovac Biotech vaccine in bulk on Friday. It has also got 3.85 million ready-to-use doses of the AstraZeneca vaccine this week and Budi said 10 million to 15 million additional Sinovac vaccine doses would be received in the next few weeks. 
Thailand says recent wave has peaked
Thailand on Friday reported 1,583 new coronavirus cases, bringing the country's total number of confirmed infections to 65,153 since the pandemic began last year. There were 15 new deaths reported, taking total fatalities to 203. 
One major change approved on Thursday by the Centre for Covid-19 Situation Administration is that people arriving from abroad must spend 14 days in quarantine regardless of where they are coming from or whether they have been vaccinated for Covid-19. Quarantine periods had recently been shortened to 7-10 days from 14 days to help revive the country's massive tourist industry.
Other new restrictions inside Thailand will be applied depending on how provinces rank on a three-tier system of zones according to their number of new Covid-19 cases.
The new rules will be reviewed after two weeks, said Taweesilp Visanuyothin, the centre's spokesperson.
In Bangkok, Chiang Mai and four other provinces in the worst tier, restaurants are only allowed to provide takeaway service and must close by 9pm. All gyms, fitness centres and other indoor sports venues must close. No spectators are allowed at sporting competitions and residents are strongly discouraged, though not banned, from travelling outside the zone.
Earlier this week, Bangkok city authorities already ordered the closing of more than 30 types of businesses and services including cinemas, parks, zoos, bars, pools and massage parlours. Gatherings of more than 20 people were banned. Shopping malls and department stores can open with shorter hours.
Passenger catches virus on Japan cruise ship
The ship's 295 passengers and 425 crew members will reach Yokohama, just south of Tokyo, around Saturday noon, an NYK Cruises spokeswoman said.
All passengers tested negative prior to the cruise, but the company conducted another round of tests at its boarding reception on Thursday, she said.
The infected passenger is stable and recovering in a cabin that has been isolated, NYK said in a statement, adding that only one other person had been in close contact.
The ship had been scheduled to stop at Aomori and Hokkaido prefectures and return to port on May 5.
Hanoi shuts bars, karaoke parlours
Hanoi's bars, karaoke parlours, clubs and internet gaming rooms have been ordered to close after Vietnam recorded its first community transmissions of Covid-19 in 35 days.
The cases have been linked to a 27-year-old man who returned to Vietnam from Japan on April 7.
The man was quarantined in the central city of Da Nang, where he tested negative for coronavirus three times before catching a bus back to his home in Ha Nam on April 22. Two days later, he developed Covid-19 symptoms and tested positive.
Authorities have locked down Quan Nhan village, where the man's family lives, restricting the movements of around 1,000 villagers. 
Vietnam's health officials are now hurrying to carry out contact tracing and testing nationwide. 
The new cases have emerged shortly before a three-day public holiday in Vietnam when many families travel across the country, raising fears of a wider outbreak. 
Vietnam has officially recorded 2,914 coronavirus cases and 35 deaths.
Malaysia moves teachers up vaccine priority list
Announcing the revised plan, Deputy Education Minister Mah Hang Soon said the safety of teachers and students remains the ministry's top priority, according to local media reports.
The first vaccination phase started two months ago and saw health care workers and security forces personnel immunised.
The decision to vaccinate teachers comes amid a spike in coronavirus case numbers. The Health Ministry on Friday reported almost 3,800 new infections, the third consecutive day the number topped 3,000.
Schools remain mostly open, though several outbreaks have been reported among students, leading to some temporary closures and a statewide shutdown in Kelantan, a northern region.
The government said in February it would not lock down for a third time, citing concerns about likely economic losses after the first shutdown last year led to a 17 per cent quarterly contraction.
Cambodia police general jailed for violating curbs
Major General Ung Chanthuok, deputy chief of staff of the national police, was sentenced on Thursday to 12 months in prison over a party he organised earlier this month, while two other attendees received 18-month terms. Ung Chanthuok was sacked after his arrest.
Kuch Kimlong, deputy prosecutor of the Phnom Penh Municipal Court, said all three were also fined US$1,250 each.
The sentences were among the toughest so far under a strict law passed in March this year by Cambodia's parliament, which prescribes punishments that include jail terms of three years for quarantine breaches and 10 years for leaving treatment facilities while infected, or intentionally spreading Covid-19.
Cambodia is fighting a surge in coronavirus infections that has seen its case total jump from about 500 to 12,641 since late February, including all 91 of its deaths.
Reporting by Reuters, dpa