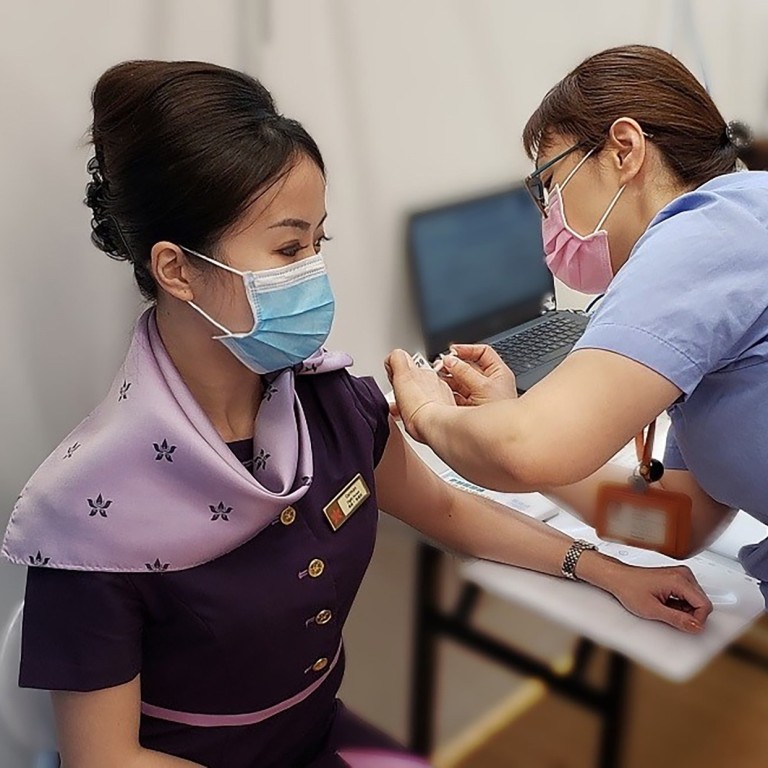 Exclusive
Coronavirus: aircrew quarantine rules will be lifted if enough staff get Covid-19 vaccine, Hong Kong government tells airlines
Sources say government told Hong Kong-based carriers that it would remove measures if vaccination rates among pilots and cabin crew improved
Removal of rules could begin to help improve the battered finances of beleaguered airlines and start the long recovery from the impact of the pandemic
Mandatory quarantine for local aircrew will be removed if enough staff are inoculated against the
coronavirus
, officials have told Hong Kong-based airlines, the
Post
has learned.
The government is putting pressure on local carriers to boost
vaccination
rates, which reflect the slow uptake for jabs citywide, according to a person with direct knowledge of the discussions.
Airlines are being lured with the incentive of having costly quarantine measures removed, two sources said.
Hong Kong introduced quarantine measures on February 20 for any local flight crew who had stayed outside the city. The rule exempted those arriving from mainland China, and Anchorage in Alaska, a key stopover for Cathay Pacific Airways freighter flights where crews in transit self-isolate.
Aircrew must quarantine for 14 days, followed by seven days of self-health checks at home. Cathay Pacific requires staff to work for three weeks and do two weeks of quarantine at a hotel before returning to the local community.
In a statement, the government said it was incorporating incentives for fully vaccinated people into its anti-epidemic measures.
"As and when the evolving situation of the epidemic allows, the government will suitably review and adjust the prevailing air crew self-isolation arrangement," a Transport and Housing Bureau spokeswoman added.
The commitments offered by the government in recent days to locally based airlines mirror the determination by carriers, previously without a clear incentive, to push pilots and cabin crew in particular to get protected against Covid-19.
Cathay Pacific
previously said it would encourage its employees to get the vaccine, and once it had enough staff protected would ask the government to scrap the isolation orders at a later date.
The removal of quarantine could begin to help improve the battered finances of beleaguered airlines by slowing their cash burn and see the return of some axed long-haul flights to schedules, in the start of a very long and dragged-out recovery from the pandemic.
However, an industry source raised concerns about the possible implications of quarantine being removed. Any change could lead to non-vaccinated aircrew being unable to operate the same planes as vaccinated colleagues, potentially making scheduling more complicated.
Earlier this week, government ministers started to woo people with incentives to boost sluggish vaccination rates, including allowing fully vaccinated teachers and restaurant staff to skip regular Covid-19 testing.
Hong Kong's citywide vaccination programme was dealt a blow last week after the distribution of the Pfizer-BioNTech jab was halted after defects were detected in and around the vials storing the solution, prompting an investigation into the logistical handling of the German-made vaccine.
As of Tuesday, 6.1 per cent of the population had received at least one dose and 0.5 per cent received a two-dose regime. The booking uptake in the Chinese-made Sinovac vaccines has continued to fall after BioNTech jabs were suspended on March 24. BioNTech vaccinations are expected to resume by early next week, Secretary for Civil Service Patrick Nip Tak-kuen, who oversees the inoculation programme, said on Wednesday.
The government considers a person to be fully vaccinated 14 days after they have been given their second dose.
Amy Ma, an executive committee member of the Cathay Pacific Flight Attendants Union, said it advised its several-thousand members to assess their health before choosing whether to get the vaccine. The union said it did not have any data about the vaccination rates among its members.
Last week, the government said half of all Hong Kong pilots had at least signed up for a vaccine. Airlines have so been reluctant to provide public data about staff vaccination rates.
A spokesman for Hong Kong Airlines said that while most of its services were turnaround flights, it would welcome "any relaxation of the current quarantine measures for vaccinated crew … as and when announced by the government".
A Cathay Pacific spokeswoman said the airline was encouraging all its employees to get the vaccine to protect themselves and families.
"We believe vaccination is pivotal to the resumption of regular air travel, the return of normal life for everyone in society and the recovery of Hong Kong's economy," she said.
Cathay Pacific remains the biggest victim of the quarantine rules. Hong Kong's largest airline was forced to slash its passenger and cargo flight schedules in adapting to the measures, increasing its monthly cash burn by up to HK$400 million a month to HK$1.9 billion. The carrier lost HK$21.6 billion in 2020, reflecting the financial cost of the pandemic.
US cargo airline FedEx moved its 180 locally based pilots to San Francisco to avoid quarantine measures crippling its operations. It subsequently emerged that it sought the help of the US government over perceived isolation rules that denied US carriers "fair and equal opportunity".
The Post has been told that FedEx and the government were still locked in talks but are considered to be making progress on the matter. However, an industry source said the vaccination offer in exchange for an end to quarantine could help break the deadlock.
A FedEx spokeswoman said the company was "working towards a resolution" with the government, and in the meantime it was encouraging staff to get vaccinated.
"We look forward to the development of a clear protocol for how vaccinated persons, including crew members, will be treated on entry into Hong Kong," she added.