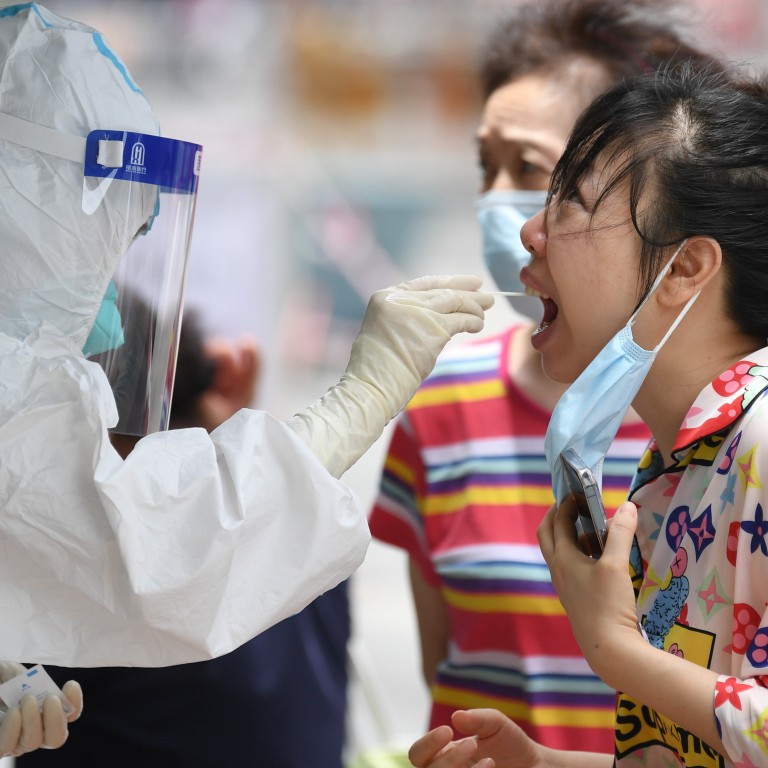 Omicron: Guangzhou reports China's second case of variant
Man entered the country and repeatedly tested negative for Covid-19 during his 14 days in quarantine before returning positive result
On Monday, China reported its first imported Omicron case in Tianjin, confirmed to be a Polish teenager
The Guangdong case was identified amid plans in Hong Kong to open its border with the province this month for quarantine-free travel.
Guangzhou authorities said a 67-year-old man entered China on November 27 and repeatedly tested negative for Covid-19 during his 14 days in quarantine.
He flew from Shanghai to Guangzhou on flight CA1837 on December 11 in keeping with "closed loop management", under which authorities arrange all transport and control quarantine measures to minimise contact between international arrivals and the public when they return home for self-isolation.
The man started home quarantine on December 12, and tested positive for the Omicron strain on December 13.
He is being treated at Guangzhou Number 8 People's Hospital and is in a stable condition, according to municipal authorities.
Guangzhou has sealed off a building in Tianshengcun, a residential compound in Yuexiu district where the man lives. All residents of the building have been sent to a quarantine facility for observation.
Residents from three nearby buildings in the same compound are banned from leaving the neighbourhood and must have two Covid-19 tests within three days.
By Tuesday evening, 13,739 people in the compound – 4543 of them from the same building as the patient – had been tested, and all returned negative results.
Residents from several streets in the neighbourhood are also required to do two swab tests. Nearby entrances to the subway station have been closed and taxis and app-based transport banned from entering the area.
Passengers planning to fly out from Guangzhou Baiyun International Airport must show where they have been in the past 14 days.
Quarantine-free travel under the Hong Kong border reopening scheme – initially limited to Guangdong province – had been expected to launch later this month.
The patient is a Polish teenager who arrived in the northern city on December 9, according to Chinese media and the Polish government.
A Polish health ministry spokesman said on Tuesday that a young Polish woman had tested positive for Omicron in China, with the variant identified on Monday.
She was in isolation in hospital and was asymptomatic, the spokesman said.He said one other person on the plane had tested positive for coronavirus, but it was not yet known if this was also an Omicron case.
A pre-departure test taken by the teenager had returned negative. Poland has not yet reported any Omicron cases.
China has doubled down on its control measures amid the emergence of the Omicron variant. Speaking at the weekend, Wu Liangyou, a disease control official with the National Health Commission, said tests were sensitive enough to pick up Omicron infections and China would maintain its policy to "prevent imported cases and a rebound of domestic cases".
Liang Wannian, also an official with the NHC, acknowledged in the same briefing that it was extremely difficult for China to have zero Covid-19 cases, but added that China could keep the small outbreaks under control.
"A dynamic zero-tolerance strategy aims not at 'zero infections', but seeks to put out the outbreak as soon as possible," Liang said.
Professor Jin Dong-Yan, a molecular virologist with the University of Hong Kong, said it was still possible for China to keep the Omicron variant at bay because it had imposed a 21-day quarantine in most cities, while some even had 28 days of quarantine for international travellers.
But for the Guangzhou case, it was possible the patient was infected during the quarantine period in the designated facility, Jin said.
"It is also possible that the testing reagent is not sensitive enough because he tested negative during the first two weeks of quarantine," he said, adding that it was less likely the variant had an unusually long incubation period.
European countries are now bracing for an "Omicron tsunami". British Health Secretary Sajid Javid said the variant now accounted for 44 per cent of infections in London and would be the dominant strain in the capital within 48 hours. New Omicron infections were estimated at 200,000 per day.
In Norway, health authorities warned that if no countermeasures were taken Omicron could infect up to 300,000 people a day, compared with the previous peak of about 1,000 cases.
The United States has tightened its controls for international travel and now requires all individuals to be fully vaccinated and present a negative Covid 19 test taken within 24 hours of their departure.
Additional reporting by Reuters