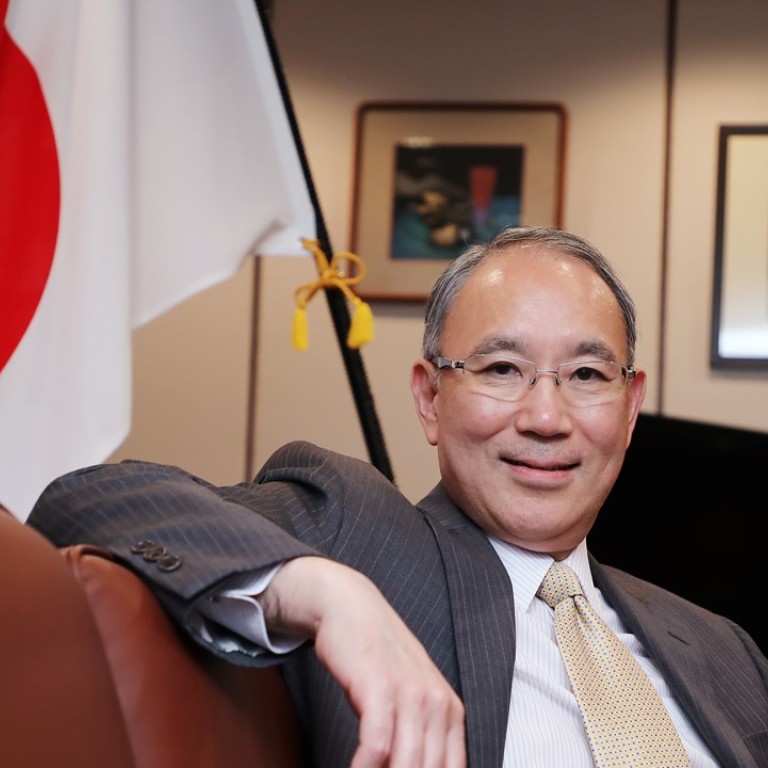 Hongkongers' fascination with Japan reflects commercial ties, cultural affinity and warming diplomacy
Hong Kong is a major repeat tourist and investment market, and has hosted a thriving Japanese business community since 1850
Supported by:
Discovery Reports
Hongkongers love to visit Japan, and their ties with the nation have never been closer. In 2017, 2.23 million, or almost 8 per cent of Japan's 28 million foreign visitors, came from Hong Kong, and many returned to Chek Lap Kok with fond memories. Indeed, if you ask Hongkongers about their favourite holiday destinations, many might cite the delights of Osaka, Kyoto, Tokyo, Okinawa, and Hokkaido, or just say "Japan".
Hongkongers keep going back to Japan, according to Kuninori Matsuda, ambassador and consul general of Japan in Hong Kong.
He says almost one-fifth of Hong Kong travellers have visited Japan more than 10 times, and more could follow in the coming years.
"Hong Kong is Japan's number four travel market after mainland China, South Korea and Taiwan in the number of visitors," Matsuda says.
The Japanese government also plans to increase foreign tourist arrivals to 40 million by 2020, when Tokyo hosts the Olympics and Paralympics, he adds.
As a result, Japanese government officials are actively promoting tourism across the nation. They also plan to launch new "attractions" – integrated resorts featuring facilities for casinos, entertainment, dining and meetings, incentives, conventions and exhibitions.
"Four to five local governments are interested, and we first plan to open three projects in different places," Matsuda reveals. "We are inviting investment from foreign countries for these projects."
Such invitations could be well-received in Hong Kong, as over half of its investment in Japan is tourist-related.
The city also has long and strong business ties with Japanese cities. "Many countries have relations with Japan, but Japan and Hong Kong is so much closer, and so much stronger," says the consul general, who has spent almost three years in this city after postings in the United States, Israel and Russia.
This is largely because Hong Kong and Japan have much in common, Matsuda explains.
"Everywhere in Hong Kong has similarities with Japan," he says. "This makes Hong Kong so unique, and it is the reason all our [nation's] 47 prefectures consider Hong Kong as one of their most important partners."
Hong Kong is also a key export market for Japan, Matsuda says. "Can you imagine that with only a 7.4 million population, Hong Kong bought more than double of what United States bought from us?"
The city has also been the number one importer of Japanese agricultural products for 13 consecutive years until 2017, and its educational ties with Japan continue to strengthen, Matsuda says.
"The number of Hong Kong students studying in Japan also hit a record high last year," he reveals. The Japanese business community in Hong Kong also operates more offices and headquarters than their counterparts from the US and China, Matsuda says.
The city's Japanese community was also "formed as early as in 1850", and it has played a key part in the city's modern culture, the consul general adds. "From the 1960s to the '80s, Japanese construction companies were very active in Hong Kong's infrastructure development," Matsuda says.
"And, back then, Hong Kong had all the major Japanese department stores."
These have been replaced by a new wave of companies, the consul general says. "For example, all the financial institutions in Japan – banks, securities, insurance companies, are all here in Hong Kong. We are also seeing the opening of more restaurants of different sizes and price ranges."
Japan's construction companies could return to Hong Kong for new opportunities, such as in Beijing's global trade strategy, "Belt and Road Initiative", which Matsuda describes as a "a very gigantic project".
"To me, the most important responsibility for China and Japan, the second- and third-largest economies in the world, is to decide how to work together to address the ever-increasing demand for social infrastructure and building throughout Asia," Matsuda says.
"Transportation, especially high-speed trains, is also an area in which both countries can collaborate," he says.
The consul general is also very optimistic about the development of Sino-Japanese relations.
"This year commemorates the 40th anniversary of the signing the Treaty of Peace and Friendship between the two nations," Matsuda says.
"Over the past decades, we have developed very robust grass-roots exchanges of people, which is solid foundation for mutual respect and mutual understanding between us."
Indeed, there are now 251 sister-city ties between Chinese and Japanese municipalities, and about 100,000 Chinese students are studying in Japan.
The nations' relations have also been improved by recent diplomatic exchanges and foreign ministers' visits to each other, the consul general says.
Premier Li Keqiang is also expected to visit Japan in May, and it is anticipated that Japanese Prime Minister Shinzo Abe will visit Beijing later.
"Political visits will certify and strengthen our relationships," Matsuda says.