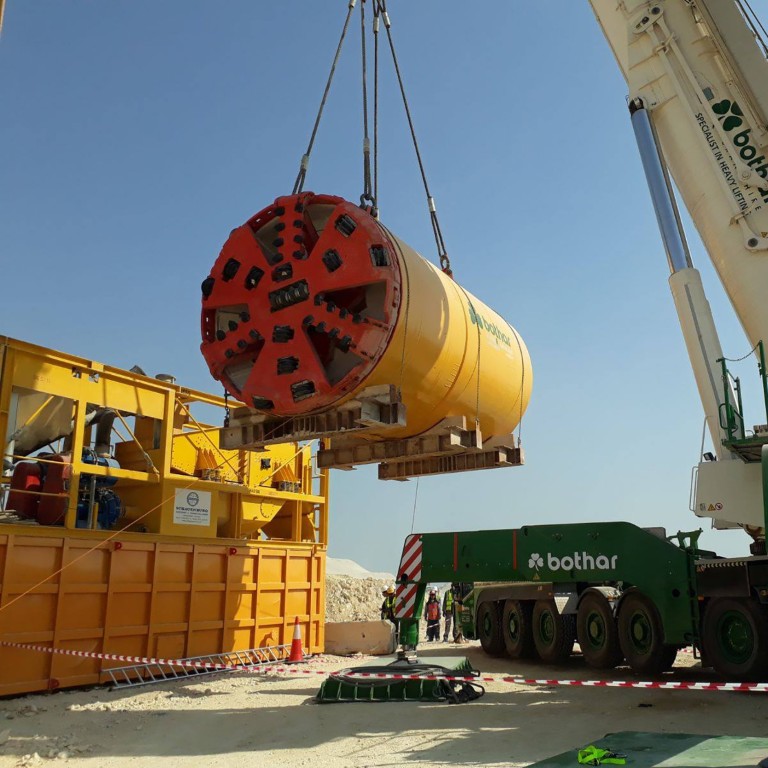 Bothar's microtunnelling builds the world beneath
The company has expansion plans for Southeast Asia, including Singapore and Vietnam
Supported by:
Discovery Reports
Country Business Reports interviews and articles by Discovery Reports www.discoveryreports.com
From Canada to Qatar to Singapore, Noel Kerr has been travelling – not to see the world, but rather to see what is underneath it. One of the founders and the executive chairman of tunnelling specialist Bothar Group, Kerr has been busy keeping up with markets around the world and aggressively expanding the group's global footprint. Bothar is achieving these initiatives through organic expansion and the strategic acquisition of regional companies to support the phenomenal growth in the demand for its microtunnelling machines and services. "We get calls from all around the world. When a particularly difficult job comes up, we are one of the few companies on the globe that has such deep and specific tunnelling capability required for the task," says Kerr, who has more than three decades of experience in all facets of trenchless installation in Australia, the Middle East and Europe.
With industry-leading experience across all aspects of the tunnelling contracting industry, Bothar's seasoned staff, diverse capability range and cutting-edge approach allow it to provide a contract solution to any type of tunnelling project. As the largest fleet owner of Herrenknecht microtunnelling machines in the world, Bothar can swiftly ship and assemble its equipment to project sites anywhere across the globe, reducing project lead time. The group offers a full suite of trenchless tunnelling methods from shaft construction and installation of pipelines through to horizontal directional drilling and microtunnelling using its own remotely controlled laser-guided machines.
Customer service remains the driving force for the group as it seeks to cement its place as one of the world's leading trenchless installation companies. With offices in Australia, New Zealand, Canada, Singapore, Qatar, Oman, Dubai, Kuwait, South Africa, Ghana, Britain and Ireland, Bothar is able to provide immediate maintenance and superior technical support to clients overseas. The group also shows its commitment to international clients by providing training and cost-effective strategies. In the Middle East, for instance, Bothar sources as much as 80 per cent of its labour and material requirements locally.
Clients benefit from the group's flat organisational framework, which ensures streamlined work processes. To illustrate, co-founder and construction director, Tony Guinan, visits and checks on every overseas project. With his decades of experience in oil, gas and trenchless technology, Guinan has played a crucial role in driving Bothar's success in the international scene.
"It really is predominantly a people business where we make sure we treat every client as a partner," Guinan says. "We get a lot of repeat work as we genuinely adopt this core philosophy."
Appetite for infrastructure drives global demand
With about 1,000 employees comprising more than 30 different nationalities, Bothar has expanded internationally into more than 10 countries. The group has a large focus on the Middle East and Australasia, which have served as a springboard for the group's expansion into other markets.
Bothar has a large operation in Qatar and Kuwait, a smaller undertaking in Oman and is vying for projects in Dubai, where it has previously worked. The group has also completed two major projects in Ghana in West Africa and also a number of other projects throughout Africa.
"We are also pretty bullish in North America, especially Canada," Kerr says. "We are leaders in the markets that we are in and we see Canada as another market where our expertise and experience should be well suited."
Indeed, Bothar has taken its first steps into the Canadian market through the acquisition of Innovative Pipeline Crossings (IPC) in Alberta, Canada, late in 2018. The strategy has added to the group's service portfolio, offering a new technology called direct pipe installation (DPI), a hybrid system that combines horizontal direct drilling with microtunnelling. Kerr believes that DPI is a natural extension of the group's existing services and is excited by the opportunities.
The IPC acquisition is a compelling and exciting opportunity in the context of the surge in demand for oil and gas pipelines in the Canadian market. Bothar has bid on about C$300 million (HK$1.8 billion) worth of projects there, only a proportion of the overall infrastructure opportunities in Canada estimated by the group to be at about C$400 billion in the civil infrastructure and oil and gas sectors.
"It is quite an exciting opportunity as Canada is a huge market," says Andrew Wright, group finance director. "Infrastructure projects outside the oil and gas sector are already a massive programme even if one focuses only at the local level. Town and city infrastructure requirements already make an ideal market for the group."
Bothar, having now completed the IPC acquisition, sees it as one of several strategic, inorganic growth strategies being pursued by the group. In particular, Bothar is well into its first project through IPC in Canada.
Bullish outlook for Asia
The group is similarly optimistic about the Asian market.
"Everyone is talking about the 'Belt and Road Initiative' and I think the greatest beneficiary of this will be Southeast Asia," Kerr says. "There is a US$25 trillion deficit in infrastructure in the region and timing is everything, so we have to have a clear focus on when the infrastructure projects will be undertaken."
Singapore is high on Bothar's agenda and the strategy is to become a significant player in the market there before looking at opportunities in other countries across the region, including China. The group is particularly interested in projects associated with the Deep Tunnel Sewerage System (DTSS) of Singapore's Public Utilities Board. While many of the deep tunnel undertakings under DTSS have already been awarded, an additional number of branch sewers totalling about 40 different projects are coming out for tender. The group has already bid on about US$170 million worth of projects in the past year in Singapore and is keenly watching how the market will play out. Bothar has been awarded its first project in Singapore.
"It is a little bit different as each market is unique," Kerr says. "Everywhere you go has its own idiosyncrasies and I guess we are watching how things will unfold in Singapore."
Engaging with partners in Qatar who have previous experience in Ho Chi Minh City, Bothar is eagerly watching for prospects in Vietnam. Thailand also presents further growth opportunities for the group, particularly with respect to more difficult and complex projects.
Bothar's plan for China is a little different as it will be seeking opportunities and partners to help facilitate equipment development and projects that demonstrate Bothar's distinct skill set.
"We are always open to collaborations and I think it is about striking the right cultural accord with potential partners," Kerr says. "A lot of it comes down to striking personal relationships with the people in those companies. You can write all the contracts you like, but at the end of the day, if you do not have trust among the people doing business, it is all a waste of time."
Funding for organic and inorganic growth
Over the past few years, Bothar self-funded its own organic growth. However, such a growth profile requires significant capital investment and the group implemented a strategic external financing process. Phase 1 of that process was the completed debt financing programme with a Hong Kong fund, OCP Asia. Phase 2 seeks to bring new equity investors on board and retire debt.
"It is a hungry fleet that needs to grow all the time as the infrastructure programmes around the world expand," Wright says. "As such, seeking good equity partners is also key to the business going forward."
On the back of its excellent track record and growth, the group offers potential investors an attractive investment opportunity. Bothar believes that growth will be sustained in the future by an international appetite for infrastructure that is unlikely to decline in the medium term.
"You know your traditional hockey stick curve of business growth; it is a reality here at Bothar," Wright says.
"That growth curve has been maintained over the years and will be sustained into the future. We have had a compound annual growth rate of more than 35 per cent over the past seven years. We offer a critical service and we are well-positioned to manage it to present the group as an attractive investment opportunity. Existing investors of the company can attest to this as they have done very well."
True enough, Bothar abounds with excellent fundamentals. Its technological leadership has been showcased in many of its projects, especially when it tunnelled a 2.5 metre diameter, 2.65km shaft underneath the Atlantic Ocean in Ghana. Following on from this, Bothar is preparing for the launch of a 2.5 metre diameter, 1.5km long tunnelled drive underneath the Gold Coast Seaway in Queensland, Australia.
Bothar also boasts of a flat management structure comprising of hands-on executives and owners able to rapidly deploy resources anywhere in the world.
"We are looking to move to a much larger scale so incoming investors will now have a significant uplift if they are patient enough to go on the journey with us," Kerr says. "We will continue doing what we do because we love it. We will make sure we maintain and improve our position as one of the global leaders in this segment."