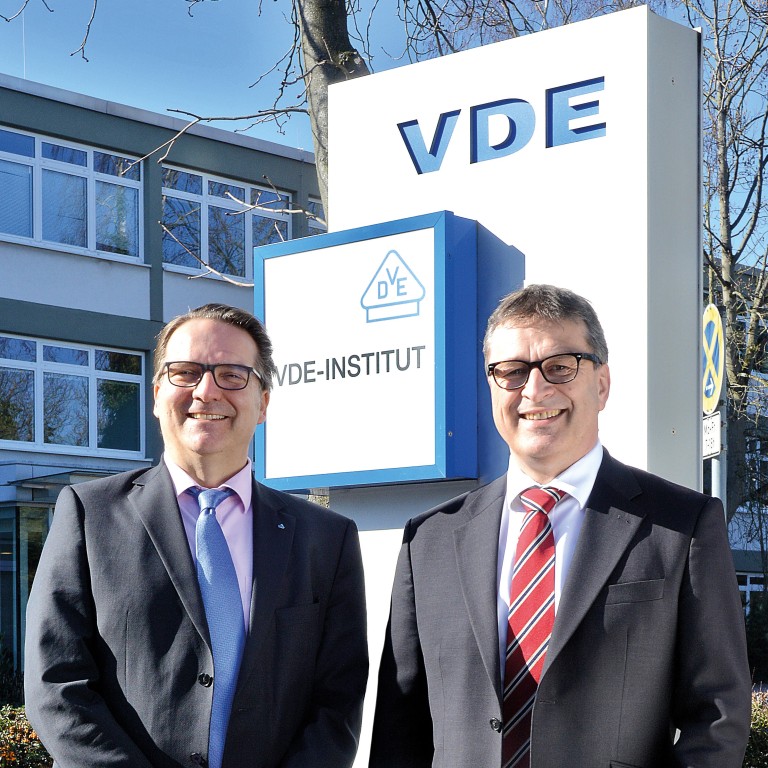 VDE Global Services backs hi-tech manufacturing with science, standards and testing
The 6,000-square-metre facility in Zhongshan is where manufacturers can obtain VDE and China Compulsory Certificate marks
Supported by:
Discovery Reports
Country Business Reports interviews and articles by Discovery Reports www.discoveryreports.com
A worldwide symbol for the safety and quality of electrical devices, components and systems, the VDE mark is key to international market access. It has been used since 1920 to certify electrotechnical and electronic products along with information technologies that are safe for consumers and fulfil the legal obligations.
The VDE mark is as ubiquitous today in Asia, Europe and the rest of the world on household appliances, consumer electronics, components and cables and power tools that are of high quality no matter where they are made. In the smart homes, electric vehicles and clean-tech systems of the future, the same VDE mark will determine whether any new technology or product is interoperable in digital platforms and therefore safe for consumers to use in vastly networked systems. "We dive very deep into the science, standards and testing of electrotechnical products and emerging technologies," says Wolfgang Niedziella, managing director of VDE Testing and Certification Institute, the expert organisation behind the German quality mark.
Through wholly owned subsidiary VDE Global Services (VDEGS), the German institute partnered last year with the China General Certification Centre, a national certification body, to establish a testing lab for household, lighting, internet of things (IoT) and other product categories. Opened in April, the 6,000-square-metre facility in Zhongshan is where manufacturers can obtain VDE and China Compulsory Certificate marks for their hi-tech products, and thus gain simultaneous access to the Chinese and European markets.
It is the third testing lab of VDEGS in China. Designed to function as a one-stop shop for safety tests, supply chain services, product development, market access and customised services, the Zhongshan lab is a testament to VDEGS' abiding commitment to Asia since its initial foray in 2004. Sister company VDE Renewables also inaugurated a battery testing lab in Singapore in March, extending the VDE Group's footprint to 10 countries across Asia. Also through close cooperation with local high-quality test laboratories in Asia, the VDE Group is extending its network to follow market trends and offering a full range of services to different industries.
"Nearly all manufacturers work with us for the high knowledge," says Sven Öhrke, managing director of VDEGS. "We are trying much more now to work together with the research and development departments of our customers at the very early stage."
VDEGS actively participates in developing testing standards for emerging technologies especially for e-mobility, energy supply, IoT and similar Industry 4.0 solutions based on digitalisation, robotics and networked systems. It welcomes collaborations with universities and start-ups across Asia and is particularly keen on opportunities in Japan, China and South Korea.