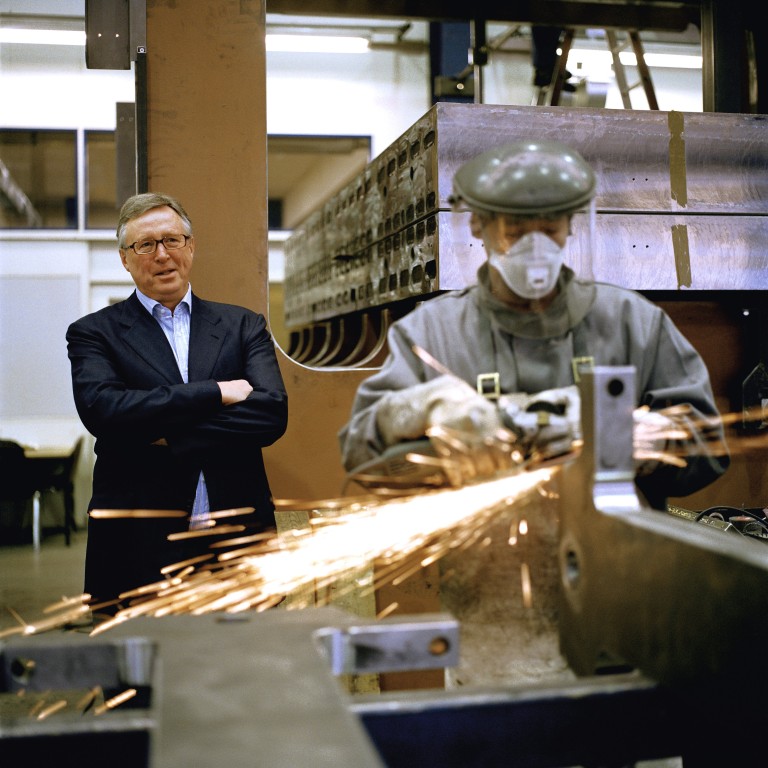 Wemhöner Surface Technologies finishes first with record equipment sales
An expert producer of professional wood-finishing systems and machinery, Wemhöner Surface Technologies constantly devises new systems for the needs of current and future customers
Supported by:
Discovery Reports
Country Business Reports interviews and articles by Discovery Reports
As the Covid-19 pandemic continues to take its toll on various industries, wood-based products seem unaffected. In fact, the demand for wooden furniture, floorings and fittings has enjoyed a surprising surge, and with it an escalating need for machinery to manufacture these products. For Wemhöner Surface Technologies – Germany's expert producer of professional wood-finishing systems and machinery – the recent years have cemented its success and strengthened its relationships with clients old and new.
"The cooperation between our Chinese factories and our German headquarters has very much benefited from the recent boom in demand," says Heiner Wemhöner, managing partner and third-generation owner of the Herford-based company. "In our 95 years of history, 2020 was the best year for us. This is unexpected for such a challenging year, and we are lucky to have customers from the furniture industry in China, as I think there is no end in sight to this growing need."
Wemhöner Surface Technologies honours its decades-old, robust business connection with China, having completed its second plant in Changzhou in 2020, increasing its production capacity to 17,000 square metres. The family-owned and managed company has designated this factory to manufacture its latest innovations, which involve printing and lacquering equipment, short-cycle press lines and 3D membrane press lines.
Other surface finishing technologies the company offers include single and multi-daylight throughfeed press lines, lightweight panel systems, special press lines using mould presses, embossing presses, vulcanisation lines and cold press lines, 3D pressing technology for automotive and photovoltaic uses, and more.
"We create custom-designed equipment, so we make sure to listen to our customers. The close relationships we have with them is part and parcel to our success," Wemhöner says. "We appreciate that they often want to improve their product lines, as it motivates us to constantly plan ahead and devise new systems our present and future customers may need. This is a continuous process – it is our duty to outperform our previous projects."
It is this ethos of dedication to customer satisfaction, adherence to discipline and application of leading-edge technical know-how that keeps Wemhöner Surface Technologies at the forefront of its industry. In line with this, the company has set a world record for engineering the fastest short-cycle press system.
It is also this very same ethos displayed by its Chinese suppliers and employees in Changzhou that inspires the German company. Dealing with top players within the furniture and flooring sectors through its local presence in China, Wemhöner Surface Technologies' decades-long presence within the mainland has shaped and improved its core company values.
"We have the highest respect for the discipline of Chinese people," Wemhöner says. "We highly recommend businesses that require manufacturing plants to establish a presence there. Not only does one learn a lot from the work ethic of the locals, but one may reach many other markets from China. We are very lucky to be there, meet the locals, and experience what life in Changzhou is like."
Keeping the business within the family is another philosophy that Wemhöner abides by. The managing partner envisions his children as his successors, hoping they comprise the company's fourth generation to bring in fresh ideas within the next couple of years.
"Have a vision, a goal. Do what one can to achieve it, and take it step by step. Be independent of others. To make this company the best in the world and stay in that league, we should partner with more of the best companies in the world."
Wemhöner Surface Technologies is eager to form more connections to serve other Asian markets through its investments in China. While it highly values individual entrepreneurship, the company welcomes partnerships with qualified specialists, distributors and future-oriented players in the wood and furniture industries.

This content has been created under the direction of an advertiser. It contains no editorial input or review from the South China Morning Post (SCMP), nor does it reflect the position of, or the editorial standards used by, the SCMP. The advertiser has paid for and approved the content.