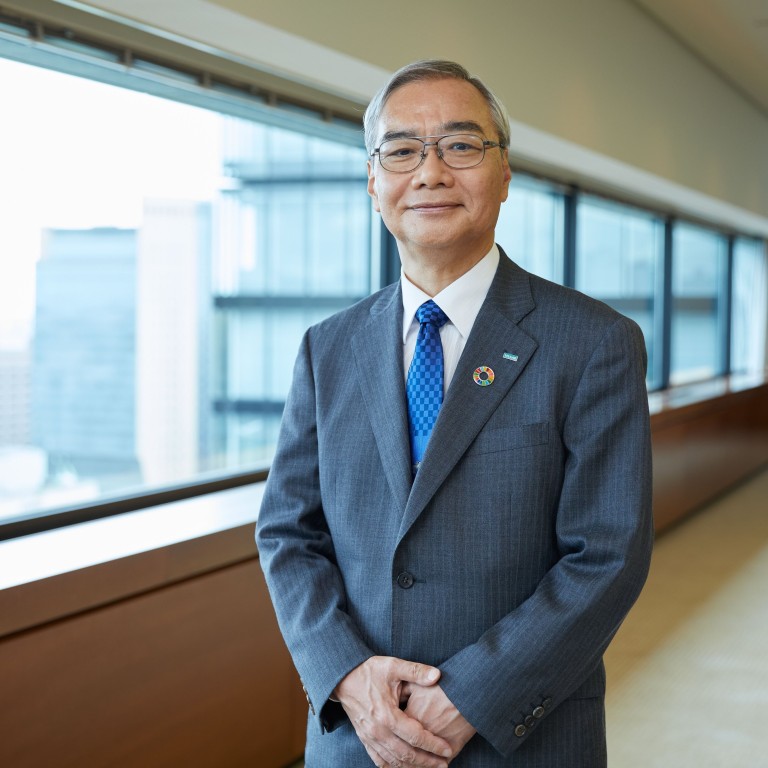 MS&AD Insurance embarks on sustainability, digital transformation and Asean growth
Expanding globally, MS&AD has acquired Mingtai Insurance, First Capital Insurance, and Aviva's business division in Asia, along with Amlin in Europe
Supported by:
Discovery Reports
Country Business Reports interviews and articles by Discovery Reports
Among the wealth of choices that the insurance industry has to offer, many options merely trail the path paved by the most distinguished players. MS&AD Insurance Group has become the largest non-life insurer in Japan in terms of net premiums by combining and leveraging the strengths of the insurance giants that formed it: Mitsui Sumitomo Insurance, Aioi Insurance and Nissay Dowa General Insurance.
Under its domestic non-life insurance business, MS&AD offers car insurance, including telematics insurance in cooperation with Toyota; fire; marine; personal accident; and casualty insurance. Its domestic life insurance segment deals with protection-type products that include medical, nursing, death benefits along with asset-building and asset-inheritance products.
Expanding its business globally, MS&AD has acquired Mingtai Insurance, First Capital Insurance, and Aviva's business division in Asia, along with Amlin in Europe. The company is one of the top 10 property and casualty insurers in the world, spanning 49 countries and regions beyond its home market. In Asean, it leads in terms of non-life gross premiums. MS&AD further advances into the world market, providing leading-edge non-life and life insurance products, financial services, risk-related services, and more.
The pandemic has shaken the global economy and financial markets, and has had a huge impact on business activities and people's lives. "Covid-19 reminds us that human beings – and corporations – cannot live alone," says Noriyuki Hara, president and CEO. "We must grow together, continue creating shared values, and keep a sustainable economy." To this end, MS&AD has accelerated a digital transformation to provide several solutions to tackle social issues worldwide in a more sufficient and effective way under the severe circumstances.
"We're trying to utilise and reflect the various technologies developed in different parts of the world on our own product development, so we've established global digital hubs in Tokyo, Singapore, London, Tel Aviv and Silicon Valley in California. The hubs are aimed not just at enhancing productivity, but at accelerating innovation for a global strategy moving forward," Hara says.
Through its Silicon Valley hub, MS&AD scouts promising start-ups that produce groundbreaking technologies involving artificial intelligence and modern equipment. Its investment in Jupiter Intelligence, a leading provider of predictive data and analysis for climate risk and further collaboration led to the launch of MS&AD's Climate Change Impact Assessment Service for the Task Force on Climate-related Financial Disclosures. This service allows hazard predictions, strategy formulations, planning and information disclosure worldwide and based on scientific analyses.
Using cutting-edge technologies through internal and external resources, MS&AD has evolved beyond the traditional role of simply compensating for economic losses post accident. MS&AD implements functions that aid in preventing accidents from occurring, while also promoting a quicker recovery period.
Through telematics, MS&AD collects customers' driving data in real time. Its system issues alerts when it detects an anomaly, such as the vehicle speeding or counterflowing. The system then provides safe driving advice with the provision of driving diagnosis reports. If an accident does occur, the system detects that the vehicle has stopped after experiencing a major impact. The customer is immediately contacted to confirm their safety, and an ambulance or tow-truck will be dispatched if required.
"We are now partnering with used car distributors, e-commerce sites and online travel agents. We also desire to partner with companies possessing a large retail customer database," Hara says.
MS&AD is open to forming collaborations to improve its digital transformation while upgrading its life insurance businesses in Malaysia, Indonesia, Thailand, India and the Philippines. It seeks the best interest of society in accomplishing its endeavours.
MS&AD works to transform and digitalise the industry. It is keen on innovating its products and services, transforming its distribution channels, and creating new businesses that address social and environmental issues.
"Having professionalism, promoting teamwork, keeping integrity, encouraging innovation and being customer-focused – these are the values that we expect to have in common with our partners and employees as we expand our business in Asia," Hara says.