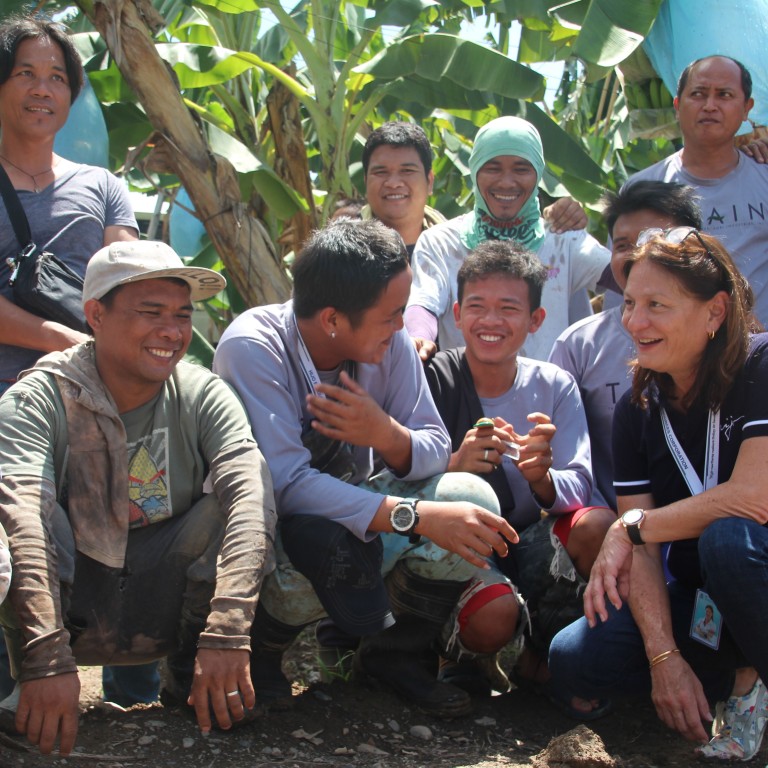 Going bananas for technology and sustainable development
Hijo CEO and president Rosanna Tuason-Fores continues her father's pioneering legacy
Supported by:
Discovery Reports
Country Business Reports interviews and articles by Discovery Reports www.discoveryreports.com
From being blamed for notorious coups in banana republics to being the cause of slapstick comedy spills, the banana has not had a good reputation. Yet one pioneering company at the heart of Davao Gulf in the Philippines is seeking to change all that.
Established in 1968, Hijo Resources Corp was the creation of Boy Tuason, one of the leading Filipino businessmen of that era. Tuason bought a 2,200-hectare banana plantation from a group of American planters. Despite having no prior experience in managing banana plantations, Tuason went on to create Philippine business history by successfully starting the export of Philippine bananas to the highly demanding Japanese market. Last year, the Philippines exported US$125.10 million worth of fresh bananas, and Hijo remains at the forefront of this nationally important industry.
Taking over the company after her father's passing in 1971, Hijo CEO and president Rosanna Tuason-Fores continues her father's pioneering legacy.
"Our vision has always been nurturing nature today to benefit the generations of tomorrow. Our natural resources must be nurtured with love and care, just as a child is nurtured by the family. That, in essence, is what sustainable development is all about," Tuason-Fores says. "So we are pushing the use of technology not just to increase yields, but to do so in an environmentally sustainable way. We have a responsibility to our land and its people that goes beyond just caring for our employees."
To allow more people to play a part in saving the environment, Hijo offers guests at Hijo Resorts Davao a chance to take part in the Trinity Project – an ambitious plan to revive the ecosystem along the Davao Gulf coastline.
By developing seagrass meadows near the shore, planting mangroves along the coast, and using bommies to revive the coral reefs, Hijo hopes to bring back the best of nature in areas that had become heavily silted and overfished. Already, Hijo has seen the growth of the fish population in the Trinity areas, along with shrimps, turtles and lobsters.
Aside from attracting and providing a habitat for marine creatures, the seagrass and mangroves also protect the coastline from erosion and typhoons.
Hijo has also gone beyond the production of bananas as it develops new products and new ways of environment-friendly farming. Its processed food products include coconut water, coconut sugar, calamansi purée and banana flour.
"You'll notice that the one common element of our processed food products is health," Tuason-Fores says. "Coco sugar, having a low glycemic index, allows diabetics to enjoy natural sweetness. Calamansi is naturally high in vitamin C. Banana flour is gluten-free. Of course, coconut water is established as Mother Nature's health drink."
Moving towards processed food products equates to increasing the supply of the natural and organic ingredients needed to develop these products. Instead of sticking to chemical products to increase yields and protect its crops, Hijo is working with the University of Southeastern Philippines to develop new technologies that will allow for early detection of pests and diseases.
It is also working on new techniques for the production and use of bio-soil for its plantations. The transport of food products is also a concern, so to lower its carbon footprint, Hijo set up a logistics arm and is developing its own port in a joint venture with the publicly listed International Container Terminal Services.
It is also developing an industrial estate that is focused on food products and storage. "Mindanao is a fertile region, but most farmers still struggle with transporting their harvests to crowded city ports. By having our own port and food terminal, the freshness of the food is better guaranteed, even as the distance it has to travel is reduced," Tuason-Fores says.

This content has been created under the direction of an advertiser. It contains no editorial input or review from the South China Morning Post (SCMP), nor does it reflect the position of, or the editorial standards used by, the SCMP. The advertiser has paid for and approved the content.