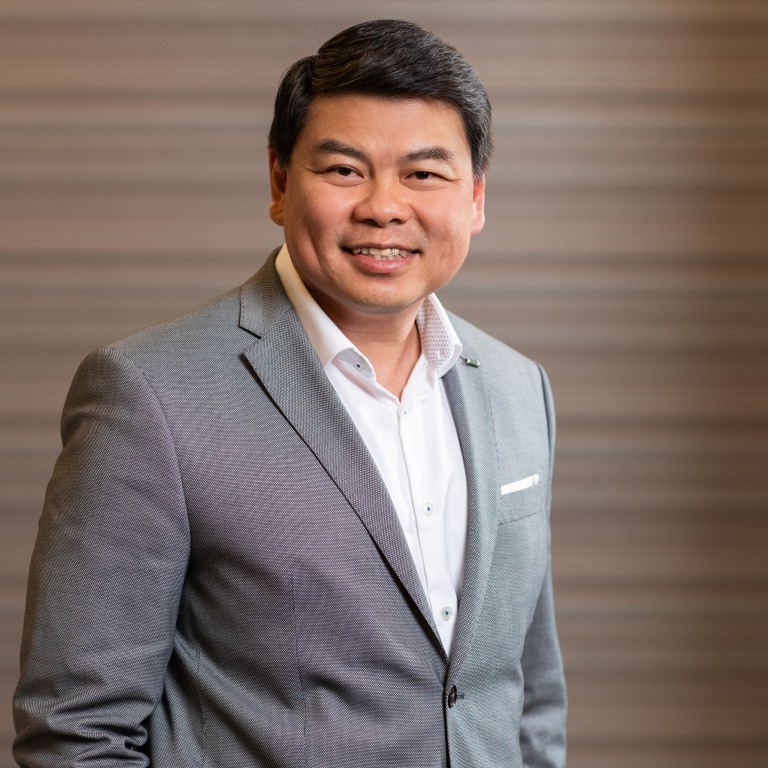 NTUC Income reimagines insurance to give control back to customers
The company introduced Singapore's first rain insurance, Droplet, which protects customers against price surges on ride-hailing platforms during rainy days
Supported by:
Discovery Reports
Country Business Reports interviews and articles by Discovery Reports
Digitalisation has changed the way insurers protect people's financial security. With Covid-19 accelerating this transformation, the future belongs to those who can sustain resilient and flexible ways of engaging customers across generations and life stages.
Amid the Covid-19 crisis, NTUC Income's (Income) gross premiums increased 8 per cent and it achieved a stunning 9 per cent growth in weighted new business for the fiscal year 2020 vis-à-vis Singapore's life insurance industry's 3 per cent average performance last year. Income was the first social enterprise set up by the National Trades Union Congress of Singapore in 1970, and today, it continues to be one of Singapore's leading composite insurers. More notably, it is showing the way forward in Asia with its insurtech offerings such as stackable microinsurance, usage-based and subscription-based insurance, all of which are lifestyle-based solutions that are catering to modern-day needs.
"The Asia-Pacific market is ripe for digital insurance products to capture the underserved segments," says Andrew Yeo, CEO of Income. "Technology has allowed companies to tap on new opportunities like never before, and digital ecosystems provide new customer touchpoints and data points that help companies customise more unique and personal offerings."
A composite insurer offering general, life and health insurance products that cater to diverse savings, protection and investment needs, Income was founded to answer the need for affordable insurance among workers in Singapore. It is the only insurance cooperative in Singapore, serving customers across social divides and closing protection gaps. They include those who are underserved such as senior citizens, gig-economy and migrant workers. It is also the only insurer with targeted insurance products for people with autism and Down's syndrome in Singapore. For Income, delivering a positive social impact via insurance is a commitment that forms part of its annual corporate performance assessment and this ensures that it walks the talk in making insurance accessible, affordable and sustainable for all.
"Our ambition is to fulfil all financial needs by making insurance simple, accessible and personal for individuals from all walks of life," Yeo says.
Breaking new ground in insurtech
As an insurtech player, Income has launched groundbreaking products that have enriched customers' insurance experience. For instance, the company introduced Singapore's first rain insurance, Droplet, which protects customers against price surges on ride-hailing platforms during rainy days by reimbursing 60 per cent of fares so that commuters could confidently hail rides. In support of the Singapore Green Plan 2030, Income recently partnered with car marketplace Carro, integrating the latter's telematics capabilities and its dynamic pricing technology to launch Covered, a usage-based model where electric car drivers pay for motor insurance according to the mileage they drove. Income aims to insure all eligible electric vehicles to promote the adoption of green cars in the island-state.
Income made another breakthrough last year with the launch of SNACK, Singapore's first stackable microinsurance that allows users to link lifestyle activities such as taking public transport, grocery shopping, paying utility bills and exercising to accumulate insurance coverage. SNACK users can contribute micro-premiums from as low as S$0.30 (US$0.22) to obtain term life, critical illness or personal accident insurance when they complete a lifestyle trigger such as clocking 5,000 steps on their Fitbit or paying for their shopping via Visa cards. Unlike conventional microinsurance that offers protection via micro-premiums and micro-coverage, SNACK allows the insured to build up a substantial sum-assured of up to S$200,000 over time by stacking the coverage with each micro-policy purchased. Close to 85 per cent of SNACK users are between 18 and 40 years old, with those from the gig economy accounting for 35 per cent of total policies issued. People with existing insurance plans can also enhance their coverage with minimal financial commitment via SNACK.
Building on the success of SNACK, SNACKUP is an innovative extension that provides complimentary stackable insurance coverage to customers who make purchases via Visa cards at participating merchants. Each time customers buy a product or service from partner-establishments, they get complimentary term life, critical illness or personal accident insurance, in lieu of loyalty points from merchants. Income aims to build up a SNACKUP community where participating brands contribute to the insurance coverage of their customers. This adds a new dimension to how brands engage and reward loyal customers.
With TRIBE, Income is introducing subscription-based insurance packs, where customers can upsize or downsize different types of protection within a product pack based on their current life stage without having to worry about any lock-in period. Such flexibility is available to anyone, with a budget of S$5 per month, keeping customers in control and protected even in uncertain times.
"We have a strong direction on how we will be sharpening our business and are clear about new opportunities that will fuel our next leap of growth," Yeo says. "The current business environment requires companies to balance growth, financial resilience and societal leadership, given the likely prolonged pandemic situation. For example, we launched seven support schemes, the most extensive by an insurer, to keep customers insured during this pandemic period. One of our key strategies is to stay agile and adaptive to evolving situations. This was evident last year, when we reprioritised our growth drivers, accelerated where possible, kept pace and de-prioritised where necessary."
The future of insurance
Knowing that consumption patterns have changed dramatically, Income believes that digital-first and lifestyle-based insurance models, where control is given to customers, will be the future of insurance.
"Industries and lifestyles will continue to evolve as we move towards smarter homes and cities," Yeo says. "With new opportunities, insurance will become more invisible and embedded in our lifestyles. We also recognise that every person's life journey is unique – one may retire at 30, graduate at 60 and start a business at 45 – and in our increasingly digital-first world, customers are expecting tailored information, services, products and engagements that delight them by speaking specifically to who they are."
By leveraging technology, data and its people across the company's omnichannel approach – which comprises apps, websites, digital tools and platforms alongside financial advisers, telemarketers and service branches – Income is harnessing online and offline customer insights to inform itself about customers' preferences more holistically. "This helps us resonate better with each customer via a suitable solution, the right channel and at the right time," Yeo says. With a deep and holistic profile of customers, Income aims to develop a single omnichannel view of its customers so that when they engage with the company, their experience will be seamless and delightful across its diverse touchpoints.
In short, it looks to hyper-personalise financial planning in terms of how it engages, serves and retains customers and innovates products.
"We sharpen our competitive edge by investing in technology and analytics to harness rich customer insights," Yeo says. "How data is used to relate to and draw customers closer via a delightful customer experience will be where the war is fought."
To embed customer-centricity in its way of working, Income requires an engaged and competent workforce. Income cultivates the right mindset, attitude and aptitude in its people through continuous reskilling and upskilling programmes, work-life integration and organisation-wide training on design thinking. The company believes design thinking is essential for employees to speak the same language and appreciate the significance of customer-centricity to the company. A data curriculum has also been added to further enhance employees' knowledge and skills, aside from informing better decisions and actions across the company.
Through its environmental, social and governance (ESG) efforts, Income consistently strives to build shared community values. Its innovations are built around evolving insurance needs because financial inclusion is a key sustainability outcome. Therefore, its products are designed to bridge affluence gaps and targeting unserved and underserved populations. "We look forward to creating more positive social impact via insurance and how we choose to conduct our business as we sharpen our focus on sustainability via our ESG efforts," Yeo says.
Leveraging regional partnerships
Income's success in Singapore is ripe for replication across Asia-Pacific. Players that are looking out for growth opportunities have much to learn and profit from Income's digital business models. Being cloud-based, Income's products do not require investments in bricks-and-mortar shops nor entail the demands and rigour of setting up an insurance business.
"Our aim is to cultivate and build an ecosystem of best-in-class partners that can augment our insurance innovations and help us leapfrog regionally with the right opportunity," Yeo says.
Income's insurtech capability is anchored on its strategic partnership with ZA Tech Global, the business entity for overseas technological exports by ZhongAn Online P&C Insurance – China's first internet-based insurer. The collaboration began in 2019, during which Income harnessed ZA Tech's deep technological know-how and experience in developing customised digital insurance products and enhanced its pipeline of innovations.
Always on the lookout for like-minded partners, Income welcomes local or regional players that empower better financial planning and make insurance more meaningful and readily accessible to consumers. It is particularly keen on partners who are equipped for hyper-personalisation and committed to quickly bring innovative products to local markets by reimagining insurance.
"Our vision is to empower better financial well-being by fulfilling all financial needs and making it simple for everyone in Singapore and regionally via best-in-class customer experience that is empowered by data, technology and innovations," Yeo says.