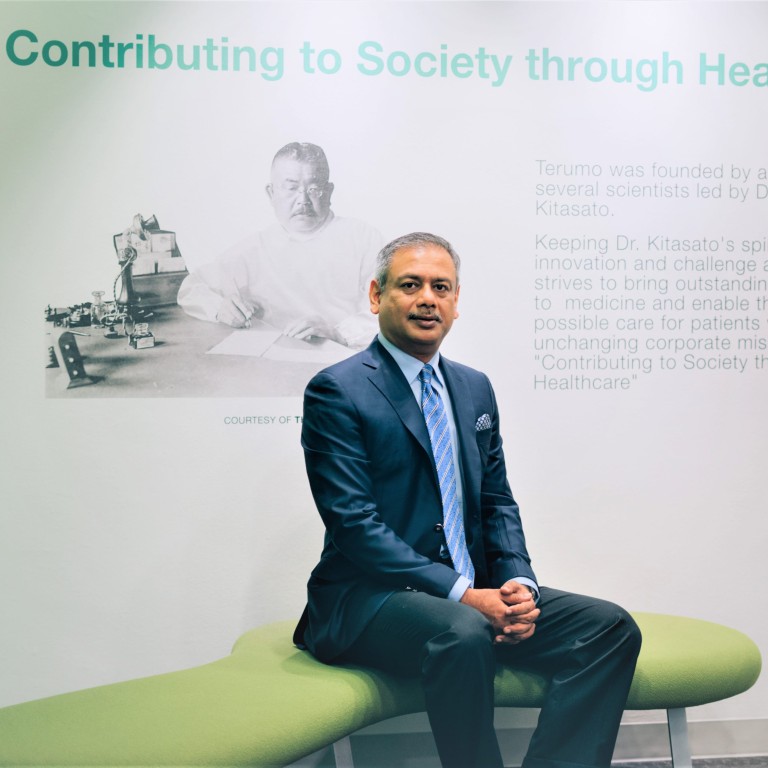 Terumo Asia upholds health care sector's pandemic response with medical solutions expertise
A global provider of innovative medical solutions, Terumo Asia develops and supplies top-quality medical products ranging from thermometers to cell technology equipment
Supported by:
Discovery Reports
Country Business Reports interviews and articles by Discovery Reports

It is a taxing period for health care systems all over the world. Since early this year, with little signs of letting up, the Covid-19 pandemic continues to beat frontliners, pummel businesses and dash the hopes of critically ill patients reuniting with loved ones. The world is in a sombre mood, but for leading medical technology company Terumo Asia Holdings, it is also a most gratifying juncture as it renders its century-old purpose of "Contributing To Society Through Health Care".
"This is a dark time, but there has never been a more purpose-fulfilling season for a health care company," says Probir Das, chairman and managing director of Terumo Asia. "We have always known the reason we exist, but this time, we realise more the gravity of our obligation to fulfil our mission."
A global provider of innovative medical solutions, Terumo Asia develops and supplies top-quality medical products ranging from thermometers to cell technology equipment. Today, the company creates new value that is in tune with society's most urgent needs.
"We are not a ventilator or Covid-19 diagnostics company, but we had to quickly pivot and bring in newer Covid-centric therapies while continually supporting the cardiovascular and cell technology fields," Das says.
Focusing on specialised new therapy education, Terumo Asia helps governments and medical workers manage the pandemic by rapidly setting up plasma therapy centres, emergency bypass systems, and building project sites and protocols. It also supports disinfection activities as it scales up competencies through training while ensuring the right quality system is applied within existing health care structures.
As a leader in cardiac care, Terumo Asia was one of the first companies that supported the establishment of patient handling protocols in hospitals in India. To meet the massive requirements for infusion and syringe pumps, it is bolstering its production capacity, making sure supply is readily available to every intensive care and high-dependency unit.
"When the pandemic started, there was no playbook, so cardiology units had to figure out how to manage patients coming in," Das says. "We initiated a dialogue between physicians in China and those in South Korea, Australia, Singapore and other parts of Asia to facilitate this learning exchange."
With a diversified portfolio, Terumo Asia strategically assigns appropriate entry points based on markets' most pressing needs. In Thailand, the company focuses on cardiology and creating robust automation to ensure an efficient blood-banking system. In South Korea, it supports the health system in scaling up its Covid emergency response by expanding its emergency bypass footprint and offering angioplasty solutions that reduce the risks of infection.
Understanding the nascent nature of the health care system in the Philippines, Terumo Asia provides the best-quality pumps and syringe products to the country's hospitals and health centres. Similarly, in Indonesia, the company worked with the Ministry of Health to expand its Covid-19 plasma therapy infrastructure. In Singapore, it is scaling up the treatment of breast lumps through minimally invasive procedures and deploying germ-zapping disinfection robots to help hospitals fight Covid-19.
"All of these training and scaling up activities are happening at very high speeds," Das says. "What typically took six months had to be done in three weeks. Still, we work to guarantee safety and security."
As Terumo Asia expands its impact through automation and digitally integrating its equipment with hospital information systems, it welcomes talents and partnerships with local entrepreneurs and Asian start-ups knowledgeable in the areas of digital intermediary, cell technology and clinical research.
"In times of crisis, we always go back to our mission," Das says. "Each day, with every decision, we ask if it is going to allow us to contribute to society through health care. No matter how difficult the task, if the answer is yes, then we carry on."